Fennoscandia's Finest
Recent success stories and new technologies from Scandinavian METS companies

By Carly Leonida, European Editor
---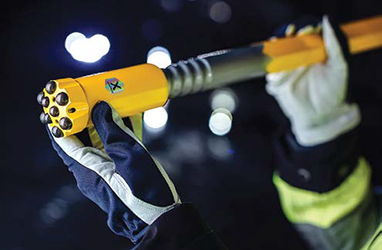 Epiroc's Powerbit X diamond drill bit excelled in performance trials at Boliden's Garpenberg
mine. (Photo: Epiroc)

Scandinavia's thriving ecosystem of mining equipment, technology and service (METS) providers continues to push the boundaries of safe, sustainable mining, answering the needs of customers both at home and abroad. The past 12 months, in particular, have seen a plethora of announcements — drill tools have been proven, electric vehicles installed, 5G networks inaugurated, and R&D agreements struck with some of the world's biggest operators — to name just a few. Whatever the topic, the close collaboration and, thus, level of trust, that these companies have cultivated with their partners is evident and seems set to continue well into the future. E&MJ presents some key developments from the region, in order of supplier.

Epiroc Proves Powerbit X at Garpenberg
2023 got off to a flying start for Epiroc. The company announced in March that its Powerbit X diamond drill bit had exceeded expectations in performance trials at Boliden's Garpenberg mine in Sweden.

Boliden started an automation project in 2014 to make Garpenberg more operationally reliable, eco-friendly and cost-effective. One of the project's challenges was the changing of drill bits — both from a safety and efficiency perspective. Reducing the number of bit changes was key to moving operators away from dangerous areas and would also help increase production with fewer interruptions per drilled meters. By moving the operators into a control room, they would also be able to manage several rigs at the same time and allow the rigs to continue drilling during breaks.

To help Boliden accelerate its automation journey, Epiroc introduced the team to its diamond technology where the drill bit buttons are protected by diamonds. The companies agreed to run trials on the bits which began in May 2022 and continued for four months. During this time, Epiroc continuously supplied one of the development drill rigs of the Boliden fleet with Powerbit X bits. In addition, it also supplied the compatible SR35 drill string including rods, shanks, couplings and reamers to optimize the system performance.

Throughout the trial, Epiroc application specialists and engineers supported the customer's project team. After learning more about the rock conditions at Garpenberg mine, product improvements were tested to increase the bit performance.

Karin Fjärsmans, production technician at Boliden, said that "the trials went well, and the results exceeded our expectations. We drilled more meters than we had hoped for, and we almost eliminated bit changes during an operator's shift. The Epiroc Powerbit X really opens opportunities for us to continue our automation journey, moving the operator from the drilling area into the control room."

Epiroc said that, overall, the joint project was a success, and the Powerbit X didn't only drill one face but was able to drill several faces during the trials — exceeding all expectations. The tests have helped Boliden to increase its understanding of how drill bit performance can accelerate and support automation implementation in face drilling applications. Additionally, Epiroc has learned what it takes to further develop polycrystalline diamond (PCD) technology as a solution for demanding rock conditions, as well as supporting the customer requirements for automation and tele-remote operations.

Malmberget Puts Hägglunds Drives Through Their Paces
Bosch Rexroth's Hägglunds direct hydraulic drives have proven their worth at LKAB's Malmberget iron-ore mine in Sweden. The mine is a high-tech facility which houses an entire underground community, including roads, mining operations, offices and canteens. It boasts several orebodies which are spread across the site, placing high demands on logistics and cost-effectiveness.

One essential improvement the mine has made in recent years involved boosting the availability of a 338-meter- long conveyor belt. This was not living up to its task of carrying 80% of runof- mine ore from the operation. A new drive was installed during a scheduled shut down in May 2016 and, by that time, Malmberget had been investigating alternatives for a couple of years.

A visit to LKAB's Kiruna mine provided positive feedback on Hägglunds' direct hydraulic drives, and the decision was made to install two Hägglunds' CBp motors with an installed power output of 2 x 630 kW and a maximum capacity of 3,000 tons per hour at Malmberget. The main reasons for choosing the CBp motors was their compact design and high efficiency, as well as their built-in redundancy and high operational reliability. The belt is now driven by four units, and a standby pump makes it possible to maintain operation even if one of the units stops.

Automatic load sharing is another benefit, which leads to reduced vibration and wear in the drive chain compared to before, when there was a higher load and demand on the single gearbox. In its case study, Bosch Rexroth said the soft start of the hydraulic drive is gentler on the mechanical components, and the creep drive feature allows the mine to inspect the belt for damage from reinforcing bar and other scrap that sometimes gets caught up. By July 2018, the conveyor belt had achieved 99.5% availability, running for 23-24 hours per day, and the project was declared a resounding success.

Silver Mine Realizes Reconciliation With Help From IMA
A key challenge faced by underground mines is the reconciliation of forecasted and observed grades. This can have significant impacts on the profitability and sustainability of mining operations, especially with today's increased costs and environmental pressures.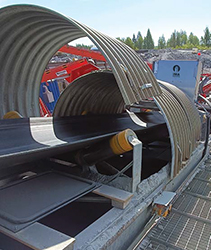 The IMA Fast Conveyor Analyzer on a conveyor belt,
and RFID reader for tracking ore underneath it.
(Photo: IMA Engineering)

IMA Engineering, a Finnish provider of modern grade control technologies, has collaborated with a Finnish silver mining company that is committed to continuous improvement of its processes, to track ore from an underground mine to a bulk ore sorter (BOS) and concentrator feed.

The project involved piloting two innovative methods for grade control and ore tracking: IMA's Fast Conveyor Analyzer (FCA) and RFID Tags. The FCA measures the ore grade on conveyor belts using X-ray fluorescence (XRF) technology, while the RFID tags are placed in the mining stopes and travel with the ore on their journey to the concentrator.

The tags, which can be detected by readers along the ore flow path, provide information on the ore source, i.e., the forecasted grade in the stope, and the destination in the concentrator. The tracking data from the tags is integrated with the grade data from the FCA and on-steam slurry analyzer which measures the grade of the ore at the concentrator feed.

The project had two key objectives: to improve mine planning and decision-making by providing real- time feedback on ore quality and process performance, and to reduce dilution and increase mill feed grade using BOS. The results of the project showed that the combination of BOS utilizing data from the FCA together with the RFID tags improved the accuracy and reliability of ore grade tracking and reconciliation, leading to increased productivity and profitability for the silver mine.

"This study shows how good mineto- mill reconciliation along the value chain can be achieved by using modern ore analysis and tracking tools," said Jukka Raatikainen, CEO of IMA Engineering. "This project was undertaken in cooperation with the mine and IMA technology teams, and it also demonstrated good potential for reducing waste rock dilution and increasing mill head grade by BOS. We will be pleased to show how our technology can also help other mines to reach similar goals."

New Uses for Drones at Kiruna
Meanwhile, LKAB has been finding new applications for drones at its Kiruna mine which it detailed in a May 2023 blog post. Since a major seismic event occurred at the mine in May 2020, drone flights have become more frequent and more advanced, and drones are now used for a variety of tasks in and around the operation.

The company said its automation group flies drones on an almost daily basis. For example, they are being used by the shaft renovation group to gather data that will aid ongoing renovation work. Scanning the area helps create an overview of the infrastructure which makes it possible to identify changes with a level of precision that was previously unheard of. In addition, exposure to potential hazards is reduced while images are captured in ever greater detail, since the drone can enter confined and difficult-to-access areas.

"During the time between departure and landing the drone registers a picture of the area that is incredibly accurate. This makes volume estimates for concrete used in the shaft more precise and thereby more cost-effective," the company said. Most flying hours are scheduled for underground work, for example, in ore passes, which are inspected and renovated on an ongoing basis.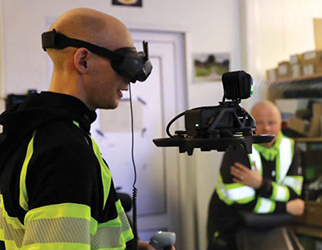 LKAB's Kiruna mine is finding new uses for drones both above and underground.
(Photo: LKAB)

"The drones have proven useful in inspecting the ore passes; previously, camera equipment was sent down into the passes on a relatively large rig which was time-consuming and delivered results that were far less accurate than what can now be achieved with drones and ancillary equipment," said the team.

Another important task for the drones is to locate blockages that stop the flow of material in the shafts. This allows the team to determine the best approach to eliminate the problem, for example, with water. The automation group also flies above ground. For example, the rotary kiln in one of the pellet plants has been inspected with the aid of one of the group's drones, and a robot dog is even being used by engineers to monitor changes in the condition of the rock underground.

Nokia and Edzcom Boost Pyhäsalmi's Connectivity
In June, Nokia and Edzcom, a Cellnex affiliate company, joined forces with Callio Pyhäjärvi Industry Park to establish a state-of-the-art 5G private wireless network. Pyhäjärvi Callio's FutureMINE digital test mine is located in Pyhäsalmi, one of the deepest mines in Europe, which extends to 1,445 meters below ground. The project seeks to unlock new possibilities in mine automation and digitalization.

The private 5G wireless network, includes a Nokia Modular Private Wireless (MPW), Compact Mobility Unit (CMU) and Radio Access Network (RAN), covering a distance of 11.5 km in length and eight levels underground. The purpose- built solution has been designed to support demanding applications, such as predictive maintenance, location services, 3D modelling, advanced analytics, and mining automation among other use cases. The project's key focus areas include testing and verifying various mining applications, developing future mining services which require full coverage, continuous improvement, innovation, and enabling ecosystems for future digitalization and development of sustainable solutions.

In the announcement, Sakari Nokela, chief development officer at Callio Pyhäjärvi, said: "Edzcom and Nokia are the valued partners chosen for this longterm strategic collaboration due to their extensive experience in private wireless networks and their commitment to join us on this journey ahead. Callio recognizes the importance of agility and adaptability in today's fast-paced digital landscape. Through this partnership, we are confident in our ability to make dynamic changes that optimize our network infrastructure and propel us towards greater efficiency and innovation."

Normet's New Battery Electric Spraymec
In June 2023, Normet launched the latest addition to its concrete spraying equipment offering — the all-new, battery- electric Spraymec MF 050 VC SD — which is specifically tailored for the needs of underground mining. Combining Normet's SmartDrive battery-electric architecture with state-of-the-art spraying technology, Normet said the MF 050 VC SD offers "unrivalled concrete spraying results, superior operator ergonomics and excellent serviceability, with zero local emissions."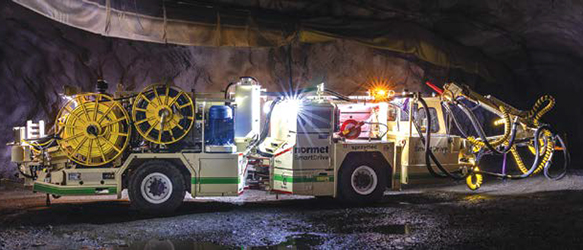 Normet's new battery electric Spraymec MF 050 VC SD was launched in June 2023. (Photo: Normet)

It added that its latest innovations and features are a direct result of spending thousands of hours in the field listening to customers and gathering operator feedback and improvement proposals. "With the Spraymec MF 050 VC SD, we created a product for sprayed concrete experts, combining all their valuable knowledge and feedback, incorporating even the smallest details that make a big operational difference," said the company.

The Spraymec MF 050 VC SD is built for use in small and medium-sized tunnels. It comes with an innovative dosing system and a low-pulsation concrete spraying pump. This has a maximum theoretical concrete output capacity of 10.5 m3/h with battery-powered operation, or 27 m3/h with electric operation.

Concrete spraying is possible from both inside the FOPS/ROPS certified cabin with significantly improved ergonomics and control features, and outside of it with a wireless remote controller. In addition, the advanced remote driving system (RDS) enables safe and easy machine relocation. The new cabin is fitted with ergonomically located spraying controls, a water spray supply system to keep the windscreen clean during concrete spraying and a NorSmart 3 dashboard with a touchscreen MID display.

The vehicle is also equipped with a high-volume on-board compressor and the SB 500 C spraying boom with strengthened steel structures, rebound protection and outstanding manoeuvrability, allowing for smooth concrete spraying operations. The boom's selectable vertical tracking and nozzle nutation functions ensure uniform spraying results. The MF 050 VC SD was also designed with a strong emphasis on easy access to all service points and is fitted with features, like a hydraulically operated concrete pump hatch, for safe cleaning.

Garpenberg Tests First Sandvik Toro LH518iB
In August, Sandvik announced that Boliden's Garpenberg zinc operation in Sweden had taken delivery of the first Toro LH518iB battery-electric loader with AutoMine. The companies are partnering for a 12-month collaborative trial of the new automation-ready 18-tonne loader.

Sandvik said the Toro LH518iB will support Boliden's efforts to improve sustainability by reducing greenhouse gas emissions underground. The company's climate targets include a 40% reduction of absolute CO2 emissions in scope 1 and 2 and a 30% reduction of scope 3 emissions by 2030.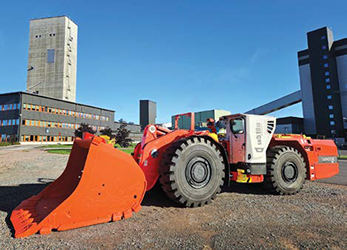 Boliden's Garpenberg mine receives Sandvik's first Toro LH518iB battery-electric
loader. (Photo: Sandvik)

"We are proud to be recipients of the very first Toro LH518iB with Auto- Mine," said Garpenberg General Manager Jenny Gotthardsson in a press release. "The unit has already undergone extensive factory testing in Finland and we look forward to really putting it through its paces now in our operation. We're on a journey to reduce fossil fuel usage and CO2 emissions and increase productivity, and we are happy to work towards these goals with our long-time partner Sandvik."

Building on its predecessor, the Sandvik LH518B, the new Toro LH518iB features several design updates and improved field serviceability. It has dimensions equivalent to the 14-metric-ton size class, enabling the loader to fit in a 4.5- x 4.5-meter tunnel. Its groundup design, powerful electric motors and electric driveline result in a compact size and high payload capacity as well as increased visibility. Sandvik's patented self-swapping battery system, including the AutoSwap and AutoConnect functions, minimizes infrastructure needs and enables the loader to return to operation significantly sooner than 'fastcharge' mining BEVs.

The latest version of Sandvik's intelligent control system enables the Toro LH518iB to be AutoMine ready, and AutoMine compatibility will be available for Garpenberg's Toro LH518iB in Q1 2024. Boliden has also selected Sandvik Mining and Rock Solutions to supply two Leopard DI650i down-the-hole (DTH) drill rigs and AutoMine Surface Drilling systems, to enable fully autonomous surface drilling at its Kevitsa mine in Finland. The order includes a five-year parts and services agreement and My Sandvik Onsite analytics for process optimization. Delivery of the two Leopard DI650i drill rigs took place in Q3 2023.

"Boliden Kevitsa is committed to improving sustainability, productivity and safety by investing in the latest automated technologies," said Christian Bjorne, vice president sales, northern Europe, for Sandvik Mining and Rock Solutions. "We look forward to continuing our technology cooperation and supporting Kevitsa in its journey to becoming an even more safe and productive mine through our drilling solutions."

Kevitsa will run the rigs using the AutoMine system from a remote-control station located in the mine control room. Boliden and Sandvik have an ongoing rock tools agreement at Kevitsa, including DTH hammers, bits, pipes and rock tools services. Sandvik on-site technicians will ensure support is available 365 days a year, maximizing the drill rigs' utilization, productivity and reliability.

Scania Electrifies Mine Transport
An electric Scania heavy tipper has recently been put into operation at LKAB's Malmberget mine in northern Sweden. Scania said this development gives it the chance to test and operate fully electric trucks in a demanding underground mine environment. The electric heavy tipper transports residual products and has a total weight (including load) of 49 tons. Scania said it's the first of its kind in the mining industry.

"Scania and LKAB are both operating in industries that are currently undergoing significant shifts to reach a higher level of sustainability," Scania said in a news release. "The two well-established industrial companies have joined forces to operate electric vehicles in LKAB's mines, a step towards the future and sustainable transport for this industry."

The company also supplied an electric truck to Boliden in 2022 for operation between Renström in Sweden and its Boliden concentrator. Boliden said this is the first step in its efforts to electrify heavy transport on public roads between the mine, concentrator and smelter.

"This is really a preparatory measure. You could say that we are paving the way for the electrification of all trucks that transport our ore and concentrate," said Jonas Ranggård, program manager electri?cation at Boliden Mines, in a recent article.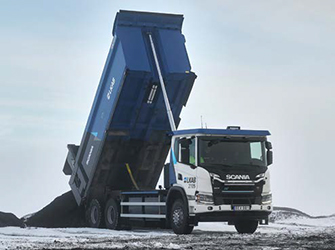 A Scania heavy tipper in operation at LKAB's Malmberget mine. (Photo: Scania)

Boliden, in partnership with Renfors Åkeri, which is responsible for transports, will test and evaluate the truck over a period of three years. Subsequent ambitions include electrifying the remaining transport activities on public roads as soon as technology allows. "In parallel, we are conducting studies on charging infrastructure to enable the operation of a fully electrified fleet of vehicles," the company added. The project is part of REEL – Regional Electrified Logistics – an initiative led by CLOSER and supported by the Strategic Vehicle Research and Innovation (FFI) program, which aims to pave the way for the transition to an electrified freight.

Volvo and Boliden Rethink Truck Haulage
In March 2023, Volvo Trucks and Boliden also announced an agreement to implement electric truck transport in underground mine environments. The new cooperation means that two heavy, electric Volvo trucks will be used in Boliden's Kankberg mine, near Skellefteå in northern Sweden. In its press release, Volvo said that, if all trucks in the mine were to be electric, the CO2 emissions from the mine could be reduced by more than 25%.

"This is an exciting collaboration in an environment with very tough demands; steep slopes, heavy loads and humid air that wears on the vehicles," said Jessica Lindholm, project manager at Volvo Trucks. "The collaboration with Boliden will give us valuable knowledge about the performance of electric trucks when driven underground and provide answers to questions about how the driveline and batteries are affected. Reduced carbon dioxide emissions for mining transport also means that we, indirectly, will reduce our own CO2 emissions, because the mining industry's raw materials are used in our trucks."

The first truck to serve at Kankberg, a Volvo FH Electric, is being used to transport rock bolts and other equipment down into the mine, and the second will be used for the underground transport of rock and ore. "We see the collaboration with Volvo as a fantastic opportunity to push the electric technology forward and at the same time learn how to adapt our operations for a transition to fossil-free underground transport," said Dennis Forslund, project manager at Boliden. "A major benefit of the trucks is that they will contribute to a more sustainable mine, both in terms of emissions and also the working environment for our employees. In addition, the total amount of energy consumed in the mine will be lower as electric drive is more energy efficient than a diesel engine, and it is possible to capture the electricity regenerated during engine braking on downhill slopes."
---
As featured in Womp 2023 Vol 10 - www.womp-int.com