Hecla Extinguishes Fire at Lucky Friday
---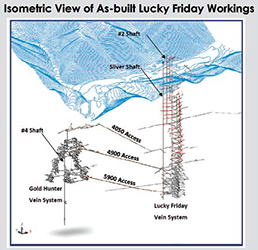 Lucky Friday miners are driving a secondary egress to access
the No. 2 shaft above the damaged portion of the shaft.
(Isometric: Hecla Mining)

Hecla Mining Co. provided an update on its Lucky Friday mine regarding the previously reported fire in the mine's secondary egress, the No. 2 shaft. The company said the fire has been extinguished, normal ventilation has been restored, and the workforce has been recalled. Hecla will bring the mine back into production by developing a new secondary egress to bypass the damaged portion of the shaft. The new egress will extend an existing ramp 1,600 feet and install a 290-foot-long manway raise.

Speaking at the Denver Gold Group Forum this week, Hecla President and CEO Phil Baker provided a little more insight. "The Lucky Friday mine has been operating for 82 years and it has a significant amount of infrastructure that has been constructed over the years," Baker said. "The No. 2 shaft was built in the 1950s and it served as the primary access for the mine at the time. Then, the Silver Shaft was built and more recently the No. 4 shaft. Today, the No. 2 shaft is used for ventilation purposes, and it serves as a the secondary escapeway.

"Because it was built in the 1950s, we are in a constant state of maintaining it and repairing it," Baker said. "And as part of that process, and we don't know yet what caused it, a fire occurred." Baker said the secondary egress will access the No. 2 shaft above the damaged portion of the shaft, and the mine would no longer need to rely on the lower part of that shaft.

Hecla anticipates that completing this work will suspend production for the remainder of 2023. Lucky Friday had produced 3 million ounces of silver as of the end of July 2023. The company has property insurance with an underground sub-limit of $50 million and believes this policy will cover most of the property damage and business interruption, less the deductible.
---
As featured in Womp 2023 Vol 10 - www.womp-int.com