Flotation Innovations Increase Throughput, Recovery
The newest releases are engineered to help miners achieve production, safety, and ESG goals

By Jesse Morton, Technical Writer
---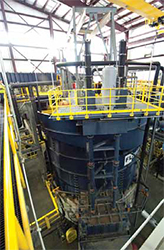 Column flotation recovers fine materials
effectively. (Photo: FLSmidth)

The leading suppliers in the flotation space are releasing new solutions that they say help a plant improve recovery and throughput while using less energy, manpower and chemicals. The solutions are also designed to help improve safety for both personnel and the environment. Reports from the suppliers and comments from their leaders reveal these advances are but stepping stones, meant to help miners with the challenges they face today and to be the basis of the solutions of tomorrow.

FLSmidth Offers Smart Flotation Upgrades
FLSmidth reported hitting significant milestones in customer-driven research and development on its range of floatation solutions and technologies. The supplier released the new REFLUX Flotation Cell and is preparing to release the coarseAIR. Both are being co-developed with the University of New- Castle in Australia. "These technologies are positioned to be best in class for both fine and coarse flotation applications into the future," said Steve Merrill, product manager, FLS Flotation. "Mine sites will be able to operate with better performance at much lower costs and a decreased carbon footprint."

In June, FLSmidth reported Australian mining company Northern Star Resources ordered nextSTEP flotation technology for the Kalgoorlie Consolidated Gold Mines Operations.

The nextSTEP cells offer "advanced performance and consistently produce a high-grade product," Merrill said. "The nextSTEP flotation technology features increased wear life, lowest energy consumption in class, and superior hydrodynamics for optimum metallurgical performance." The nextSTEP rotor and stator are designed to increase bubble-particle contact and energy dissipation. "It has been shown to produce higher grades and recovery with finer bubble generation and increased wear life," he said. The slotted stator design gives "uniform energy dissipation and very high bubble- particle attachment rate," which "is key to providing superior flotation of fine particles." Energy from the rotor is "efficiently" distributed through the slurry, "increasing attachment rates and recovery of particles."

Northern Star ordered seven 600-m3 cells for its rougher flotation row, enabling the miner to "take advantage of the economy of scale," Merrill said. "A couple decades ago, this would have required 6 rows of seven 100-m3 cells," he said. "That's 7 cells instead of 42 cells!" The expected result will be less maintenance and "spares per ton of ore processed," he said.

Research and development on next- STEP technology began roughly a decade ago when the supplier "began the process of modernizing and optimizing the Dorr-Oliver machine," Merrill said. "From that came the nextSTEP flotation machine." Rotor and stator designs were revamped to "outperform other rotor designs available in the global market," he said. "This design has been proven in installations worldwide and is now the standard forced-air flotation machine offering from FLS."

Separately, FLSmidth reported the Smart Flotation upgrade is the best way for mines to optimize performance and transition into digital technologies. "It is the best way maximize recovery of valuable minerals, extend the equipment lifecycle, and increase availability and reliability of the equipment," Merrill said. Smart Flotation options include level control systems, adjustable radial froth crowders, internet and cloud solutions, ECS Product Control, SiteConnect Mobile Insights app, froth cameras, and an expert control system.

The level control systems use sensors, top of the line actuators, and dart valve connection and discharge box assemblies to improve operational efficiency. Adjustable radial froth crowders help maintain "the proper surface areas and froth travel distances at the top of these large cells," which, today, "has become very important," he said. "Radial froth crowders reduce top-offroth surface area and facilitate movement to the nearest radial launder, reducing the froth's travel distance at the surface of the cell," Merrill said. "They are designed in a way that makes them easy to install and adjust to fit the need of each specific application."

Internet and cloud solutions ensure machine monitoring technology transmits to a secure cloud infrastructure. Control system software, ECS Product Control, offers "a 24/7 view of performance metrics, enabling you to increase reliability," Merrill said. "By tracking and trending operating parameters, you can continually adjust and optimize your circuit's performance for maximum return with minimum waste." The SiteConnect Mobile Insights app enables real-time performance and asset health data.

Froth cameras can "enhance process control by monitoring the surface of the flotation cells and sending signals to the DCS to optimize how each cell is performing," he said. "Our newest technology measures the froth's velocity and stability and can also identify the froth grade with the help of Deep Neural Network (DNN) technology and object detection." The technology also provides "froth grade detection by measuring the froth velocity, bubble size, color spectrums and mass pull rate," Merrill said. "DNN allows it to classify the froth, automatically discrediting images with direct sunlight to eliminate false grade classifications."

LIDAR can complement the froth cameras and detect the froth height above and below the lip. "The technology uses eye-safe laser beams to create a 3D representation of the surveyed environment," he said. "Froth height measurement is crucial for estimating the mass pull rate and volumetric pull rate."

Expert control systems, customized to site specifics and calibrated regularly, use "advanced process logic to help fine tune the performance of the flotation cells," Merrill said. "In the past experienced operators would have to monitor multiple conditions of a flotation circuit and then make educated decisions on what parts of the circuit to adjust in an attempt to optimize the performance of the flotation cells," he said. "Now expert control systems can monitor all of those process conditions and use smart logic to automatically adjust operating targets as conditions change."

Smart Flotation can help an operation contending with staffing shortages. "Using top-of-the-line technology, like the Smart Flotation upgrades, will allow miners to do more with less people," Merrill said. "Modern expert control systems and advanced instrumentation can do a lot more work that before would have required more time-consuming monitoring from experienced operators."

Jameson Cell-based NovaCell Wins Award
Jord International reported NovaCell won the Critical Minerals and High-Tech Activation fund from the New South Wales government. The milestone followed a successful study of the technology in lower-energy processing circuits, the company said.

"Novel process flowsheets were evaluated for both current and future ore deposits and the findings were presented to the NSW grant team," said Sherwin Morgan, technology manager, NovaCell. "The NSW grant team assessed both the short- and long-term benefits for local communities and the broader mining industry, and selected the NovaCell technology for funding," he said.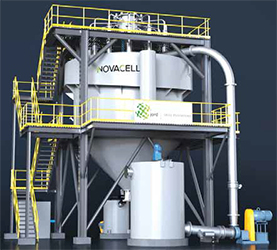 The NovaCell, based on Jameson Cell technology, won the Critical
Minerals and High-Tech Activation fund from the New South Wales
government. (Image: Jord)

The funding will support trials at plant scale in 2025 and 2026. "The application will be coarse gangue rejection and will enable the existing operation to increase the plant throughput rate by an estimated 30%," Morgan said. The development comes as the company sees "significant interest" in NovaCell in the Americas, he said. "To support this demand, Jord recently opened a satellite office in Denver, Colorado, U.S.A., and is fabricating a pilot NovaCell unit for onsite trials at various locations in the Americas."

The NovaCell was invented by Prof. Graeme Jameson, namesake of the Jameson Cell, which was developed and marketed by Glencore Technology. "Professor Graeme Jameson is a world-renowned scientist in the field of mineral processing, and his previous flotation inventions are estimated to have earned $40 billion for the Australian export industry," Morgan said. "The NovaCell solution incorporates his vast experience and implements proven flotation concepts," he said. "Jord has the global exclusive license and is commercializing the technology for the mining industry."

Engineered for the efficient recovery of both fine and coarse particles, NovaCell uses pressurized downcomers and a fluidized bed. "It achieves this superior performance, by separating and targeting ideal hydrodynamic conditions for both fine and coarse particle recovery," Morgan said.

Feed material is distributed across the downcomers. "Particles and tiny bubbles collide in the high-shear zone ideal for fine particle recovery," Morgan said. "Material exiting the downcomers enters the fluidized bed, which is a low-shear environment ideal for coarse particle recovery," he said. "The efficient recovery is a suitable choice for both coarse gangue rejection and tailing scavenging applications."

The benefits offered stem from the efficient recovery. "The NovaCell has separate collection zones for fine and coarse particles, each targeting ideal hydrodynamic conditions for optimum recovery," Morgan said. "Fine particles require high-intensity mixing, while coarse particles prefer a low-turbulence environment." NovaCell accomplishes both in one unit. "Conventional flotation technologies, for example mechanically agitated cells, have a single recovery zone, at the impeller, for all particles," he said. "Thus, we observe the NovaCell achieving better recovery performance across the fullsize distribution."

Because it can be used in both fine and coarse float applications, it reduces the number of other process units used in a circuit, cutting costs. "The NovaCell can treat the full process flow," Morgan said. "Other newer technologies typically target a specific size class for recovery improvement, either the fines or coarse particles recovery," he said. "They require hybrid circuits to work effectively, increasing both capital and operating expenditure." NovaCell produces a coarse waste stream that can go to dry disposal. "This enables circuits to improve water recovery and reduce the amount of waste being diverted to the tailing storage facility," Morgan said.

"Its ability to produce a coarse dense waste stream that is easy to dewater makes tailings-belt filtration more viable," he said. "This improves water recovery and reduces the dependencies of miners on tailings storage facilities." NovaCell increases productivity and revenue by allowing circuits to process more feed while using fewer process units. "In the coarse gangue rejection duty, the NovaCell implemented in the grinding circuit can reject waste ahead of the secondary grinding circuit, while minimizing valuable mineral losses," he said. "This allows for miners to increase throughput rates without making significant changes to the existing grinding circuit."

In a tailings scavenging float application, NovaCell recovers both fine and coarse valuable particles ahead of the tailings circuit. "This allows miners to increase mineral recoveries and reduce the amount of metal ions reporting to the tailings storage facility," Morgan said. The solution is easy to maintain. It has no moving parts and "is designed to reduce spares consumption and waste," he said.

The wear components are the nozzles in the downcomer. "These are relatively easy to replace and can be made from cost-effective materials," Morgan said. The nozzles can be lined for increased longevity. "In addition, each downcomer can be isolated and removed for maintenance without entering the vessel," he said. "This is a significant improvement from the current maintenance practices adopted for conventional flotation technologies." NovaCell is also designed to deliver energy usage savings. "It is being studied in wet pre-concentration duties such as rejecting waste material, after coarse grinding, and reducing the amount of material being sent for further processing," Morgan said.

Partnership for CPF for Industrial Metals
Eriez reported the partnership with Weir Minerals to design revolutionary coarse particle flotation (CPF) solutions will lead to the further development of the Hydro- Float and its adoption by industrial metals mining operations.

The partnership is committed to a systems-based approach to CPF that will allow HydroFloat to be integrated into circuits optimized to the specific needs of customers, said Eric Bain Wasmund, PhD, P.Eng, global vice president, Eriez. "Weir has some products such as cyclones, tailing processing technology, grinding technologies, and wear-resistant linings that allow us to partner with them and the customer to offer an optimal de-risked technical solution."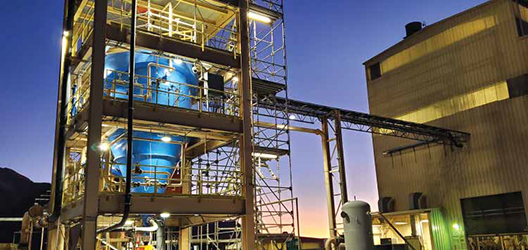 The Eriez partnership with Weir Minerals will further develop the HydroFloat, above, for more widespread adoption in the
industrial minerals mining space. (Photo: Eriez)

The HydroFloat cell is designed specifically for CPF, making it unique on the market. "Across a wide range of floatable minerals, it can float particles 2 to 3 times larger than the upper-size limitation of conventional flotation tank cells," Wasmund said. "It does this with a fluidized bed to create lift and enhance buoyancy, as well as a zero-order froth and counter current feeding system," he said. "It uses fluidization water and no mechanical agitation."

CPF "opens up some doors so that mining companies can substantially improve their operations," he said. It recovers ore "that is currently being lost because conventional flotation tank cells are not well-suited for coarse particles," Wasmund said. "Through extensive benchmarking, we have shown that tail scavenging with CPF will allow an additional 3% to 6% of global recovery."

Other benefits include improved safety. "From an ESG perspective, what we are seeing now is that coarse tails are also safer tails," he said. "They are more geotechnically stable, which means safer impoundments, and they are easier to de-water, which allows miners to use less water." Beyond being safer and easier to dewater, coarse tailings open "the door to other technologies, such as Anglo American's Hydraulic De-water Stacking, which allows the industry to totally re-imagine the safety and water consumption of tailing facilities," he said.

Safety improvements and water conservation appeals to investors. "Safer impoundments are a feature that will make investors love CPF," Wasmund said. "In the long run, investors will reward companies that pioneer new technology to improve metallurgical efficiency and reduce their energy and water footprint."

HydroFloat was first released roughly two decades ago, "and the basic features have not changed, although we have improved the design and increased the largest size of the units," he said. "We have been running these units for more than 15 years in fertilizer flotation applications and for more than 5 years in base-metal applications, so it is a proven product, both in terms of metallurgical performance, reliability, and operability."

The solution has been under constant development inspired by each new application. "For example, the early adopters were in the phosphate and potash business, which saw the positive results and the opportunities of classifying the feed to float multiple streams based on size, which is not common in hard-rock applications," Wasmund said. "It took almost a decade to get into base-metal applications, and now it is being considered by most of the major operators," he said. "The next big jump we believe will be for iron ore beneficiation."

Currently, the biggest commercial unit available, "the CPF-300, is 5 m in dia. and has double the capacity of the units from a few years back," he said. Benefits available to industrial metals operations include added efficiency in grinding mill circuits. "In some cases, grinding mills can be debottlenecked," he said. CPF with the HydroFloat can also help a circuit reduce energy consumption. "It can reduce the amount of grinding energy," Wasmund said. "One study showed a SAGBM circuit energy could be reduced by 24%."

The first base-metal miner using HydroFloat and CPF in a circuit was Newcrest at Cadia Valley. In 2018, results from pilot plant trials processing a third of the operation's tails showed that "not only could additional copper and gold be recovered, but they could also increase their concentrator throughput by sending a coarser ore size to the flotation circuit," Wasmund said. Newcrest built a new plant that was commissioned this year and will now process all of the site's tails.

Eriez offers service agreements that ensure customers maximize the benefits available from the HydroFloat and CPF, Wasmund said. "These agreements can include embedded support, training, performance auditing and benchmarking, and access to local spares," he said.

Advanced Pump Handles Any Froth
Weir Minerals said its flagship froth pump, upgraded with an advanced impeller and venting system, can handle any froth and is more efficient and reliable than competitor froth pumps.

The company said the Warman AHF Pump with Continuous Air Removal System (CARS) technology can be customized to deliver those benefits and help customers overcome specific challenges. "Weir Minerals is committed to continuous improvement, which means we're always fine-tuning the pump design and materials," said Pavol Loderer, principal hydraulics engineer, Weir Minerals, Todmorden, United Kingdom. "In terms of pump design and materials, there isn't a one-size-fits-all solution for pumping froth, so we're focused on working closely with our customers to understand their specific challenges and tailoring solutions accordingly."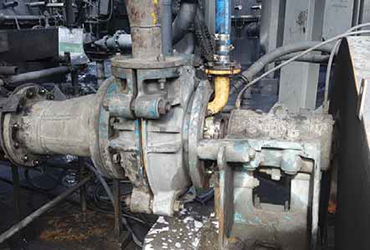 Above, the Weir Warman AHF froth pump with CARS. (Photo: Weir)

The history of the AHF goes back to the 1980s when "Warman design engineers began experimenting with the Warman AH slurry pump to manage mineral froth in hard rock processing sites in Queensland, Australia," Loderer said. "These trials led to the development of the Warman AHF froth pump, and, after further work, this offering was expanded to include the range of Warman MF and LF froth pumps."

The AHF pump has an enlarged suction flange to expose the maximum possible volume of fluid flow to the impeller blade action and to help prevent air from accumulating. "The spinning impeller is also able to induce pre-rotation and shear to the froth in the intake pipe ahead of the pump, thereby assisting mineral froth handling," he said.

"Semi-open impellers are very effective in inducing swirl motion to the mineral froth in the intake pipe," Loderer said. "For very tenacious mineral froth, it is necessary to enlarge the pump inlet size, as well as adding impeller inducer vanes in the pump intake." For froths with a high froth volume factor (FVF), the pump can be updated with CARS technology. With CARS, the pump itself separates and removes the entrained air from the froth.

CARS features an impeller that has back expelling vanes and back shroud vent holes. The venting system includes a gas collection chamber with a flow inducer behind the main impeller. "The flow inducer blade of the pump impeller promotes movement of the froth slurry into the impeller eye, while creating pre-rotation for initial separation of the gas-containing fraction towards the vent holes located on the impeller back shroud," Loderer said.

The secondary inducer behind the impeller "promotes axial movement of the gas-containing mixture out of the chamber vent," he said. "At the same time, it rotates the mixture inside the chamber for additional separation of solids back to the process by the centrifugal action of the main impeller back vent."

CARS was invented, in part, to reduce the amount of chemicals typically used to deal with high-FVF froth. "Yara's Siilinjärvi phosphate mine in Finland introduced new flotation technology to improve the recovery of fine particles from ore material at their mine," Loderer said. "At the time, ore extracted from the Yara mine typically contained up to 20% calcium carbonite and 65% phlogopite, which was hard to separate." Using chemicals typically used to keep the froth stable failed. "Sometimes the froth wouldn't collapse and overflowed, creating difficult unstable pumping conditions," he said.

"Pumping froth slurry is a challenging task for a centrifugal slurry pump, especially in an unstable flotation process that experiences huge variations of FVF up to 2.5," he said. "The standard horizontal Warman AHF froth pump was working well in stable conditions of FVF less than 1.5; however, in unstable conditions, when FVF exceeded 1.8, the pump was not working as efficiently and there was room for improvement."

Weir Minerals worked with the customer to trial new design options, but hit a wall. "Having reached the natural limits of the standard Warman AHF pump design, they had to do something new," Loderer said. "The first task was to release the air lock from the pump impeller, and then, after further development, Weir Minerals team added the second pump discharge so that it vented separately."

At the mine, CARS "gave a stable performance, and there wasn't a need for additional FVF reduction," Loderer said. "The superior efficiency of the Warman AHF pump with CARS allowed the use of a smaller-size motor," he said. "The pump enabled more efficient pumping, particularly for slurry with high FVF and reacted quickly when the froth conditions changed, without air-locking the impeller eye."

It stopped product loss from sump overflow. And it eliminated the overuse of chemicals that "compromise final product quality," he said. More efficient than pumps traditionally used to move froth, the Warman AHF pump with CARS offers lower operating expenses. Competitor pumps typically use a compressor-style impeller, which pumps both froth and air, Loderer said. "While this allows them to pump the froth, the main drawback is that it's extremely inefficient, which means they need a larger-size motor," he said. "This obviously means they're consuming more energy, which is a significant operating expense." Critically, the solution can handle "any FVF in the flotation process," he said. Adding flocculant "can make the froth tenacious" with smaller bubbles that "can remain in the liquid for many hours, making it challenging to pump" and causing a bottleneck at the pump, Loderer said. "And if the equipment isn't capable of pumping the froth, then the operator needs to add additional technology to kill the froth."

For example, a multi-metal mine in the Northern Territory, Australia, that used flocculant to stabilize a froth "developed a froth basher to help break down the froth and address the issue of the hopper overflowing," he said. The froth basher consumed substantial energy and required maintenance that was difficult due to poor access. The miner also used three water injection points to increase flow into the pump suction to increase pump performance.

"The customer trialed a competitor's froth pump, but this wasn't an ideal solution because it needed to be used in conjunction with both the froth basher and water injection," Loderer said. Weir Minerals "proposed modifying the existing Warman AHF pump to enable it to separate and remove the entrained gas to increase the flow and efficiency of the pump." The miner trialed the CARS upgrade.

"The existing pump configuration was modified to accommodate the CARS components, and a Linatex 801 smoothcut- end air expeller discharge hose was installed to direct the removed air and gas back to the hopper," he said. The solution "removed gas from the unrelenting froth, enabling a 25% increase in pump efficiency."

The pump now achieves the desired flow rate without the froth basher or water injections. "This has resulted in yearly energy cost savings of $16,000," Loderer said. "With the CARS upgrade, the Warman AHF pump was able to easily control the hopper level with minimal speed changes," he said. "What had been a constant struggle for operators became an easily managed process."

Frothers, Polymers Increase Recovery
Solvay released the Oreprep T-100 and Oreprep T-200, frothers that change properties with changes in pH in a copper- moly circuit. Leadership at Solvay said the frothers can help customers maximize recovery and grade.

"The concept of changing the behavior of the molecule in different sections is an idea of maximizing the performance at each section versus the idea of an average performance," said Ricardo Capanema, global marketing and business development director, mining solutions. "It requires a little bit of a mindset change." Traditionally, an operation will mix strong and weak frothers to get a froth that has an intermediate strength of the two. It fails neither in the rougher section nor in the cleaner section, but is optimized for neither. The new frothers, in contrast, are stronger on the front end for coarse particle recovery and weaker on the back end for improved concentrate.

"What we are trying to achieve with the TRANSFOAMER technology is like a switchable approach where the frother performs in a very strong and robust manner in a part of the circuit and then in the other part of the circuit, where you do not need too much froth, change the characteristics," Capanema said. "The switch is driven by the change in pH on the circuit."

In a copper-moly circuit, the pH of the rougher section ranges between 9 and 10.5. "As soon as they get to the cleaners, because they want to concentrate it and be selective versus pyrite, the pH is increased to around 11, or a higher pH range," said Genevieve Castillo, global marketing manager, mineral processing. "We looked at that process or how the circuits are being used," she said. "We used the changes in the process to develop our technology."

The frothers were developed in 2022 as a clean sheet concept to be a "way to optimize a circuit," Castillo said. Theoretically, the TRANSFOAMER frothers will allow for higher yields and potentially increased throughput and decreased energy usage, she said. The frothers are handled and dosed the same way as other frothers. Currently, the frothers are being trialed at three plants, with two more trials planned. So far, the results have been positive. "We are seeing where they are improving the recovery of the circuit and at the same time still maintaining the concentrate grade," Capanema said. The frothers are performing well on the front end. "We are seeing improvements in the coarse particle recovery and overall recovery," Castillo said.

They are also performing well on the back end. "When we added this, we were worried about potential over-frothing at the back end of the circuit, which would normally happen if they used a strong frother. And it never did," She said. "Of the plant trials that we did, they've never seen it." Oreprep T-100 is the more selective of the two. The frothers are available after a consultation with Solvay experts, Capanema said. "We are prepared to grow the supply capacity as the market adopts the new technology," he said. "We always strive to stay one step ahead of demand."

Solvay also announced trials are ongoing for the polymer AERO NR-7370, a full NaSH (sodium hydrosulphide) replacement depressant for copper-moly separation. "That product is being commercialized in Mexico right now," Castillo said. The depressant is for ore with high amounts of sulphide gangue materials. It is the evolutionary successor to the new polymer AERO NR-7361 depressant for copper-moly separation, a full NaSH replacement for miners looking to meet metallurgical and ESG goals. "Beyond ESG, our polymers help reach the target recovery or grade of the customer while improving their profile," Castillo said. It could offer to 10% more recovery over NaSH.

BASF Releases Luprofroth for Top Performance
BASF announced the global release of the Luprofroth brand of frothers. The company said the development reinforces the company's commitment to supporting customers with innovative and sustainable flotation solutions.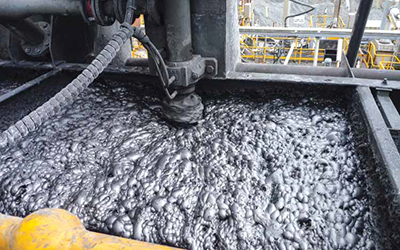 BASF released globally the Luprofroth brand of frothers, which are based on aliphatic alcohols
and glycols. (Photo: BASF)

"The Luprofroth frother portfolio is based on the various aliphatic alcohols and glycols that are manufactured in our global production network," said Dorival de Masi Neto, sales account manager and ?otation segment lead, North America. "That enables our frothers to offer maximized performance across the multiple properties that influence flotation performance such as particle size, bubble coalescence, induction time and froth stability." For scavenging, the "range includes frothers that are targeted at improving the recovery of fine particles," said Edgar Blanco, application technology flotation, North America.

"Through characterization of innovative chemistries, BASF has identified and uses materials that demonstrate an affinity for fine particle flotation," he said. "BASF is also working closely with the industry by supporting publicly funded projects such as FineFuture, a Horizon 2020 project." For coarse particle flotation, "BASF is continuously identifying and profiling raw materials for their amenability for such applications, such as Luprofroth 711," Blanco said.

"Coarse particle flotation is quickly becoming a focal point for the industry as equipment manufacturers offer new and innovative solutions," he said. "BASF is working closely with mining operations that employ such equipment to identify chemistries that can sustain coarse particles in the froth phase without the frother being overly persistent and creating problems downstream with the concentrate thickener operation or the underflow pumps." The range has "the ability to create a stable froth that can improve the efficiency of mineral separation" and is "compatible with a wide range of minerals and processing conditions," de Masi Neto said.

"Our products are carefully formulated to suit specific mineral types and processing conditions for engineers to use the Luprofroth range to optimize flotation processes, improve mineral recovery rates, and enhance the overall efficiency of mineral extraction operations," he said. "Our frothers provide characteristics that improve operational performance, including metal recoveries and flotation kinetics, while our customized formulation ensures that our products are able to achieve superior performance at reduced dose rates and costs."

Luprofroth products are classified as a Category 4 flammable liquid with a flash point between 60°C and 150°C. "This reduces the handling complications that are prevalent with more flammable alternatives," Blanco said. "We also strive to ensure toxicity and ecotoxicity values are as low as possible." The Luprofroth brand is backed by "specialized Product Development and Technical Support personnel strategically located around the globe and complemented by two BASF Global Competence Centers in Tucson (U.S.) and Ludwigshafen (Germany) and supported by flotation laboratories in Jacarei (Brazil) and Johannesburg (South Africa)," Blanco said.
---
As featured in Womp 2023 Vol 09 - www.womp-int.com