First Majestic Sells La Parrilla to Golden Tag
---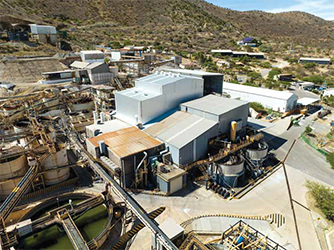 The La Parilla processing plant (above) has a 2,000 mt/d capacity.
(Photo: Golden Tag)

First Majestic Silver Corp. has closed on its previously announced transaction to sell its past-producing La Parrilla silver mine located in the state of Durango, Mexico to Golden Tag Resources Ltd., after receiving approval from the Comisión Federal de Competencia Económica (COFECE) and the TSX Venture Exchange as well as the completion of other customary closing conditions.

In consideration of the sale, First Majestic received 143.7 million shares of Golden Tag for an approximate value of $20 million. First Majestic will also receive up to $13.5 million in the form of three milestone payments in either cash or shares in Golden Tag.

La Parrilla is located in Durango State, Mexico, approximately 76 kilometers southeast of the capital city of Durango and is comprised of 41 contiguous mining concessions, covering 69,478 hectares. The complex hosts five underground mines and collectively produced 34.3 million silver-equivalent oz between 2005 and 2019.

The metallurgical processing plant at La Parrilla consists of parallel 1,000- tpd flotation and 1,000-mt/d cyanidation leach circuits to treat both oxide and sulfide ores for a total capacity of 2,000 mt/d, using a conventional flowsheet. Both ore types are polymetallic, containing silver as their principal economic component as well as significant amounts of lead and zinc and minor amounts of gold. Oxide ore is processed by cyanide leaching to produce doré bars while sulphide ore is processed by differential flotation to produce a silver-rich lead concentrate and a zinc concentrate.

The deposit at La Parilla has indicated and inferred resources of 5.2 million silver-equivalent oz and 10.3 million silver- equivalent oz, respectively.
---
As featured in Womp 2023 Vol 09 - www.womp-int.com