Contango Begins Mining at Manh Choh in Alaska
---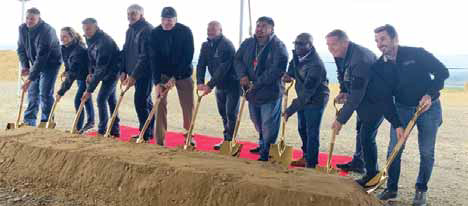 From right to left: Tyler Bruce, (Kinross) Manh Choh project director; Rick Van Nieuwenhuyse, (Contango) president
and CEO; Terence Watungwa, (Kinross) vice president, Alaska, and mine general manager, Fort Knox; Tetlin Chief
Michael Sam; Paul Rollison, (Kinross) CEO; Alaska Governor Michael Dunleavy; Claude Schimper, (Kinross) COO;
Geoff Gold, (Kinross) EVP CD external relations and CLO; Andrea Freeborough, (Kinross) CFO; and Shane Parrow
(Kinross) Manh Choh operations director. (Photo: XYZ)

Contango ORE, Inc. announced that mining operations have started at its 30% owned Manh Choh mine, located near Tok, Alaska, U.S.A. With all major contracts, bonding and permitting in place, the project remains on track and on budget to bring Contango's 30% interest in Manh Choh into production in the second half of 2024. The Manh Choh mine is expected to produce 225,000 gold equivalent ounces (oz) per year over a 4.5-year mine life. In addition, the company has initiated a surface drilling program at its Lucky Shot project.

"We are indeed excited to report that mining operations have commenced at Manh Choh and that the construction phase has been achieved on budget and on schedule," said Rick Van Nieuwenhuyse, president, and CEO for Contango. "The opening at the Manh Choh mine was officially celebrated with a ground-breaking ceremony on August 29th. In attendance were the Governor of Alaska Michael Dunlevy, Tetlin Tribal Chief Michael Sam, and Tribal Council members, as well as representatives from both Kinross and Contango.

"At this point, mining operations primarily consist of pre-stripping activities, with any ore encountered to be stockpiled and eventually trucked to the Fort Knox mill for processing, Van Nieuwenhuyse explained. "Meanwhile, mill modification activities continue at the Fort Knox mill with an emphasis on completing outdoor activities before winter arrives," he said. "The project continues to be on track to achieve commercial production in H2 2024."

At the Lucky Shot project, the company initiated a surface exploration drill program on the Coleman segment, which contains an estimated 95,000 oz of indicated gold resource averaging 15.6 grams per metric ton (g/mt) and an additional 23,642 oz of inferred gold resource averaging 9.9 g/mt.

"We will complete as much surface drilling as we can safely accomplish from this single drill pad on top of Box Mountain before winter weather conditions shut us down," Van Nieuwenhuyse said. "The program is designed to extend known mineralization on the Coleman Segment of the Lucky Shot vein, and upgrade resources to a measured category so that we can incorporate it into a proper mine plan. Future drilling of approximately 12,000 m from underground at Lucky Shot is expected to be undertaken in 2024 to augment resources on the Lucky Shot Segment of the vein. Our objective over the next year is to complete the above-mentioned surface drill program followed by the underground drill program at Lucky Shot to identify 400,000 to 500,000 oz of gold resource that we can then develop a mine plan around."

Contango holds a 30% interest in Peak Gold, LLC (Peak Gold JV), which leases approximately 675,000 acres of land for exploration and development on the Manh Choh project, with the remaining 70% owned by an indirect subsidiary of Kinross Gold Corp., operator of the Peak Gold JV. The company also has a lease on the Lucky Shot project from the underlying owner, Alaska Hardrock Inc. and through its subsidiary has 100% ownership of approximately 8,000 acres of peripheral State of Alaska mining claims.
---
As featured in Womp 2023 Vol 09 - www.womp-int.com