First Quantum Buys Stake in the La Granja Copper Project in Peru
---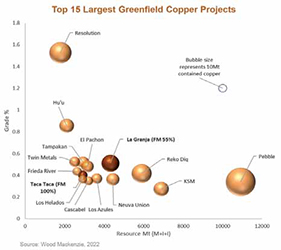 La Granja is one of the world's largest undeveloped copper resources.
(Image: First Quantum)

After receiving regulatory approvals from the Government of Peru, First Quantum Minerals Ltd. has acquired a 55% stake in the La Granja copper project from Rio Tinto for $105 million and will become the operator. The company said it will also provide as much as $546 million of initial funding for the project. Part of the initial funding will be used to complete a feasibility study over the next two to three years, after which the remaining balance will be spent on construction. The construction decision would be contingent on a positive investment decision.

"La Granja has the potential to be a large, long-life mine," said Tristan Pascall, CEO of First Quantum. "As operator, we will leverage our core strengths in mine design, project development and community engagement and look forward to developing our partnership with Rio Tinto. We also appreciate the support from the Government of Peru."

With an inferred mineral resource of 4.32 billion metric tons (mt) and a 0.51% copper grade, La Granja is one of the world's largest undeveloped copper resources. The project is located in the district of Querocoto in the northern region of Cajamarca, Peru, approximately 90 km northeast of Chiclayo, at an altitude of between 2,000 and 2,800 m.

"Developing La Granja would provide a significant new supply of copper and further strengthen Rio Tinto's portfolio of materials needed for the energy transition. Our partnership with First Quantum will bring our combined development capabilities and deep knowledge of La Granja to progress the project," said Bold Baatar, chief executive for copper at Rio Tinto.

Work over the initial years will continue to progress community engagement and the feasibility study. The feasibility study will focus on developing an updated geological resource and reserve model, which will require additional infill drilling to upgrade inferred resources to measured and indicated categories. Additional metallurgical studies to establish optimal processing configurations are expected to be carried out in parallel, together with a high-level project layout and configuration of associated infrastructure requirements and logistical routes.
---
As featured in Womp 2023 Vol 09 - www.womp-int.com