Face Drilling's Next Frontier
Intelligent, autonomous and emission-free jumbos are the order of the day underground.

By Carly Leonida, European Editor
---

Komatsu's ZB21 Bolter was introduced in 2020. A mid-sized version, the Z3, will follow later this year.
(Image: Komatsu)

While innovation has always been front of mind in underground face drilling; a function that, quite literally, sets the pace for development and production across the entire mining operation, demands for greater safety, sustainability and productivity have seen OEMs step up the pace in their research and development (R&D) efforts over the past decade.

From semi and fully autonomous features that allow the drill cycle to be completed remotely, to battery-electric versions of industry-favorite models and even the unveiling of a cabinless concept vehicle… Never before have new technologies and capabilities been brought to the fore and accepted so quickly. And, rather than slowing down, this new pace in drilling excellence looks set to continue well into the future.

E&MJ asked three key OEMs to share their latest developments and where they see the industry heading next. Johan Kempe, Product Director for Underground Drills at Komatsu, began by reflecting on key changes in the design and functionality of jumbos that he has seen over the past 10 years.

"Advances during this time include cleaner diesel engines that are Tier 4 Final / EURO 5 compliant, and the gradual introduction of battery-electric rigs," he told E&MJ. "We're also seeing higher-powered rock drills and drifters with extended overhaul intervals; a reduction of hydraulic hoses on the booms which improves their reliability; more support systems and capabilities designed to keep personnel safe while operating these machines; increased use of CAN bus-controlled, intelligent jumbos; and a greater push for operator-assist and operator- overview style controls, including semi-autonomous and autonomous operations."

The increasing use of intelligent jumbos allows for a higher degree of automation. Kempe added that operators are leaning increasingly towards fully autonomous machines that can perform the full scope of work with minimal operator input. These developments are designed to reduce the inherent stop-start mining cycle experienced predominantly in underground development, while at the same time greatly reducing exposure hours for personnel underground in the high-risk areas.

"Jumbo drills are now being connected to the mine ecosystem," he said. "As such, they can play an important role in providing live feedback to blast programs and controls. This allows various explosives and/or explosive properties to be matched to the ground conditions found while drilling and this helps to optimize fragmentation and limit over brake."

Komatsu to Usher in Next-gen Face Drills
With the adoption of automation in face drilling, the industry is starting to reap numerous advantages, primarily focused around two key areas: safety and production. Using autonomous functions allows operators to be separated from areas of high risk or to complete high-risk tasks from a safe vantage point, which is a major safety boon. In terms of productivity, with autonomous operations, it's now possible to achieve up to a bonus round per shift as the jumbos can be set up and continue drilling out a round while operators are removed from the work area during shift changes and blasting.

Hole navigation systems are also improving both accuracy and blast performance, inclusive of the pull length, contour and efficiency. Innovations such as proximity detection systems and even access control systems are also enhancing safety and helping to eliminate unintended contacts with moving booms and feeds.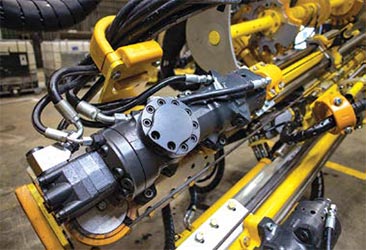 Close up of the rock drill on Komatsu's ZB21 bolting rig. (Photo: Komatsu)

"More and more mines are considering fully electrifying their underground fleets too," Kempe told E&MJ. "Komatsu's next generation of drills include battery-electric versions to meet this requirement. Komatsu is also developing more intelligent jumbos and bolters with hole navigation and automation options. We're hearing that mines are struggling to find and keep highly skilled and experienced operators. As such, machines specifically suited to quick adoption and heavily geared towards operator assist capabilities will be key to helping customers with these challenges."

Komatsu introduced its smaller sized range of ZJ21 jumbos and ZB21 bolters in 2020 which, according to Kempe, have demonstrated good performance and customer acceptance. Komatsu is now developing a medium sized range of Z3 jumbos and bolters that will be introduced in Q3 2023. These will incorporate several of the innovative solutions described above. "I think electrification and automation will continue to attract further R&D in face drilling, although improved performance and reliability of the machines is still important," said Kempe of future developments. "Including the jumbo into a mine's ecosystem of intelligent machines and systems has substantial benefits, as these machines can be used to collect and validate live data for so many disciplines, while performing their day-to-day tasks.

"For instance, surveying, geotechnical and geology teams can all benefit from this data as well as mine design if the data generated or validated by intelligent machines is shared live with the rest of the mine. It can then be used to optimize various support functions almost instantly. This is more efficient than the current method of sending designated personnel down to each drift for validations and instructions for the development team. Intelligent machines can greatly reduce this kind of effort."

JH Fletcher Enhances Smart Tech Offering
The latest development for JH Fletcher & Co's jumbo drills is the Fletchbus system. This acts as a smart hub for machine operations and data collection; in other words, the system provides a channel of communication between the operator and machine, by explaining to the operator what the machine is doing, and to the machine what the operator wants it to do. The system incorporates and refines previous features offered through Fletcher's Graphic Operator Angle Display (GOAD) system that was originally introduced in 2007. With this development, previously manual-hydraulic operations now function through electrically actuated hydraulics. This refinement translates to fewer wires, hydraulic logic, hoses, and valves.

Kayla Hurst, Marketing Coordinator at JH Fletcher & Co explained: "With the Fletchbus system, customers will receive more interlock features, safety features, diagnostics, flexibility, and an increase in performance. The system is equipped with a home screen display specific to the machine. Through this screen, the operator can perform machine functions and view an active dashboard for machine statistics. The operator can also review schematics, circuits, and feedback information through the home screen display."

The most actively used Fletchbus feature for drill jumbos is the drilling screen which graphically represents drilling performance. The system automatically controls the drilling and adjusts the drilling parameters according to the strata and rock conditions. This includes the ability to limit the drilling rate when penetrating contrasting strata layers and helps prevent acceleration when encountering voids and/or soft layers.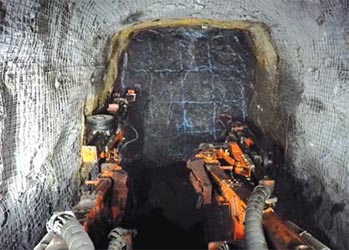 JH Fletcher & Co's J152 jumbo working at the face. (Photo: JH Fletcher & Co)

"The Fletchbus system also aids in preventing rotation stalls, issues resulting from voids, and plugged steels," added Hurst. "All of these drilling functions are simultaneously displayed on the drilling screen, allowing the operator to monitor machine operations." GOAD is offered as an option on all Fletcher Drill Jumbos. The system is available in varying levels, dependent on the customer's needs. Each system utilizes sensors on the boom and feed mechanisms that display hole angles and depth of drilling on an in-cab monitor. This ensures accurate boom and feed alignment for precise hole placement and direction.

The system is designed for use with both burn patterns and V-cut patterns. In operations using burn patterns, the drill round can be optimized or longer rounds drilled due to greater precision. In operations using V-cut patterns with variable hole depths, the system automatically calculates the proper depth for a flat blasted face and retracts the rock drill when the correct calculated depth is reached. In operation, the GOAD system has seen a 30% improvement in tonnages blasted along with significant savings in fuel, blasting agents, drill steel and bits.

The Fletcher team also told E&MJ that an enhanced version of GOAD is currently under development. This will extend the current Multi-Plane Assist function and the system hardware to include Automatic Drill Entry. The system will determine the location of the machine by referencing the surveying marks. The machine will then orient the drill pattern in a way that maintains entry along the predetermined direction indicated in the mine plan. Data from the spatial recognition system will also feed into a new Collision Avoidance System. By applying algorithms to machine functions, this will prevent the machine from colliding with its surroundings.

"The goal of this system is to allow for automated boom movements to calculate positioning of the drill close to the rock surface without damage to the feed that is commonly found in manual operations," explained Hurst. "Automated positioning coordinates the joints of a boom such that it can position and orient automatically for a bolting and/or drilling process. This requires higher level kinematic control not common to underground mining machines, essentially turning the booms into robotic arms."

Sandvik Focuses on Safety and Productivity
Autonomous and intelligently enabled features have also been front of mind for R&D at Sandvik. The introduction of the company's i-series underground drill rigs has brought a host of benefits that the team now considers standard features.

"The i-series units simplify the drilling process, and the improved cabin design offers a level of operator comfort not seen in traditional drill rigs, such as more space, reduced noise, larger interfaces (displays) and better ergonomics," said Jari Talasniemi, Product Manager for Development Drills at Sandvik Mining and Rock Solutions. "i-series rigs also share commonality in their platform and spare parts which improves serviceability, diagnostics and troubleshooting."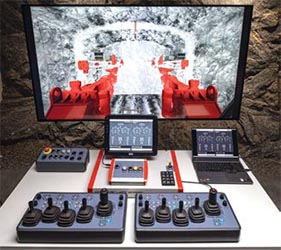 Sandvik's Dual Controls digital driller simulator.
(Photo: Sandvik)

Comprehensive drill planning, reporting, and analysis tools help to achieve high-quality results in drilling and blasting with greater precision and maximum pull-out per blast. Connectivity to Sandvik's digital products for underground drills, such as iSURE drill plan software and DrillConnect application, ensure end-to-end data usage and analytics.

Automating the drilling process is critical to improving productivity and safety, and Sandvik has introduced several automated features across the i-series range, such as automatic drilling and boom movements based on the drill plan, drilling reports, and boom collision avoidance technology. The intelligent torque optimized drilling control system minimizes hole deviation during drilling, reduces jamming, reduces overbreak, and maximizes tool life of the shank adapters and drill steels.

Automated operation is supported by tele-remote drilling, including tele-remote fleet control. A light and compact tele-remote control station enables drills to be operated remotely from a control room and allows the operator to drill over shift changes and during ventilation hours when access to the mine is restricted. Sandvik's patented semi-automatic drill bit changer allows bits to be changed from a safe location, enhancing productivity and reducing the risk of personnel exposure to hazardous ground conditions. The Sandvik boom collision avoidance system ensures reliability of automatic boom movements by automatically re-routing the boom when a possible collision is detected.

Sandvik also plans to integrate its existing tele-remote drill capabilities into the AutoMine system for underground equipment for full fleet and traffic control. In addition to more intelligent drills, there has been a strong industry push towards more sustainable operations, and Sandvik has introduced a complete range of zero-emissions battery electric vehicles for all underground drilling applications. Rana Gruber in Norway is aiming for an emissions-free operation by 2025 and, in 2023, the iron-ore miner committed to a fleet of Sandvik BEV equipment, including two Sandvik DD422iE jumbos, plus six other BEV units for longhole drilling and bolting.

Versatility in drilling applications is a drawcard for many operations, and the Sandvik DD322i is an attractive option for customers looking for a compact sized twin boom drill for both mining and tunnelling applications. Introduced in December 2022, the DD322i is suitable for small headings, tight corners and intersections without compromising on drilling coverage. The new model has an upgraded, low-profile cabin design with increased visibility (+55% window area), plus features like Boom Control While Tramming (BCWT) and the new boom design has two roll-overs for flexibility in crosscut and bolt hole drilling.

Operator training for development drilling is now easier with Sandvik's range of Digital Driller training simulators. Operators can be trained and upskilled in a realistic virtual environment without the need to remove the drill from operations, and with zero risk of damage to equipment. New models in 2022 included the Dual Controls option for the DD422i and DD422iE which enables fast multipurpose use of the rig for face drilling and ground support using a single rig. The DD322i Digital Driller training simulator will also be launched in 2023.

Talasniemi acknowledged that mines are also becoming narrower and deeper, and with that comes higher temperatures that require specific solutions. "Sandvik now has high-temperature packages for its jumbos that extend their usage range up to 40°C and plans to introduce packages for conditions over 50°C ," he added.

Putting Amelia to the Test
Real-time, scanning-based navigation is another priority technology for many mines. Sandvik introduced its concept for this technology in September 2022 when it unveiled 'Amelia', the AutoMine Concept Underground Drill at a customer event in Finland. Future scanning solutions for underground drilling will include on-board sensors and would be compatible with the recently introduced AutoMine Mapping Solution, which enables a vehicle to safely record an underground 3D environment and convert 3D maps to 2D.

Amelia is a fully autonomous, twin-boom development drill rig capable of drilling without human interaction. The cabinless battery-electric drill can plan and execute the entire drilling cycle from tramming to the face, setting up for drilling, drilling the pattern and returning home to charge for the next cycle. Many of these features, which were demonstrated at its launch event, are now in various phases of testing.

In other future developments, Sandvik continues to work on features that keep people away from the face, equipment health data for predictive maintenance, smaller, more cost-effective equipment and greater automation for safer working environments and higher productivity. Readers can also look forward to dry drilling capabilities for Sandvik jumbos and production drills coming later this year.
---
As featured in Womp 2023 Vol 05 - www.womp-int.com