Boric Plans to Nationalize Chile's Lithium
---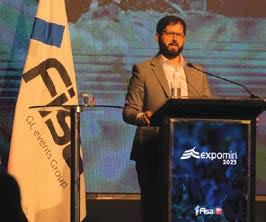 Shortly after making the announcement on lithium, Chilean
President Gabriel Boric spoke at the opening ceremony for the
Expomin trade show in Santiago. (Photo: Fisa)

Chilean President Gabriel Boric announced that he will submit a bill to Congress to create the National Lithium Co., as part of a new national strategy to benefit from expected demand growth for lithium. Chile has the greatest lithium reserves and the country currently represents about 30% of total world production, second behind Australia (47%).

Explaining the national lithium strategy, Boric said that Chile, represented by the National Lithium Co., would participate in the entire production cycle, meaning the metal will be mined and refined in Chile. "The public and private sectors will work collaboratively in exploration, exploitation and value addition activities," he said. "This new strategy seeks to give the state a greater presence in these activities."

The National Lithium Co. will apparently seek new extraction technologies that minimize the impact on the ecosystems of the Salar de Atacama (the Atacama salt flats). In addition, a salt flats protection network will be established, fulfilling the commitment of 30% of protected ecosystems by 2030. Boric said all activities will be carried out with participation from the communities surrounding the mining operations. The first milestone in this process will begin with a direct conversation between the Council of People from Atacama and Boric, since the Atacama salt flats are one of the areas with the greatest potential and global competitiveness for lithium extraction.

Boric emphasized that Chile will continue to respect the contracts in force, while pointing out that the private lease agreements for an important part of the Salar de Atacama will expire in 2030. He said he would enlist the help of Chile's national copper company (Codelco) to be the state's representative with the companies mining in the salt flats to have state participation before the expiration of the contracts. Two of the companies currently operating in the Salar Atacama are Albemarle and SQM Minerals.

Albemarle has been implementing its Salar Yield Improvement Project, which is on schedule for mechanical completion by the middle of this year. SQM is also making a significant investment in a two-stage project to not only reduce water consumption in the Atacama salt flats, but to also use seawater for some of its recovery processes.
---
As featured in Womp 2023 Vol 05 - www.womp-int.com