Lighting Systems Offer More Capabilities
Suppliers announce new solutions that outperform predecessor models, give operators more options, and improve safety and productivity

Jesse Morton, Technical Writer
---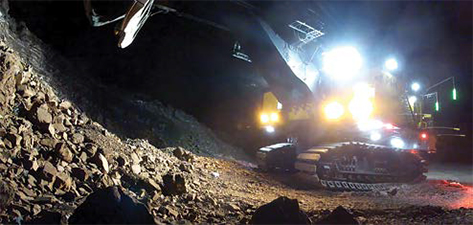 Equipped with ModCom 2, predecessor to the ModCom 3, a Komatsu rope shovel, above, uses white output
floodlights on the top row of dig lights and amber along the bottom row to cut through dust, snow, and fog.
(Photo: Phoenix Lighting)

The newest lighting system solutions on the market offer more capabilities than do predecessor solutions. A benefit that can be immediately realized upon adoption is improved safety. The suppliers say that second only to that is improved productivity. Operators will also benefit from new control options, they say. And management will benefit from the quick return on investment.

Controllable Floodlight System
Phoenix Lighting reported the controllable ModCom 3 LED floodlights system for shovels, draglines, drills and stacker- reclaimers will be available Q1 2023. The system provides "the perfect lighting solution for each individual operator based on atmospheric conditions like rain, dust, or snow, and operator preferences," said Joe Lord, sales manager, mining, North America.

The 50,000-plus-lumen lighting package runs on AC and allows "the operator to find the perfect setting during different working conditions," he said. "At a push of a button, a preset scene can be selected to adjust the color and illumination levels of specific lights from white to amber, while dimming other lights that are nearest to the operator cab." ModCom 3 offers color tuning, dimming and No Glare perimeter optics. "The objective is to offer full control of the lights to the operator to improve nighttime visibility, especially when heavy fog, dust, snow or rain are present," Lord said. No Glare perimeter optics eliminates "glare that is caused by traditional floodlights as haul trucks or other auxiliary equipment approaches the shovel or dragline."

Boom, exterior and interior house lighting all come with factory-recommended optical patterns specific to the equipment model. The solution can be customized with the "full range of wattage and voltage options," Lord said. The purpose-built floodlights are designed to take abuse. "In addition to adhering to the leading OEM mining equipment specifications, we design our products to withstand the typical conditions found on large mine sites," he said. ModCom 3 features "heavy-duty components, such as potted drivers," overdesigned heat sinks and harps, and "smart sensors that reduce the light output if the internal temperature of the fixture exceeds the maximum temperature threshold due to poor maintenance."

ModCom 3 was also designed to be easily maintained through modular repairability. "This cuts down on maintenance time and unsafe working conditions without light," he said. Benefits include improved safety and production, and a quick return on investment. Preprogrammed customized lighting "creates a more comfortable, productive experience for both the operator and those working around the equipment," Lord said. "Better lighting in the working area leads to less fatigue, which is key for safety and higher productivity," he said. "Seconds off cycle and load times equals higher production and better ROI."

The solution succeeds the proven ModCom 2 floodlights, which "are used by the two largest rope shovel OEMs," he said. For example, while the "industry standard is going with all-white floodlights, Komatsu's 4800XPC rope shovel used white output floodlights on the top row of dig lights and amber along the bottom row" to cut through dust, snow, and fog. ModCom 3 achieves the same outcome with just one set of fixtures.

"Previously, with the ModCom 2, when visibility is challenged, the operators dim or turn off the top row of white lights and leave the bottom row of amber dig lights on to cut through the particulates in the air," Lord said. "The benefits for this arrangement, is best seen from the operator cab and is truly a game changer, increasing confidence and operator performance," he said. "Now, with the Mod- Com 3, we can dial in the appropriate color, temperature and intensity from one or a specific set of fixtures, further optimizing visibility and lowering operator fatigue."

Wireless control options reduce the needed infrastructure and simplify installation, compared to the predecessor solution. Phoenix offers extensive customer support for deployment and installation. "We supply full-scope, preliminary lighting simulations, factory aiming recommendations, installation instructions, and 24-hour support," Lord said.

No-glare Work Lights
Separately, Phoenix Lighting reported the Sturdilite Master Series work lights for mobile equipment are now offered with No Glare optics. "Our No Glare optic is sweeping the globe for all rolling stock as the preferred option for all head and rear lighting," Lord said. "Less glare creates a safer, more productive operating environment."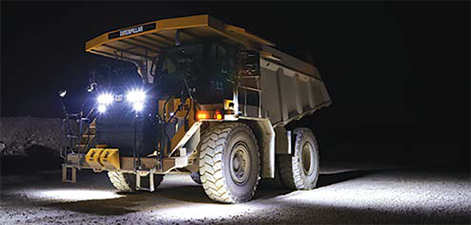 Above, at a site in Wisconsin, a haul truck uses the Sturdilite Master Series work lights. Sturdilite Master Series
work lights for mobile equipment are now offered with No Glare optics. (Photo: Phoenix Lighting)

The lights are designed to endure extreme shock and vibration, rocky terrain, and harsh weather. "The Sturdilite Master Series checks all the boxes for durability, but also offers customized No Glare driving optics, and multiple color temperature and wattage options," he said. The solutions have heavy-duty componentry and brackets. Features include aiming indicators for ease of installation, breather valves to eliminate condensation, circuit boards printed with conformal coating for protection from short circuits, and lenses with advanced oleophobic coating to keep off mud, dust, and grime.

"At first glance, it's easy to see the craftsmanship and sheer ruggedness of the fixture," Lord said. "The overbuilt aluminum body sits on top of a bulletproof steel harp," he said. "Our fixtures undergo extensive in-house and third-party testing, including IP ratings, shocks, voltage spikes, extreme temperature fluctuations, and quality-per-OEM testing requirements." Benefits include improved worker safety and production. "Decreasing accidents and near misses while improving cycle times is something we work to achieve for our customers," he said.

Recently a customer tapped Phoenix Lighting to replace lighting solutions that required too much inventory and provided too few options. "They only had one wattage and two optical patterns to outfit their entire fleet of equipment, ranging from haul trucks to dozers," Lord said. "We implemented a Master Series retrofit program through a series of lighting layouts and factory recommendations for each piece of equipment," he said. "Together we determined they needed only four SKUs to achieve the most efficient and effective lighting scenarios."

Phoenix Lighting supplied a maintenance application guide that included part numbers and their exact location on each piece of machinery. "They can now retrofit with confidence and uniformity knowing they have a long-lasting light fixture with the perfect optical pattern across their fleet," he said. The guide is offered as part of a lighting optimization program for determining wattage, optical pattern, and fixture orientation by equipment type.

LED-ultraviolet Lights for Mobile Machines
Matrix Team reported programmable UVision lights for mobile equipment provide far superior illumination compared to competing LED equivalents. Company literature showed that in in-house tests, at 15 ft, UVision was 70% brighter than a competing LED lighting system. At 20 ft, it was 54% brighter. Further, the lights make reflective material "pop!" the company said.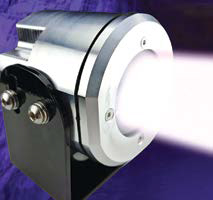 UVision lights for mobile equipment combine LED
with safe-spectrum ultraviolet and are 50% brighter
than LED competitors for significantly increased
illumination of reflective material.
(Image: Matrix Team)

The solution is a significant stepchange mine-lighting technology, Matrix Team said. "UVision is patented dual- spectrum lighting that combines LED with safe-spectrum ultraviolet," said Brian Jones, vice president, business development, Matrix Design Group. "This light is 50% brighter and provides significantly increased illumination of reflective material in underground mines or low-light environments," he said. "Since it is color-programmable, it can also be used as an auto-reversing headlight and taillight combination."

Benefits include "safety everyone can see!" company literature said. It "elevates your mine's safety factor." In low-light and dusty conditions, it "enables miners and vehicle drivers to better see people and objects and identify reflective markings," Jones said.

UVision fits existing enclosures, and is offered in a standard enclosure or a MSHA-approved XP enclosure. "As a patented product, no competitors offer this unique solution," he said. "It is also made in the U.S.A." By increasing safety, the offering synchs with the rest of the supplier's portfolio. "Matrix works to help mines be more safe and productive," Jones said. "That is exactly what UVision does, as well."

Next-generation LED Combo Headlights
Nordic Lights announced the imminent launch of the Sculptor 2. Designed for heavy-duty machinery, the next-generation LED combination headlight offers multiple capabilities. Manufactured at the company factory in Finland, the solution is the successor to the Sculptor, a full-LED combination headlight. "The plan was to create a product that is even better that its predecessor, said Mikko-Ilari Ojala, product portfolio manager. "The first versions of the Sculptor 2, for left- and right-hand traffic, will be launched in Q2 2023."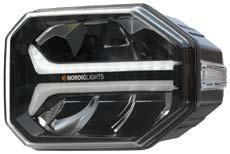 The Sculptor 2 LED combination headlight, above, is
equipped with a passing and driving beam, direction
indicator, position light and daytime running light.
(Image: Nordic Lights)

Sculptor 2 is "equipped with a passing and driving beam, direction indicator, position light and also daytime running light," he said. "It is ECE approved and provides high-quality and excellent illumination and visibility for efficient and safe operation of the vehicle." The headlight casts light on the front and sides of the machine, thus augmenting work lights. It "provides excellent illumination and visibility both for the operator as well as for other people around the vehicle," Ojala said.

The solution is a "modern, high-quality product with a unique and easily identifiable design," and "extensive features," he said. Optional features that will soon be available include a heated lens and sweeping indicator. Benefits include "high build quality and excellent performance."

The solution is effectively maintenance free. "Nordic Lights is especially known for the extremely high quality of our products," Ojala said. "They are well designed to the smallest detail, built from thoroughly tested components and validated carefully, and Sculptor 2 makes no exception to this," he said. "It is a durable and maintenance-free headlight, resulting in low lifecycle cost." The headlight "is an example of a product developed and tested through our longterm partnerships," Nordic Lights said. "We have been cooperating with wellknown and established global OEMs when developing the product, ensuring that Sculptor 2 fulfils the highest demands on the market," Ojala said. "Feedback from the field tests have been positive throughout.

Sculptor 2 can be "combined with all well-known brands of machinery and existing light set-ups," the company said. "Adoption is really simple," Ojala said. "The product's dimensions, mounting points, as well as electrical connections, have been designed so that it is fully interchangeable with existing halogen combination and LED combination headlights." The solution supports the company mission "to enable safe and efficient use of heavy duty equipment," he said. "Sculptor 2 does just that by providing vehicle visibility and excellent near- and far-field illumination when operating the vehicle in on-road and off-road environments."

Headlight, Camera Enclosure Certified for Europe
Elgin Power Solutions announced the global release of a certified small explosion- proof camera display enclosure that goes with the headlight enclosure for the ATEx/IECEx mobile machine forward/reverse camera system. "The ATEx/IECEx system is now available for use in overseas markets," said Frank Pulkownik, sales manager. The release allows the supplier "to pursue overseas clients and grow the Elgin Lighting products group business."

The offering expands the company's portfolio of industrial camera system solutions that can "provide total machine coverage in the areas where the operator needs it," the company said. "Elgin engineers can work with OEM engineers to put concept into reality on machine camera systems."

For the American market, "Elgin MSHA-approved underground explosion proof camera systems are an industry standard on most underground mobile equipment in the U.S. market," Elgin Power Solutions said. "The camera systems consist of two cameras mounted on each side of the machine and two monitors in the machine cab that allow the operator to see in both forward and reverse directions of machine travel." The systems have been deployed to numerous types of underground mobile machines, to include scoops and shuttle cars.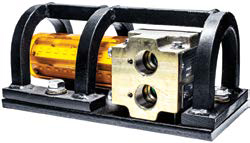 Elgin extreme-duty underground LED lights offers high visibility
for machine operators underground, Elgin said. (Image: Elgin)

The Elgin underground LED headlight that complements the camera systems "offers high visibility for machine operators underground," Pulkownik said. "The headlight enclosure is used for underground white light, red light, infrared light, and black-and-white camera systems," he said. "The built-in red LED light offers enhanced safety when machines reverse direction."

The headlight is one of the "most extreme-duty machine lighting products available on the market," Elgin Power Solutions said. Built of aluminum and brass, it is designed for "shock and heavy vibration applications." Multiple "MSHA certifications are on file so the products are readily available for underground customers without delay in obtaining certifications," Pulkownik said. "OEM Machine manufacturers add the Elgin MSHA-approved product to their machine approvals."

That helps OEMs "adopt cutting edge solutions" for their equipment "in a timely fashion," he said. "It also expedites product innovation as the mining industry moves toward machine automation and advances in safety underground." Multiple sizes are available. The company's explosion-proof headlight product line has evolved over the years to answer the needs of OEM customers. Elgin Power Solutions also offers the mobile equipment LP and LP2 explosion- proof area lights for continuous miners, roof bolters, and other equipment.

"The LP2 is a dual-area light" for equipment "that requires twice the rated lighting in specific areas," the company said. "The LP and LP2 Area lights originated using incandescent bulb lights, but have recently been replaced by the LED option."

For surface and plant equipment, Elgin Power Solutions offers industrial rated headlights with multiple mounting configurations. "The industrial headlights use the same rugged designed LED products that are utilized for the underground mining market," the supplier said.

"Elgin also offers a complete line of commercial and industrial LED light fixtures that mainly include Wall Packs, UFO Hi Bay Lights, Shoebox Lights, and Area Lights," Elgin Power Solutions said.
---
As featured in Womp 2023 Vol 02 - www.womp-int.com