Mass Movement: Mining Gets a Helping Hand from New Heavy-lift Equipment
Lifting 'big iron' takes big capacity and precise control. We look at the equipment heavy-lift service providers are acquiring to do the job.

By Russell A. Carter, Contributing Editor
---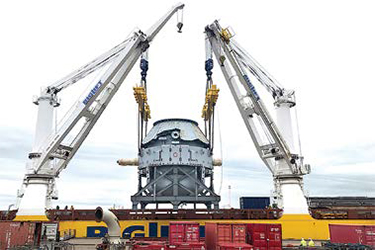 Mining and metals industry managers and executives are increasingly pressed to bring
projects on line within schedule and budget, while logistics and heavy-lift service providers
are being challenged to move and place bigger loads faster and with higher precision.
An example: this BOF converter was assembled in Europe and shipped overseas in one
560-ton piece, enabling the customer to eliminate vessel assembly on site and profit from a
shorter shutdown period. (Photo: Primetals Technologies)

As a major buyer and user of equipment that includes shovels weighing millions of pounds, grinding mills that measure 40 ft or more in diameter and stacker reclaimers large enough to handle massive stockpiles, the mining industry has always been a steady customer for the specialized equipment and expertise needed to lift huge machines into position.

For mine project owners and managers currently contending with cost escalation from global inflationary pressures on everything from machinery to manpower, the prospect of having a project delayed because a major component can't be lifted into place in a safe, timely fashion is increasingly unacceptable. In response, the major heavy-lift companies that regularly participate in large industrial projects such as mine construction have been busy adding new machines and capabilities to meet the changing nature of the businesses they serve, and lifting-equipment OEMs are expanding their product lines to provide machines tailored to meet specific needs as well as the industry's wider focus on digital platforms and automation.

New Challenges, Novel Solutions
Cranes have always been the workhorses of heavy lifting, and as we'll see later in this article, crane technology is steadily advancing. However, heavy-lift service providers and their customers are also being increasingly challenged to find solutions for accomplishing unconventional lifting jobs. For example, Osprey Group, a UK-based logistics specialist, recently announced that it had expanded its capabilities by acquiring an Enerpac JS250 hydraulic jack system that provides 1,000 mt of lifting capacity. The system's compact design, according to the company, means larger loads can be moved within a smaller footprint.

Simon Massey, head of Osprey's Heavy Lift Division, explained why the company acquired the system: "We're doing more work with clients who have special projects – one-off critical assets, or components of an unusual shape or size or weight that are needed as part of a wider program of work. As demands for efficiency grow, the solution is often greater capability at the same location. We're being asked to consult on and deliver larger, taller, wider critical assets, into the same tight spaces. We're also working with a number of clients who have niche needs – very specific, high value or unusual asset movements – and we expect that demand to increase."

Customers are also looking for ways to simplify and expedite routine but risky heavy-lift tasks. As an example, another Enerpac system played a key role in a typical lifting operation required by Australian Caterpillar dealer WesTrac. As the company explained, lifting heavy machinery such as haul trucks and wheel loaders can be a challenging task without the right system in place. For a large-equipment dealer, the process of assembling and transporting an oversized vehicle requires several steps – locating and positioning the lifting equipment at the appropriate lift points, removing the wheels, attaching wheel stands, and lowering the vehicle followed by removing the lifting equipment. Then a multiwheel trailer is placed under the vehicle and the wheel stands removed before it is ready for transportation. Using short-stroke cylinders without synchronous lifting is time-consuming and can involve increased risk if the load is lifted at different heights.

In this instance, WesTrac needed a portable, safe solution to lift a 200-ton Cat 994K wheel loader to a height of 400-450 mm with an accuracy of ± 2 mm across four lift points. The process would be carried out on uneven ground which caused the lifting points to be at different heights, so the system had to operate independently without manual intervention and provide a locking function during lift. It also needed forklift pockets so it could be maneuvered into place easily.

Drawing from its synchronized lifting technology and expertise in high-tonnage cylinder manufacturing, Enerpac had a solution – the Enerpac Synchronous Lifting System – which the company says has an intuitive user interface, is easy to set up and control and combines high-pressure hydraulics and computer controls to monitor and control precise lifting and movement of heavy loads.

After being set in place, the system was able to lift the wheel loader safely at a rate of 1 mm/s, with the system's auto-locking cylinders ensuring that the load was always mechanically secured during both lifting and lowering operations. Another common heavy-lift problem – moving a component that can't be directly reached with a crane – is the focus of an innovative device highlighted by Barnhart Crane, a Tennessee, USA-based lifting and rigging company. The Movable Counterweight Cantilever System, which Barnhart calls MegaMOCCS, offers a solution that doesn't require the site modifications often needed to move an item that may be unreachable from overhead or is located in close proximity to processes or machines that can't be interrupted.

MegaMOCCS is an engineered cantilever system with beams and counterweights that can be adjusted to variable lengths and multiple rigging configurations. Once the beams are extended to the necessary length to reach and support the item, the counterweight adjusts remotely to balance the load as it is crane-lifted. The system's maximum capacity is 200,000 lb at 11-ft extension, 55,000 lb at 45 ft and it can navigate ultra- low headroom situations. MegaMOCCS, according to Barnhart, can reduce the time needed to place/remove a component that might typically require bull rigging – involving manual placement of slings and rollers to slide the item into position before or after a crane handoff – and reduce overall safety risks associated with that approach.

Heavier Lifts, Higher Maneuverability
Heavy-lift service providers are adding higher-capacity and higher- tech units to their crane fleets, and mine/plant/terminal operators are employing a new generation of mobile and overhead crane models to meet current and anticipated future needs. Liebherr updated its popular LRT 1100-2.1 rough terrain crane last year, giving it a heavier but more compact counterweight to increase lifting capacity while providing better operator visibility in all directions. One of the new cranes was used later that year to speed up the assembly of a Liebherr T264 mining truck at a site in Virginia, allowing the job to be completed four days ahead of schedule.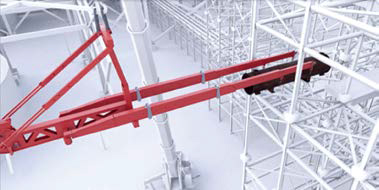 MegaMOCCS is an engineered solution for handling hard-to-reach, heavy components.
Attached to a crane, the device is maneuvered into place, the cantilever arms are extended to
reach and support the load, and the counterweight is positioned to maintain balance as the
item is safely shifted and lifted. (Photo: Barnhart)

"It can be very hard to schedule cranes for builds like this," said Thomas Coenen, Liebherr Mining Equipment product support representative. "Auxiliary cranes are often shared and used for maintenance of heavy mining equipment and other lifting needs around mining sites. In this instance, I was able to use the upgraded LRT from [a] crane rental. Using one crane that can lift the truck makes the project easier, and we can complete the build faster. This also meant no downtime or crane changes for different components to be lifted."

An array of safety features come standard with the LRT, including the Variobase variable outrigger system that allows safe operation of the crane with asymmetric outrigger positions integrated into the LMI (load moment indicator). The crane also offers the LICCON controlled load moment limiter that Liebherr says minimizes accidents and human error, and a monitored two-hook operation that enables safe rotation of loads. During the April 2022 introduction of its LR 12500-1.0 crawler crane, Liebherr noted that demand from the market for larger crawler cranes is growing because project lift weights are constantly increasing. Concurrently with the crane's unveiling, Belgium-based heavy-lift specialist Sarens announced that it would be the first company to add the 2,500-mt-capacity LR 12500-1.0 to its fleet of more than 1,500 cranes. The LR 12500-1.0 fits between Liebherr's 1,350-mt LR 11350 and the 3,000-mt LR 13000 – a model which Italian heavy-lift specialist Fagioli recently added to its fleet. Two Liebherr 6-cylinder in-line engines deliver a total of 800 kW (1,088 bhp) on the LR 12500-1.0. The maximum hook height of 200 m (656 ft) is achieved using a 100-m main boom and a 108-m luffing jib. The crane's 110-m-maximum length 'High Performance Boom' can be extended to 155 m (508 ft) using parts of the luffing jib.

In line with the wider industrial sector's interest and implementation of automated equipment, Liebherr provided a glimpse of its automated crane maintenance system called Liebherr Intelligent Maintenance (LiMain) in mid-2022, demonstrating how the system will enable users to maintain certain crane types without having personnel on site. The demonstration was mainly aimed at informing offshore wind-power installation operators about maritime-crane system capabilities, but LiMain, according to the company, "embodies the future workplace in a digitalized world: Maintenance work independent of time and space." For crane applications in other industrial sectors, the system could offer a preview of possibilities. Its architecture consists of four modules: Automatic Greasing, Condition Monitoring, Predictive Maintenance and a Remote Maintenance Cycle. The package, said Liebherr, enables operators to determine the scope of intelligent maintenance that meets their needs.

US-based crane manufacturer Manitowoc expanded its line of rough-terrain cranes and highly maneuverable truck models last year, using bauma 2022 as an opportunity to launch the Grove GRT8100-1, which offers a list of improvements over the popular GRT8100 model. Many of the enhancements on the 100-ton-capacity GRT8100-1 stem from a new chassis that shares commonality with the chassis from the company's 120-ton-capacity GRT8120. There's also an updated engine and transmission package, and a new, wider cab with enhanced operating features.

The new crane, according to Manitowoc, features the same 360° load charts as its predecessor and has the same overall dimensions, counterweight and five-section 12- to 47-m (39- to 154-ft) boom. However, with the new chassis on the GRT8100- 1 customers can choose to integrate the company's MAXbase variable position outrigger system, which offers up to 15% capacity improvements in certain configurations. Also new to the outrigger design is an auto-level feature for easy jobsite set-up, as well as Manitowoc's smart, length-sensing Outrigger Monitoring System (OMS). Powered by a 6-cylinder, turbocharged and water-cooled Cummins B6.7L Stage 5/Tier 4 Final compliant diesel, the GRT8100-1 offers approximately 10% more power, producing 224 kW (300 hp) at 2,500 rpm.

Manitowoc noted that Indonesian gold miner PT Arafura Surya Alam (ASA) recently purchased its first Grove crane: a GRT8100 which will be used to support a major construction program, as well as regular mine operations and plant maintenance duties. The company said ASA chose the GRT8100 to meet its need for a rough-terrain crane with the ability to work in tight spaces while being supported by an in-country dealer with parts, service, training and technical support. The crane supplied to ASA is the third GRT8100 to be delivered to Indonesia. The GRT8100 has a capacity of 100 t and up to 73 m (240 ft) of reach when the 47-m (154-ft) main boom is fitted with its full complement of jib and intermediate lattice section. Power comes from a Cummins QSB6.7L diesel.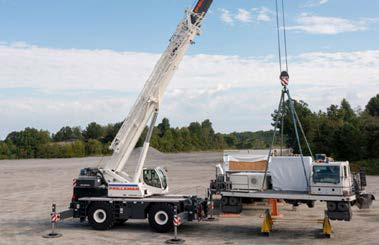 Versatile, highly maneuverable mobile cranes are key tools for expediting mine-site heavy-lift
tasks, as illustrated by the use of this Liebherr LRT 1100-2.1 rough terrain crane to assist in
the assembly of a T 264 haul truck, allowing the task to be completed four days ahead of
schedule.

Manitowoc also expanded the range of solutions available to customers looking for a truck-mounted crane that can handle narrow, meandering roads and maneuver in confined spaces. The company's new four-axle, 115-t-capacity TTS9000-2 truck crane features an automated steering system that helps operators navigate challenging driving conditions. On the TTS9000- 2, each of the all-wheel steering modes can be activated by the operator at the click of a button. With crab steering selected, all tires point in the same direction when the steering wheel is turned, allowing the crane to travel diagonally. Another option is a coordinated mode where the driver turns the front wheels in the direction of travel and the rear wheels turn in the opposite direction. This reduces the truck crane's turning radius and makes tight turns much easier, according to the company.

Trending Towards Automation
Overhead cranes are a familiar sight at processing plants and bulk freight terminals; they make the routine job of lifting and moving containers, process vessels and other items within a facility safer and quicker than most other methods. Although automation capabilities have been available for this type of crane for decades, the technology is keeping pace with overall industrial progress towards increased operational automation.

Konecranes, a Finland-based global lifting equipment supplier, announced that Terminal Graneles del Norte (TGN) ordered three of its Rail-Mounted Gantry cranes (RMGs) that will be equipped with a high level of automation for TGN's facility in Mejillones, Chile. These will be the first Konecranes RMGs to be installed in South America and also, according to the company, a world-first in automated RMG operation with the cranes handling copper concentrate in an intermodal terminal.

RMG's are a type of yard crane that travels on rails to handle containers, using a spreader lifting attachment. TGN expects to substantially increase productivity and storage capacity by utilizing sealed rotainers – specialized shipping containers that are loaded and sealed at the mine site and normally transported by train or truck to a terminal – as opposed to massive piles of raw materials in the yard. This will allow TGN to reduce particulate emissions and conduct safer, more environmentally friendly operations.

Alfredo Ramirez, regional sales manager at Konecranes Port Solutions, said: "This is one of the most interesting RMG cases I've ever worked on. These RMG cranes will work in a special intermodal operation serving trucks and trains arriving from one of the largest copper mines in the world. They will handle special containers that carry copper concentrate – offloading full containers from trains and trucks and loading them with empty containers."

The three automated Konecranes RMG cranes, with a rail span of 154 ft, will employ revolving spreaders that will be used to discharge the copper concentrate to hoppers. Container stacking, including discharging into the hoppers, will be fully automated. Lifting and landing onto trucks and train cars will be controlled by an operator at a remote station. According to Konecranes, the RMG cranes' automation capabilities suit TGN's overall plan to make its Mejillones facility the first semi-automated, multimodal terminal handling bulk cargo by implementing the Navis N4 terminal operating system (TOS) at the site. N4 will act as the brains of the terminal by integrating and enhancing existing technologies as well as connecting to the gate for receipt of cargo, providing guidance on loading sequences, stowage and grounding scenarios, directing stacking crane activity and more.

The TGN facility will have capacity to handle up to 4 million tons of copper concentrate annually. The terminal is slated to begin operations by late 2023. To obtain maximum efficiency from overhead cranes, the span, capacity, duty cycle, operating environment, and any special structural considerations are primary concerns that can measurably affect the cost of this type of unit. Kuenz, an Austrian crane builder that offers both tankhouse and process cranes, points out that crane construction materials play a vital role in serviceability and longevity; in addition to acid-resistant steels and plastics, Kuenz uses special coatings on its components to ensure long service life. The company typically uses standard duplex stainless steel for crane fabrication, but components can also be made from super duplex stainless steel at customer request. The company announced last year that it would provide two automated tankhouse cranes for Amman Mineral Industri's copper smelter at Sumbawa Island, Indonesia.

Right Tool for the Job
In day-to-day operations at a mine site, exactly what constitutes "heavy" might simply depend on the situation: Something too heavy for a worker to pick up, or so massive that it requires a multiple-crane lift? Whatever the need, there is equipment available with capacity, safety and reliability features that can make any lifting task less risky by avoiding downtime from equipment breakage or harm to involved workers. When it comes to lifting equipment need for routine maintenance and repair tasks, crews are often tempted to improvise when they need to lift a heavy object, using readily available tools that aren't quite made for the job – whether it's a sling hung on a loader bucket tooth or a battered come-along that spends most of its time sliding around in the bed of a pickup truck. Just for reference, in the United States the principal cause of lost time injuries in both metal and nonmetal mines is manual material handling (MMH) and certain activities, according to the National Institute for Occupational Safety and Health, are the most likely to result in injury: handling supplies; material loading and unloading (45%); and machine maintenance/ repair (24.3%). Injury statistics from many other mining districts around the world roughly mirror these findings.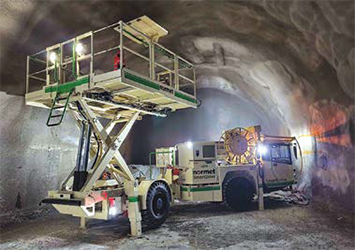 Normet's new SmartDrive-family Utilift MF 330 SD has a lifting capacity of up to 3 mt
and maximum platform height of 3.5 m.

Recent additions to Normet's SmartDrive line of battery-electric mine support vehicles include two models aimed directly at assisting workers in handling, lifting and moving materials – the Utilift MF 330 SD and Utilift MF 540 SD; and Utimec MF 100 Material SD for material transportation.

Normet said its SmartDrive architecture combined with its proven personnel lifting system enables safe lifting works with zero local emissions, improving working comfort significantly. The Utilift MF 330 SD, with a lifting capacity of up to 3 mt and a maximum platform height of 3.5 m, is designed to provide a safe working platform for all kinds of installation work in tunnels up to 5.5 m high. The Utilift MF 540 SD is a scissor lifter offering reliable performance for all lifting and installation needs in underground mines up to 6.5 m high. A 4.5-mt maximum lifting capacity and 4.5 m maximum lifting height makes the installation of even the heaviest mine ventilation fans possible. Both lifters can be equipped with line-of-sight remote driving system to further increase the safety and productivity by allowing the operator to relocate the machine easily with wireless remote control from the ground or from the platform. The Utimec MF 100 Material SD is designed for efficient bulk material transportation in underground mines and tunnels. It has a payload capacity of 10 mt and comes in two platform versions with either low or high platform edges. The vehicle can be equipped with an optional crane with up to 2 mt lifting capacity for loading and unloading of heavy objects.

Recognizing the risk of lost-time injuries and equipment damage associated with removing/replacing heavy components on mining machinery, OEMs and third-party vendors often offer specialized lifting tools that can make the task of lifting heavy GET parts, pumps, giant excavator attachment pins and other items much safer and quicker.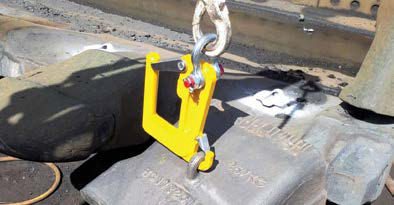 CR Mining's Universal Lifting Solution enables easy lifting and safe handling of heavy GET
components.

For example, CR Mining – an Australian supplier recently acquired by Epiroc – has offered its Universal Lifting Solution (ULS) for several years. According to the company, ULS provides customers with a safer, more secure and quicker method for lifting GET during maintenance, and is designed to enable users to lift any size of CR teeth, shrouds, adapters, boxpoints and more by inserting the larger of its two hooks through the GET pin hole. It has a rated load limit of 750 kg (1,653 lb). CR said ULS also can be used to install new GET by attaching the tool's smaller hook to the lifting eye included on all new GET castings. It automatically locks the latches once attached to ensure safe handling. The company claims the unique engineering solution enables easy removal of the hook from the GET once moved and is quicker than attaching threaded D-shackles.
---
As featured in Womp 2023 Vol 02 - www.womp-int.com