Customer-inspired R&D Delivers Versatile Machines
The new generation of scalers, graders, rock breakers, carriers, and concrete mixers are designed with the exact capabilities customers want, and the comfort and safety operators need

By Jesse Morton, Technical Writer
---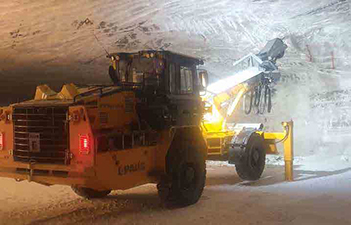 With a 10-m reach, the PScale 10-T scaler offers smooth, precision scaling, and comes
with a Tier 5 engine and remote control capability.
(Photo: Hermann Paus Maschinenfabrik)

Customer feedback-driven research and development has resulted in a new generation of utility equipment designed to handle the trending challenges of the day. Specifically, the new machines are more versatile and dynamic than previous machines, offer more options for customization, are easier and more comfortable to operate, and increasingly are offered with low- or no-emissions engines. The suppliers told E&MJ that the market is in some ways shrinking, and their answer to that challenge is to develop machines that meet both the current and future needs of the customer. And feedback from the customers shows they are succeeding.

Smoother, Bigger, Precision Scaler
Hermann Paus Maschinenfabrik reported receiving positive feedback from a potash miner that adopted the new PAUS PScale 10-T scaler. "They are considering more machines than just this one," said Franz-Josef Paus, executive manager. "Currently we are discussing more projects and that is a good sign for us. If everything is at least satisfactory, then they will go ahead and try more." The miner is a preexisting customer that has previously deployed PAUS transportation vehicles. "This was their first Paus scaler," Paus said.

The mine uses the scaler in areas with jointed loose rock. "It is used to scale the roof, and on sidewalls" he said. The unit is one of the first off the line for the 10-T model, and was delivered roughly 7 months ago. The PAUS PScale 10-T was introduced in Q1. It is similar to the predecessor 8-T, which has an 8-m reach. "The line is complete with two models, with 8- and then 10-m reach," Paus said. "The 10-T is a much bigger machine but based on the same technology as the 8-T," he said. "It is 6 mt more in weight."

Compared to the 8-T, the 10-T also has a longer boom with a modified end. "There is a separate, additional telescoping feed for the hammer, and there is a manipulator at the boom top," he said. Both come with Tier 5 engines, and both can be controlled remotely. "The operator can stay in the cab and do everything from the cab, or take the remote control and do it from wherever," Paus said. Like the 8-T, the 10-T was designed for agility. "It is a very versatile, maneuverable, small machine that can be easily and quickly moved from one position to another," Paus said. "Additionally, the scaling process, we say, takes a more a sensitive approach."

Both models come with tilt-able cabin, individual adjustable machine parameters for driving and scaling for max performance in any condition, and feature a "low engine rev-concept" for energy efficiency and less noise, he said. Like the 8-T, the 10-T is designed to be used in ambient temperatures up to 50°C and in altitudes up to 5,000 m. The scaler "can operate very smoothly and very delicately," he said. "Not necessarily heavy scaling in terms of 'rip whatever you can.'"

Smooth operation allows for greater precision, which gives better results. "You find out where are the hotspots, when you manually inspect the ceiling and listen for tik tik, tok tok," he said. "You touch the roof and find out where are the hotspots, where is the loose rock, and you only just cover this area and leave the rest as it is to avoid additional damage to the roof."

Currently there are several 10-Ts being built. "They will be delivered next year, mostly to South America, the biggest market for scalers" Paus said. Unfortunately, due to persistent supply chain disruptions "the delivery times still are at least 7 or 8 months, and in most cases more," he said. "Whatever is on the line today is sold. Whatever sells after today will be at the end of the line."

Meanwhile, the company has also reviewed and approved 3D models for the redesigned Universa (UNI) 50. The popular multi-use carrier "will be completely renewed, with a new driveline, new cabin, the latest technology, front-axle suspension, and other features," Paus said. "It will still do the same job but more effectively and more productively and will still be the workhorse it always was." The redesign includes a big, more comfortable cab. "I would consider it as one of the biggest in the industry," Paus said. "It can hold up to three people, sitting in there with leg room." The cab will be "completely insulated so noise within the cab will be much less than it was before," he said. "It is very comfortable now, already, and will be more so in the future."

The redesign will also feature state-ofthe- art engine and driveline solutions. With an up to 16-mt payload capacity, and an engine output of 173 kW, the Universa 50 is known for its versatility. Articulated, it has a low turning radius for use in tight confines. It can be built to be as compact as 1.9 m wide and 2.3 m high. The rear platform can be quickly configured for one of several applications, from personnel carrier to concrete truck, to lube truck or fire truck. With a hydraulic lift system built onto the frame, changing from one cassette to another can take as little as five minutes.

"The new vehicle will have the same functions, and the hydraulic frame can be used with what the customer might require," Paus said. "The new machine will still host the old cassettes." The new UNI 50 is expected to be released in 2023. Paus said the worldwide population of the 11.5-mt PG10 dual-axle grader continues to grow. "The PG10 is a very wellknown unit, specifically in South America and North America," he said. "It is specifically designed for underground use, typically in small and narrow areas where the big graders with the tandem rear axle don't fit."

With two axles, it is "very nimble," he said. "It has a steering axle up front and an articulated joint like many other utility vehicles underground have to be completely maneuverable." The unit is designed for use in narrow- vein or small-gallery mines. It is 2.3 m wide, and "the height is very small: standard is 2.3 m, optionally may also be below 2 m," Paus said. "You can turn in from less than 4 m into 4 m on a right turn or left turn."

The grader "is made for precise and economic gallery maintenance," company literature said. It offers "high tractive force for exact grading results, low operating costs, and high precision as a result of easy operation." The grader is "really easy to drive," Paus said. It can come standard with a closed, air conditioned cab; advanced technology; and different engine solutions, including a Tier V engine. Most PAUS equipment is designed for use in mines in locales with the most stringent emissions regulations.

"There are not many mines in Europe left, and not many manufacturers focusing on European-certified machines," Paus said. "However, besides 'normal' engines for low-regulated countries, most of our machines are also available in Tier 5 because, for us, Europe is a strong market."

BEVs for ESG Goals
Normet said demand is solid for its M-Series battery-electric SmartDrive equipment, prompting the company to ramp up production and to make internal changes as it grows market share. "We are really starting to see lot of demand for battery-electric vehicles (BEVs) globally and we are delivering these products regularly," said Herkko Juntunen, director, logistics and utility product line. "Curiosity has changed to real deals," he said. "We have now several new products in ramp-up and production phase."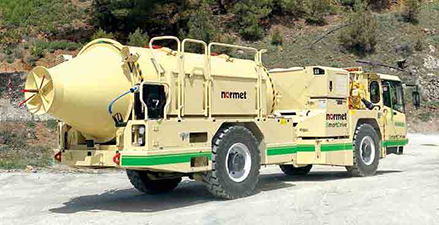 The SmartDrive Transmixer offers reduced energy and operating costs, and reduced noise and diesel fumes.
(Photo: Normet)

Equipment from the M-Series has been deployed to mines in Europe and South America. Success from field trials and feedback from customers has pushed the line into production phase, Juntunen said. He described the feedback from the customers as "extremely positive." It included "improvement suggestions that have been taken into account in machine development."

The trials convinced at least one customer of the superiority of battery electric equipment. "One of our customers in Latin America has been using our diesel-powered concrete transportation equipment for a long time," Juntunen said. "Recently we ran 6-month SmartDrive Transmixer trials with them," he said. "And when they saw the SmartDrive performance and benefits in their operation, they were really amazed and said that they will not purchase any diesel-powered concrete transportation equipment in the future."

Those benefits included substantially reduced costs. "For example, energy consumption and operating costs in real conditions are usually 60% to 80% lower than those of equivalent diesel equipment," he said. "Operators also like the noise- and diesel-fume-free operation and performance of SmartDrive machines."

Further propelling the development and launch of the new equipment lines is the growing adoption and increasing stringency of sustainability goals. "Several customers have mid- to longterm goals to achieve emission-free operation and safer working environments for employees," Juntunen said. "Smart- Drive equipment is one important piece to achieve that target," he said. "I also believe that it is easier to get and keep operators when the working environment is better and they can operate with modern SmartDrive equipment instead of old diesel machines."

In October, Normet announced it won a contract from BHP for a "large fleet of multi-use BEVs" for the Jansen Potash product. "BHP aims to develop the underground mining equipment and automation solutions with a focus on sustainability," Normet said. "Emissions reduction, improved productivity and improved health and welfare of employees were key inputs to BHP Jansen's decision to adopt BEV technology," the supplier said. "With the mine's pursuit of electrification of mobile equipment and technology that mitigates natural gas emission, Jansen is expected to emit about half the average CO2 per ton of product compared to the average Saskatchewan potash mine."

Juntunen said the mines of the future will embrace the same priorities as BHP. For now, for many mines, the primary barrier to adopting BEV SmartDrive equipment is the requirement to also adopt the needed infrastructure for charging. "Many mines are rather old and underground the electricity network might need maintenance or reinforcement to support a big amount of BEV's," he said. "Otherwise SmartDrive machines can operate in the same places and environments as do diesel machines."

The SmartDrive equipment and the demand for it is also driving change at the supplier. Such is mandatory "when looking how to design, build and service these machines compared to traditional diesel equipment," he said. "There is a totally different type of expertise needed and we have hired a lot of experts all around the organization."

The advent of the SmartDrive equipment has also altered the business models used by the supplier. "At least in the beginning many customers are looking at rental and trial models to sample the technology and ensure proper support," he said. "I assume that the amount of full-service contracts will increase in the future because many of the traditional service providers or the customer's service staff is not capable of maintaining BEV's."

Going forward, the company plans to develop more M-series machines to meet demand, Juntunen said. "We are also developing new SmartDrive platforms to bigger and smaller size classes."

Separately, Normet said it is currently developing a SmartDrive version of the new Scamec LC Thor. The scaler, launched in November, offers boom accuracy and handling, optimal work area visibility and operator ergonomics, and improved safety and productivity over the predecessor model, the Scamec 2000. The Scamec LC Thor features a FOPS/ ROPS-certified cabin, a reversing camera system, and heated wide-angle mirrors. The windscreen has a grill, and the boom is designed to project falling debris away from the cab. The unit can come with an emergency escape function.

The cab offers reduced noise and dust levels over the cab of the predecessor model. "As a result, the cabin is highly comfortable with low noise levels and dust sealed with replaceable air filters," Normet said. "It is equipped with air conditioning and cabin heating for a pleasant working environment and comes with three-point contact rails and non-slippery steps, ensuring safe passage in and out of the cabin." The seat is adjustable. The hammer is controlled with a foot pedal. And the controls are on seat switch panels for improved usability.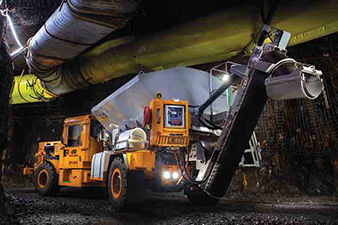 The BP3 Mobile Batch Plant offers instant, fresh concrete where and when
projects need it. (Photo: MacLean Engineering)

The scaler can reach 9.5 m and can fit into 4-m-wide by 2.4-m-high tunnels. "It is available with the latest Volvo Penta's Stage V or Stage IIIA technology, both allowing for excellent performance in incline driving and improved retardation features with an automatic engine brake function," Normet said. "The automatic gear shifting of the lock-up transmission enhances driving safety, allowing the operator to concentrate on steering the machine in underground tunnels."

Paradigm-shifting Mobile Batch Plant
MacLean Engineering reported the new BP3 Mobile Batch Plant is a paradigm- shifting mobile equipment option available for shotcreting right now. It offers "instant, fresh, in-situ concrete where and when mining and civil construction projects need it," said Jonathan Lavallee, global product line manager, shotcrete.

"Not every underground construction project has a surface batch plant operating at full capacity and with optimal quality control, and not every project has a slick line infrastructure for the delivery of concrete for shotcrete applications underground," he said. "This is where the BP3 Mobile Batch Plant steps in as a solution for customers looking for another option for instant, quality mix for shotcrete spraying where and when it is needed."

The latest addition to the MacLean shotcrete product line, the unit is "an industry first solution" that combines "highspeed delivery with in-situ mix quality control," Lavallee said. "The design combines a rugged, underground-proven carrier design with specialized dry-to-wet mix digital batching technology." Features include a 6-m3 dry hopper, a 500-liter water tank, the Batch Pro Connect Pre-Blend Mixing digital system, heavy-duty frame construction, and reliable proven powertrain components, company literature said. "It's a high-speed, high-capacity delivery mechanism that offers up an efficient, near-zero waste solution for shotcrete quality control," Lavallee said.

At 2.29 m wide and 8.3 m long, and with a tramming height of 3.12 m, the unit weighs roughly 17 mt empty. It has an inside turning radius of roughly 6 m, and an outside turning radius of roughly 9 m. Top benefits include a long life due to proven componentry, ease of maintenance with electronic diagnostics and accessible maintenance points, and 4-wheel drive capability with powershift transmission for superior traction, MacLean Engineering reported. "The key benefit of the BP3 Mobile Batch Plant is that it doesn't need any additional site infrastructure for the mixing or delivery of concrete to the area of application in underground mine or tunnel construction," Lavallee said. "It solves a specific problem around concrete delivery and mix quality in the challenging underground environments of mining and tunneling."

The BP3 Mobile Batch Plant was co-developed with "rugged mobile equipment specialists RufDiamond, with the integration of the specialized hopper on the MacLean carrier by Bay-Links in Ontario," he said. The first unit shipped to a hard rock mining customer in Sudbury. "The next commercial unit is slated for production in in 2023."

As mines go deeper, BP3 Mobile Batch Plant hits the market at the perfect time, Lavelle said. It's release shows how the company and its products continue to evolve "to meet the changing needs of underground construction projects worldwide."

Demolition Robots for Small Galleries
Brokk Inc. reported its remote-controlled demolition robots are suitable for several applications in shaft maintenance in narrow vein mining.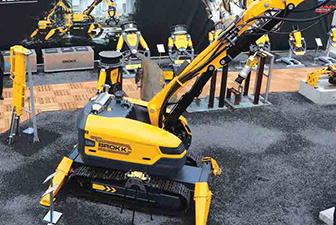 The 520d Demolition Robot displayed at bauma 2022 can be remote controlled,
and can use a range of attachments, such as a breaker. (Photo: Brokk)

"Compact, highly versatile remote-controlled demolition robots are uniquely suited for the demanding conditions deep underground," said Raymond Ippersiel, training and application specialist, Brokk. "These compact machines offer exceptional power-to-weight ratios that are on par with classic excavators three times their size," he said. "They have an advanced three-part arm that provides unrivaled range of motion for drilling, scaling, breaking and bolting in any direction." The robots offer time savings and safety gains, Ippersiel said. "Miners are finding employing a demolition robot not only speeds up progress, it also increases safety by taking on much of the physical work while keeping employees out of harm's way," he said. "The versatility of remote-controlled demolition machines can minimize equipment and personnel requirements for highly efficient shaft renovations."

Brokk robots can use a range of attachments, such as a breaker for scaling, or a grapple to handle rubble or assist in installing utilities. "To dismantle old supports, steel or timber, a saw-and-grapple combination can be used," Ippersiel said. "This reduces handling and cutting the steel to premium scrap lengths while working off a Galloway." Dill attachments enable a Brokk robot to tackle primary and secondary blasting and rock bolting tasks. "Miners can then switch to a beam handler for erecting support ribs and installing wire mesh," he said. "These dexterous attachments can also be used for setting new services such as rails, pipes, or cables." Shotcrete attachments are also available.

Field results show that the robots help reduce personnel requirements for shaft and tunnel maintenance tasks. Large crews can be replaced with a small team and a robot, Ippersiel said. "One operation was able to eliminate all manual labor in a shotcrete removal application and advance their maintenance schedule by months," he said. The miner put the demolition robot on a platform that rotated around the core of a shaft boring machine. "After the shotcrete was removed, they used the robot to pin and bolt new screening."

Elsewhere, Brokk robots have been "underhung from a Galloway stage," for hammering, in drilling and blasting, in drilling and splitting, and to "replace old clam buckets for mucking out," Ippersiel said. "With extensive equipment and attachment options available from innovative manufacturers, there is an opportunity to use demolition robots in just about every high-risk, heavy-labor shaft maintenance situation," he said. "The possibilities are only limited by the imagination."

Biggest Rock Breaker Seen
Astec Industries' Materials Solutions Group released the BreakerBOSS 5D for breaking oversized rock in underground mines. Leadership at the test mine said the unit is the largest underground mobile rock breaker they have seen.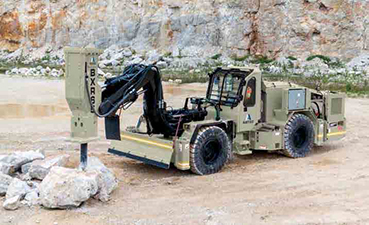 Equipped with a 6,800-J BTI BXR50 hydraulic rock breaker attachment, the
BreakerBOSS 5D has a large-coverage boom for a 4-m horizontal reach and a 3-m vertical
reach. (Photo: Astec Industries)

"The BreakerBOSS is designed to handle an 8,800-joules (J) hydraulic breaker," said Steve Czerny, Astec product manager, rock breaker systems and mobile mining. "Astec, formerly BTI, has replaced the TM15 mobile rock breaker with a new, state-of-the-art machine with updated features." The BreakerBOSS 5D comes with a 132-kW Deutz Tier 3 engine. "It is also equipped with a 6,800-J BTI BXR50 hydraulic rock breaker attachment," Czerny said. "The mobile machine includes a conveniently center-mounted operating cabin for maximum visibility; heavy-duty, tube-in-tube stabilizers at each corner of the machine; and manual boom/carrier and breaker lubrication systems."

The unit features Astec's hydraulic wheel drive and advanced braking and tramming (ABT) control system, "allowing it to gain more traction and power with fewer emissions than conventional mechanical systems," Czerny said. "Hydraulic braking means no brake pads to service or replace," he said. "Plus, with its innovative control and diagnostics, it is easy to address operational and maintenance issues."

The large-coverage boom gives the rock breaker a 4-m horizontal reach and a 3-m vertical reach. The unit features "a compact tram design for enhanced rock breaking and maneuverability," he said. The cab was designed for operator comfort, the company reported. "A ROPs/FOPs-certified cabin with heating and air conditioning, ergonomic suspension seat equipped with armrest joystick and HMI controls, safety glass windows complete with a rock guard over the front window and dual-filter air filtration provide an enhanced and safer experience for operators."

Operators will benefit from the "excellent visibility" and "full control of the machine using the CAN-bus touchscreen display and armrest-mounted joysticks," Czerny said.

Options include higher altitude and lower emissions engine configurations, a larger BTI BXR65 hydraulic rock breaker attachment and a steel-plate pusher blade with single cylinder actuation. Also available is radio remote control for lineof- site control up to 50 m away, fire suppression systems, automatic lubrication systems and a dust suppression system. "The BreakerBOSS is designed to be operated from either the cab or a local radio remote control," Czerny said. "If the mine is considering operating this equipment remotely, Astec will work with the customer to ensure a seamless integration." The top listed benefits include improved productivity and simplified maintenance.

"The BreakerBOSS can help operators avoid downtime and other costly practices," Czerny said. "Oversized ore can slow down or completely halt production, while sorting and stockpiling can be costly," he said. "This mobile breaker is designed to keep producers ahead of unwanted oversized material for an increased rate of production." The ABT system and "a variety of other options speed up maintenance time," he said.

Technicians will benefit from many of the BreakerBOSS features. "First, the machine's overall health is easily accessible on the touchscreen HMI," Czerny said. "The monitor will display if and where any faults are occurring and include information on where to look for any issues, as well as associated wiring and parts numbers affected by the fault," he said. "Additionally, the pumps, filters and other maintenance items are easily accessible."

Recently the mobile rock breaker was trialed by a miner wanting a solution to break oversized material. "When the unit arrived on location, the operations team at the mine were taken aback by the unit's size and ruggedness," Czerny said. "On the first day, the BreakerBOSS was used at the surface, breaking large material, and was quickly transitioned underground to begin working."

The unit delivered results, and, after the trial ended, Astec began preparations to ship it back to the factory. "The customer let us know that the BreakerBOSS was there to stay," he said. "The customer purchased the unit and continues to take advantage of all it has to offer today." The case illustrates a couple of the features and capabilities of the machine, including its sheer heft. "The Breaker- BOSS is a large machine," Czerny said. "For those interested, Astec will check with the customer that heading size, intersections and galleries are suitable," he said. "If anything special is requested, we can explore customization with the customer."

The mobile rock breaker was preceded to market by the ScaleBOSS, an advanced scaling solution that, like the BreakerBOSS, was designed to exceed expectations and deliver results, Czerny said. "Our mission is to design and build safe, industry-leading equipment that leads to profitability for our customers," he said. "The BreakerBOSS embodies that mission by providing a safe operating environment for producers, as well as increased uptime and profitability."

Low-profile Electric Grader
Miller Technology Inc. released the electric BG 110-M grader at bauma. The company said the unit has unique features, such as an extremely low profile and an electric storage system that can fully charge in less than half an hour.

"The real elegance of the design was essentially on our electric drive system," said Hugh McDermid, vice president, operations. The drive system design is based on that of the Relay, an electric mantrip vehicle offered by the company. "We've spent a considerable amount of time developing it to make it scalable and adaptive to any number of vehicles." The grader comes standard with either "a high-voltage or a low-voltage version of the drive system, depending on the vehicle size and the load profile," McDermid said. "It is scalable and adaptable, straightforward, easy to service, and robust."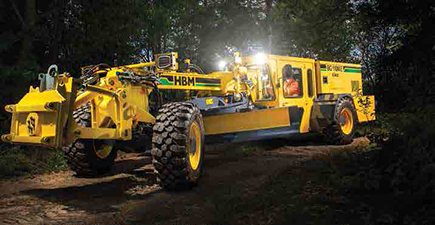 The electric BG 110-M, released at bauma 2022, was originally designed for use in maintaining roads
travelled by Miller Technology mantrip vehicles, including the popular Toyota Landcruiser.
(Photo: Miller Technology)

The energy storage system, based on a nickel-manganese-cobalt battery built into the machine, can be configured for 80 kilowatt hours (kWh) or 200 kWh. "Total charge times can range anywhere from as low as 25 minutes for a full charge all the way up to about 2 hours for a full charge," he said.

On a full charge, and depending on mine topology and grade, the unit can typically operate for roughly 2 hours between charges. "If we are operating at a lower percentage of grade, then obviously we are going to get much more run time out of it," McDermid said. "And then it is also based on how the operator is using the vehicle," he said. "We work with the customer to gain some of that topology data on their site specifically and then tailor the solution directly to that site."

The grader can also be built to run on a diesel engine, or on a third-party energy storage system. "That unit is designed to have variability built in so we can adjust to any number of battery vendors," McDermid said. "If the customer has a specific vendor they are already working with, if they have equipment onsite that is using a specific battery, the system is completely flexible and adaptable to customer needs."

Company literature said the grader has a height of 1.8 m and an overall length, without attachments, of less than 7.4 m. It is roughly 2.4 m wide, not including the blade. It has a total operating weight of roughly 8.6 mt. "Thanks to the hydrostatic all-wheel drive, the driver can alternate the speed at will in one gear," Miller Technology said. "A high starting torque ensures maximum thrust even at low speeds and motor revolution speeds," it said. "The 2-gear transmission in use enables the grader to move at a maximum speed of 33 km/h."

The standard blade has a reach beyond the tires of 1.1 to 1.7 m. It has a tilt range of 57° to 83°. "All blade movements and positions can be controlled from the operator's seat," Miller Technology said. It features an open FOPS/ROPS-certified canopy, and hydraulic articulated steering up to 30°.

Benefits include "reduced noise, improved operator comfort, reduced total cost of ownership, reduced maintenance, and more power," McDermid said. The unit is entirely designed in house, which improves serviceability. "Customers weren't satisfied with the current offerings on the market due to the fact that if they brought a piece of electric gear on site, chances are the manufacturer selling that piece of gear relies on the third-party contractors for some portion of the integration, whether it be system design or controls," McDermid said.

"For us, it took longer, and was more expensive to develop, but we are completely integrated," he said. "We handle everything in house from the energy storage system management to the programming of the vehicles to the wiring harnesses fabrication." That allows the supplier to be more reactive. "It allows us to tailor those solutions to customer requests easier, quicker and cheaper, so we are much more fluid in terms of customer requirements and customer requests than some of our competitors," he said.

The grader was designed to complement other Miller Technology equipment. "For us it was a logical next step," Mc- Dermid said. "We are already producing battery electric vehicles in the infrastructure support and personnel transport field," he said. "To get those vehicles to run smoother and have reduced cost of ownership, the road needs to be in somewhat good condition to see the full benefit of vehicle electrification."

For example, the company released the electric Relay at bauma in 2018. The mantrip vehicle is purpose-built, "designed here in North Bay, Ontario," McDermid said. "It is an extremely similar system to the system that is in the grader," he said. "Which is beneficial because it is essentially the same consumables that the customer would need to stock on site."

Besides off-board DC fast charging, the Relay features dynamic braking, converting kinetic energy to electric power. It is "reliable, environment- and health-friendly," Miller Technology said. With an "improved operator experience and low-cost maintenance," it is "great for your bottom line." Miller Technology's flagship offering is a customizable Toyota Landcruiser that can be converted into any number of utility vehicles. "We are selling north of 350 or 400 units a year," McDermid said. "There is no vehicle that we have seen that can match the robustness of that truck."

Applications include personnel transportation. "We have 6- and 8-man carriers, ROPS/FOPS certified Level 1 and Level 2, and fully enclosed wet braking systems available," he said. The truck can also be configured as "aerial platforms, mechanic configurations for a mechanic that is servicing equipment underground," McDermid said. "We do specific builds for mine rescue, ventilation technicians, mobile mechanics, and electricians." Changing cassettes is "straightforward," he said. "It is a bolt-on arrangement." A Toyota 1HZ J-series engine comes standard. For U.S. customers, it can come with a Cummins ISS 2.8 engine.

Miller Technology first offered the solution in the early 1980s, and now boasts of vast populations in Canada and Australia. Its durability and "bulletproof" performance garnered a reputation for both the truck and the company, McDermid said. "The grader and our other offerings further our mission by offering safe, reliable products to end users," he said. "That has been our motive since day one."
---
As featured in Womp 2022 Vol 12 - www.womp-int.com