Introducing Autonomy 2.0
Trends, technologies and projects which are redefining the future of autonomous open-pit mining

By Carly Leonida, European Editor
---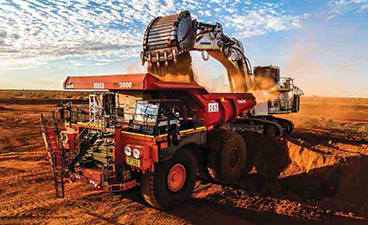 SafeAI recently retrofitted an AHS to a Hitachi EH3500AC-3 haul truck for Australian
mining contractor, MACA. (Photo: SafeAI)

The future of mining is autonomous… or so it would seem from the number of technology implementations announced this year. From BHP replacing the entire haul fleet at Escondida with Cat 798 AC electric drive trucks equipped for autonomous operation and Komatsu's autonomous haulage system (AHS) deployment at Anglo American's Los Bronces, to Sandvik kitting out Chilean mining contractor, Movitec, with autonomous drills and Amaroq Minerals sizing up autonomation the Nalunaq site in Greenland, these are just a fraction of the projects that have come to fruition in 2022.

The trends underpinning this shift are becoming ever more prevalent: the need for greater operational efficiencies to drive decarbonization and economies on site, the skills shortage which has left many mines scrabbling for experienced operators over the past 18 months, and safety — the omnipresent driver — mean that the number of feasibility studies in OEM's pipelines have rocketed too.

This is good news. Who wouldn't want mines to be safer, more resourceful and sustainable? But it has also raised questions around data sharing, open standards and the longevity of different solutions. One thing is for sure though: choice equals power. As the range of autonomy solutions and capabilities for vehicles of all types widens, and price points become more accessible, companies of all sizes are now considering technologies that were once thought to be the preserve of only the largest operators.

Komatsu: Making Haulage More Sustainable
When most people think of autonomous haulage, they think of Komatsu and Caterpillar, the frontrunners (pun intended) of the AHS. Komatsu's own solution, FrontRunner, hit a major milestone in 2021 with 4 billion metric tons (mt) of material moved. Martin Cavassa, Business Development Manager, Autonomous Systems for Mining Technology Solutions at Komatsu, joined E&MJ in November for a progress update.

"To date, the Komatsu FrontRunner AHS has moved over 5.5 billion mt of material across 20 active sites," he said. "We're rapidly approaching another milestone of 600 commissioned autonomous trucks and will be going live at two new sites within the first quarter of 2023."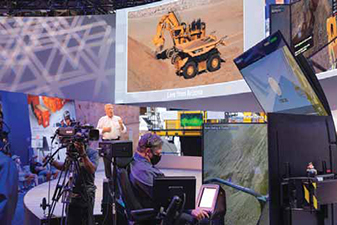 As demonstrated at MINExpo 2021 in Las Vegas, US, with its tele-operated
PC7000-11, Komatsu is expanding its automated mining systems to include
teleoperation for loading and dozing activities and autonomous watering.
(Photo: Komatsu)

In June 2022, the company announced it would be deploying 62 new 930E ultra- class haul trucks by 2024 at the Los Bronces open-pit copper mine in Chile, adding that the site would serve as a showcase for Komatsu's autonomous technology. "Overall, the [Los Bronces] AHS implementation is really exceeding expectations," Cavassa told E&MJ. "Pre-deployment productivity simulations were very promising, but real-world results have pleasantly surprised us all. The first phase of the program which comprises 28 trucks is on track and progressing quickly. It's an equal mix of both retrofit 930E-4s and new 930E-5s which are autonomous- fit from the factory. The goals of this phase are multi-faceted: to gain a thorough understanding of the system's capabilities and safety at a site with very challenging haul profiles and variable environmental conditions, execute on the change-management strategy of moving from conventional haulage to autonomous, and gradually introduce AHS into the live production environment. While we're happy to report that FrontRunner has performed well throughout testing and production introductions, all credit goes to the exceptional work that the Anglo American team has done in embracing an autonomous future and ramping up their capability to execute."

He added: "We're also very excited that we're about to go live with our third FrontRunner AHS implementation with BHP at its Spence open-pit copper mine in Chile, and just a few months later, we're scheduled to go live at Boliden's Aitik copper mine in Sweden too." The move to decarbonize mining means that Komatsu is looking to technologies ranging from autonomous haulage with trolley assist to autonomous battery electric trucks, and possibly bridging technologies in between.

"Many of our customers have set themselves very ambitious decarbonization goals and we know that they're depending on us to help them achieve those goals," said Cavassa. "Autonomous haulage is a great first step on the sustainable mining path. Our autonomous haul trucks not only lower emissions through optimal throttle control over a manually operated truck, but also extend component life in major assemblies like power modules, front and rear suspensions, and hubs and brakes, translating into less consumable waste going into landfills.

"Customers are also seeing dramatic improvements in tire life on their autonomous haul trucks. Fewer tire replacements mean less raw materials are needed to produce new tires, and less used tires are going to the mine's tire dump."

The company's next steps in haulage include bringing electrification into the mix, e.g., teaming AHS with trolley assist, to further reduce emissions and further extend assembly component lives, ultimately with the transition to full battery- electric autonomous haul trucks.

"We've given that path a lot of thought and it's reflected in our technology roadmap," said Cavassa. "We're in trials with many of these new systems today with commercial launches due soon. On the technology development front, we're also looking towards qualifying the FrontRunner AHS next year on the newly commissioned trolley line at Komatsu's Arizona Proving Grounds."

How do you see the use of autonomy in open-pit mining evolving in both the short and long term? E&MJ asked. "In the short term, autonomous haulage will remain the 'killer app' for surface mining," Cavassa replied. "But AHS is still really level 4 'high automation.' In the long term, as automation, including levels 2 and 3 'partial and conditional automation,' and 4 become more ubiquitous, more customer use cases and applications will emerge requiring further technology advancements. "It's conceivable that many use cases and applications will push into level 5 'fully autonomous' operation for which all functions are automated and the piece of equipment or entire process involving many pieces of equipment is able to manage itself without external intervention.

With the rapid pace of autonomy development up to level 5 in the automotive, agriculture, and defense industries, it's increasingly likely that we'll be able to leverage some of that development to derive technical solutions suited to our customers' needs in the mining space."

Looking further out, Cavassa predicts that within the next 20 years extensively automated mines may only require half the number of workers physically present on site to perform their job functions. Many of those on-site personnel will need to be highly skilled technicians able to repair and maintain the automated systems.

"Much of the remaining workforce will be in remote operations centers staffing process control systems, or remotely operating equipment," he added. "Some of this is already happening today, and we see this trend as a good thing: it's a clear path to a safer, more sustainable future for our industry."

Cat Heralds the Shift From Ultra-class to Small Trucks
In September 2022, Caterpillar also announced that its MineStar Command for hauling AHS had surpassed 5 billion mt of material hauled in less than 10 years. The company said its autonomous trucks are on track to eclipse previous records and it expects more than 1.57 billion tons of material to be moved by the end of 2022. Currently, more than 550 mining trucks are equipped with Command for hauling, operating across three continents.

Denise Johnson, group president of Caterpillar Resource Industries, said in the press release: "In 2013, we placed our first fleets of autonomous trucks in Western Australia at FMG Solomon and BHP Jimblebar. Since that time, trucks using Command for hauling have safely traveled nearly 124.3 million miles, more than twice the experience in autonomous operations of any automobile manufacturer. Caterpillar has grown the number of autonomous trucks in operation by 40% in the past two years. We believe that automation is one of many keys to implement technology that unlocks the value miners need when it comes to the energy transition toward more sustainable operations."

Sean McGinnis, vice president and general manager for Cat Mining, added: "In 2023, we will expand Command for hauling to the 153-mt truck class at ioneer Rhyolite Ridge lithium-boron mine in Nevada. This is the first greenfield project in North America to use an AHS. We are now seeing a shift toward autonomy requested on new Cat trucks. Whereas large mines with fleet sizes of more than 70 trucks were the early adopters of the technology, we are seeing economic viability for autonomy at smaller mines with a fleet of less than 15 trucks."

Beyond expansion of Command for hauling to the Cat 785 for ioneer, Caterpillar sees potential for Cat autonomy in quarry and aggregates. Additionally, its AHS technology has been deployed on a Cat 789D autonomous water truck at Rio Tinto's Gudai-Darri mine in Australia.

Liebherr Pioneers Open Autonomy
Aside from the two long standing players, there are a whole host of new autonomy platforms emerging, providing greater choice and flexibility for mine operators. Liebherr Mining showcased its new technology portfolio at MINExpo 2021 which includes developments in autonomous haulage, as well as the company's first steps towards automation for excavators and dozers.

The company said it's taking an open, interoperable and scalable approach to autonomous equipment, technology, and service product offerings. "Interoperable mine automation provides customers with the freedom to choose their preferred combinations of equipment, on-board autonomous solutions, and central control platforms," it explained in the press release.

"Liebherr's autonomous haulage solution delivers the next generation of on-board intelligence, with reduced dependency on site infrastructure and centralized supervisory systems. Together with vehicle-to-vehicle technologies, Liebherr's smart autonomous solutions provide onboard obstacle avoidance and load area path planning capabilities for optimization of traffic flow. Liebherr's solutions offer a high level of safety integrity with the introduction of an 8-layer safety concept in combination with the latest on-board perception technologies for long range, high resolution and 360° coverage, which is unique to the Liebherr offering."

Its scalable solutions meet use cases ranging from stand-alone to fully integrated large-scale life of mine deployments and include: • Autonomy ready kit: machine designed and configured with drive-by-wire capability; • Autonomy kit: autonomous machine equipped with on-board perception and robotics, capable of integration via an open protocol to traffic management solutions (TMS); and • Complete solution: complete autonomous haulage solution integrated with traffic and fleet management systems.

Interoperable autonomy products for mixed fleet applications have the capability to interface with multiple traffic and fleet management systems. The company has developed, what it describes as "the world's first open software interface" between its Autonomy Kit and independent suppliers of TMS. The protocol enables customers to choose their preferred TMS and allows autonomous machines, including light vehicles, to coexist within a common autonomous ecosystem.

The company said that having proven its software interface with multiple TMS providers, it will now make the protocol available for wider industry adoption and will also provide it to the International Standards Organization. Following the announcement of a global framework agreement in September 2021, Liebherr and Hexagon Mining have integrated their complimentary technology products using the open software interface. As a result, Hexagon technology, including its autonomous mission management system, will be used in the mine automation options offered by Liebherr to customers.

Liebherr Mining excavators are also designed with the technological foundations to enable the integration of automation systems. Liebherr Automation Readiness provides drive-by-wire capability with the required interfaces, technical support, and access to excavator built-in functions. On its new excavator generations, Liebherr offers on-board control and actuation systems to provide semi-automatic machine functions supporting the operator with productivity, consistency, and safety performance.

The Bucket Filling Assistant is the first automation product for the Liebherr hydraulic excavator portfolio. It allows faster and easier bucket filling with consistent bucket fill factors especially in blocky or hard digging conditions. As a result, the overall effectiveness of bucket filling is maintained without being influenced by operator fatigue.

Liebherr is also developing new teleoperation capabilities for its excavators and dozers. The Liebherr Remote Control (LiReCon) teleoperation system is suitable for all dozer applications, and the company said it offers increased safety, comfort, and productivity for the operation of Liebherr mining dozers in challenging and dangerous work conditions.

LiReCon uses a secure self-contained radio mesh network that can be extended by additional gateways, enabling high signal quality even in difficult terrain or long range. The LiReCon package can be tailored to each customer and mine site depending on their specific requirements and can also integrate into an existing network.

SafeAI, Lowering Barriers to Entry
SafeAI retrofits mining and construction vehicles with aftermarket hardware and proprietary autonomy software to increase worksite productivity and safety. This technology allows haul trucks, bulldozers and articulated dump trucks (ADTs) to safely and independently navigate a project site, complete important functions and communicate with other onsite vehicles from any manufacturer.

Bibhrajit Halder, Founder and CEO, explained: "Our technology is OEM- and vehicle-agnostic. This allows companies to upgrade existing equipment, regardless of its manufacturer or age, instead of forcing them to purchase brand new autonomous vehicles, which can be quite costly and unscalable. This means companies can accelerate their autonomous deployment and begin reaping the benefits faster."

SafeAI's technology is designed to be versatile and can be deployed on an array of different vehicles. "Recently, we retrofitted a 181-mt-class Hitachi EH3500AC-3 haul truck for MACA, a major contract mining group in Australia, and a Cat 725 articulated truck, for leading construction company, Obayashi," said Halder. "We're also in the process of retrofitting a dozer. Allowing companies to retrofit existing mixed fleets provides a more accessible, affordable way for companies to roll out autonomous equipment."

He added that SafeAI, like many independent autonomy providers, is seeing growing demand from the mining market. "We're excited about our agreement with MACA in particular," he said. "Our partnership began with a six-month proof of concept at Karlawinda gold mine and, after seeing the results, we signed a much larger agreement. Together, we will retrofit and deploy a fleet of 100 autonomous mining vehicles, to create one of the world's largest autonomous heavy equipment fleets."

In the immediate future, SafeAI is focused on retrofitting vehicles under its existing agreements, but it's also expanding its footprint into markets like Australia, India and Japan, and is exploring potential new ones too.

"For more than 20 years, mining companies have looked to autonomous technology to develop better, safer and more efficient mining sites, and the construction industry has followed suit," Halder told E&MJ. "But despite high demand, widespread adoption of autonomy has stalled due to OEM-based, closed-system, often prohibitively expensive solutions that make both mixed-fleet collaboration and scalability nearly impossible. This is where the next phase of autonomy comes in — what I call 'Autonomy 2.0.' This is a scalable, vehicle-agnostic retrofit approach to autonomy that gives customers access to this technology without purchasing entirely new fleets.

"We believe that heavy industry has only just scratched the surface of where autonomy can take it; still just 5% of mining vehicles worldwide are leveraging it. But the industry is on the brink of mass adoption. This is why SafeAI is working to reduce the barriers to entry."

ABD Solutions Focuses on Rapid, Scalable Deployments
UK-based autonomy specialist, ABD Solutions, has a similar philosophy. The company has developed Indigo Drive, a retrofittable ecosystem of hardware and software that adds autonomy to different vehicles.

Managing Director, Matthew Price, explained: "With a focus on safety we enable the adoption of autonomy to be fasttracked by allowing mining companies to make the most of their existing fleets. It presents a more cost-effective solution, removing the need to compromise on truck size or load carrying capacity in order to still benefit from autonomy."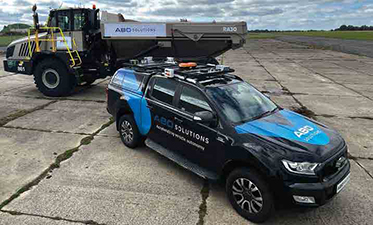 An RA30 and Ford Ranger with Indigo Drive installed for vehicle autonomy.
(Photo: ABD Solutions)

Price described Indigo Drive's software as "extremely user-friendly with minimal training needed" which keeps the challenges of adapting to a new system to a minimum during rollout. As a modular system, it integrates with existing fleet management systems, working with the tools that teams are already comfortable and familiar with.

"Regardless of the vehicle type or manufacturer, they can all be operated and managed via a single user interface," Price told E&MJ. "As part of the global AB Dynamics Group, we're structured to deploy all over the world through our regional technical support offices and have a strong heritage of designing vehicle solutions that promote safer driving operations.

"What also sets us apart is the speed at which we can develop features specific to individual customer needs. Indigo Drive can be tailored to very specific requirements, for example, adapting to unique environmental factors by integrating different kinds of hardware."

In August 2022, ABD Solutions signed a memorandum of understanding (MoU) with Amaroq Minerals to investigate the introduction of vehicle autonomy systems at the Nalunaq site in Greenland. The long-term goal of the MoU is to provide a framework for ABD Solutions to deliver the support, software and hardware solutions needed to operate a range of autonomous mining equipment and vehicles on the site. The fleet would be supervised from a central control room to improve safety and streamline the mining process, both operationally and financially.

"During our visit to the Nalunaq site, all technical goals were achieved, data capture was completed successfully and there was significant learning, particularly around the remoteness and environmental conditions typical of its location — and subsequently what this would mean for introducing an autonomous system, such as Indigo Drive," said Price. "Timeframes will not be known until further investigations have taken place and work has been done to determine what portion of the fleet is to be automated, as well as how this transition to autonomy can be made while not affecting the operation of the site and its activities in general and we're continuing conversations with Amaroq Minerals to define the exact roadmap."

ABD Solutions has a number of upcoming client-led technical demonstrations in the UK and Japan within the mining sector, supported by its partner Kyokuto Boeki Kaisha. "These involve demonstrating how Indigo Drive can tackle specific use cases," explained Price. "We're also carrying out site investigations in early 2023 to plan site optimization and vehicle adaptations relating to the specific terrain and environmental needs, and how to maximize value from the system, working to meet individual client business objectives."

He added that customers often intend on starting small, asking initially about automating a fleet of one vehicle type, such as ADTs. But, once the process and benefits become clearer, they want a solution that will also allow automation of other vehicle types with completely different functionality, such as dozers or drilling rigs. Lowering vehicle emissions, increased fuel efficiency, and lower operating costs are also concerns.

"Our clients need to innovate to meet ESG targets while also mitigating risk and maintaining uncompromised safety and operational standards," said Price. "We partner closely with them, demonstrating functionality that handles their specific site challenges along the way, so once their tailored solution is ready to be rolled out, there's no interruption to what they already do — just the added benefits of automation."

Pronto.ai, Supporting Mass Adoption
Pronto.ai is another player that is relatively new to the mining market, but with an autonomy pedigree background; the company was founded by the pioneers who launched both Waymo and Uber's on-road autonomous vehicle platforms.

Pronto offers Level 4 autonomy for offroad commercial trucking. Chief Financial Officer, Christian Kurasek, explained: "Our solution is powered by the latest artificial intelligence (AI) and machine learning (ML) technologies. We began development for the on-road market and Pronto remains the only company whose technology has successfully completed a coast-to-coast autonomous drive without a single human driver input.

"We used the learning from our on-road implementations and adapted them for the mining and heavy industry commercial trucking sector, including haulage in rugged, complex environments. Our simplified technology stack allows for immediate implementation in days or weeks, rather than years, and at a significant cost saving, both in deployment and ongoing costs as compared to ultra-class AHS'."

Ultra-class AHS' are targeted at large, tier 1 mines with 20-80 trucks and significant infrastructure. In contrast, Pronto's system is targeted at smaller mines with limited infrastructure and can also be deployed in a range of off-road commercial environments.

"Safety is our top priority," Chief Mining Officer, Benjamin Miller, told E&MJ. "In order to deliver the solutions that meet the rigid safety requirements of our customers, we provide different layers of protection." These include: • Autonomous operating zone (AOZ) access control through integrated boom gates; • Situational awareness utilizing RTK GNSS (GPS), and safety rated communication to allow all autonomous and manned machines within the AOZ to know each other's position and velocity to prevents collisions; • Object detection systems through cameras and ML algorithms rather than lidar, which is very expensive, and radar, which does not clearly identify objects such as rocks or debris; • Safe-to-approach systems; • Remote Stop Systems; and • Autonomous-Stop Systems.

One of Pronto's unique propositions is that, rather than relying on a control room, its autonomous fleets are run through a mobile phone app. Site personnel can easily command the fleet from the mobile app, whether they're in the seat of the loading unit or the supervisor's light vehicle. Wireless connectivity is a prerequisite for any AHS deployment and, once the team realized that the costs of existing commercial solutions were unnecessarily inflated, they launched a subsidiary called Pollen. Pollen utilizes open-source mobile technologies that enable the company to deploy reliable wireless LTE networks to mine sites at a fraction of the cost.

Pronto's technology is platform and application agnostic. "Our technology is currently deployed on ADTs, off-highway rigid frame trucks, class 8 tractors/prime movers and class 8 dump trucks," Miller explained. "The ideal site that would benefit from Pronto AHS would use less than 10 trucks and would typically be 30- to 100-my capacity machines."

Pronto currently prides itself on running the only AHS in commercial operation in the US. The company is providing main production haulage for a construction material (aggregates) operation and has just begun a stripping operation at another construction materials site.

Miller summed up this article's learnings perfectly: "At the risk of being cliche, I think we are addressing Sci-Fi author William Gibson's most popular quote, 'The future is already here. It's just not evenly distributed yet'," he said.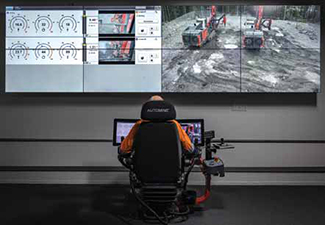 Sandvik's AutoMine solution for autonomous drilling in action. (Photo: Sandvik)

"Many mine owners and operators read about ultra-class deployments of AHS and wonder when they will see autonomous haul trucks at their sites. They're aware of the complexity and cost of those solutions and consider AHS unapproachable. Given the cost, complexity, and time commitments associated with other autonomous solutions, our biggest challenge and opportunity is educating the industry on all of the affordable autonomous applications that are within reach today."

Autonomous Drills Head to Chile
Sandvik Mining and Rock Solutions is supplying surface mining equipment and its AutoMine Surface Drilling solution to Movitec, a contractor on Codelco's Rajo Inca open-pit project in Peru. The scope includes two Leopard DI650i down-thehole drill rigs and two Sandvik DR412i rotary blasthole drill rigs, including AutoMine Surface Drilling systems for fully autonomous operations.

The order also includes a Sandvik D75KX rotary blasthole drill rig with added intelligence and improved operator ergonomics. Delivery is expected to be complete by the year-end 2022, with fully autonomous operations ramping up in 2023. Sandvik will also provide Movitec with remote operation training and six months' on-site service.
---
As featured in Womp 2022 Vol 12 - www.womp-int.com