Crusher Service Offerings Proliferate
Parts and labor constraints fuel demand for a growing list of crusher maintenance service and support offerings

By Jesse Morton, Technical Writer
---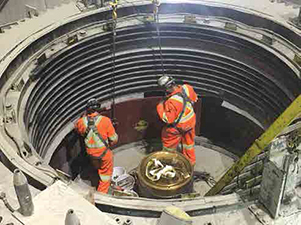 Optimum Crush works closely with its clients to develop customized
solutions. (Photo: Optimum Crush)

Ongoing parts and labor constraint challenges to crusher maintenance plans can be best mitigated by adopting a customized service or support offering, according to the top suppliers and OEMs in the space. The list and scope of the offerings available continually expands, and demand for them is currently solid, prompting suppliers to publicize recent releases, capabilities and accomplishments.

Supporting the Entire Machine
Optimum Crush said the company is seeing trending demand for custom services and engineered solutions that reduce future crusher maintenance and the associated labor and costs. "Most mines do not have cone crusher engineers on staff," said Jerrod Dulmes, founder and president. "In a time where manpower is becoming a challenge, especially at remote mine sites, we work with many mines to help extend the life of cone crusher parts, which helps reduce the number of maintenance hours that are required."

Optimum Crush engineers have the practical experience required for a deep understanding of cone crushers. "Optimum Crush is, in many cases, a hybrid company that offers the full engineering know-how of the entire crusher like an OEM, but with the fast and intimate working relationship of a local supply company," he said. "Some crusher engineers primarily work in an office and see the crusher in 2D, like in CAD or on drawings. Maintenance staff work in-person with the crusher and see it in 3D," he said. "At Optimum Crush we bring those together with staff that works on the CAD and drawings but also gets their hands dirty working in the crusher so that they can offer the X-ray vision of the machine that is needed in many situations."

That vision supports a collaborative approach to customized solutions. "We get in the trenches with the mine maintenance teams to understand the details and we work collaboratively with them to develop solutions that truly help them," Dulmes said. "Working directly with people that know the full engineering of the machine can help a mine engineer troubleshoot problems faster and customize the machine to meet the needs of that specific application."

Customization by an Optimum Crush expert can prep a machine to attain next-level performance. "It is easy to make crushers run at 80% to 90% availability, but to get the final 5% can be a challenge and requires collaboration with experts who know the machine inside and out," he said. Among the customized solutions offered, upgraded mantles and bowl liners historically have delivered savings. "Certainly extending the life of mantles and bowl liners is the top priority for most mines," he said. "And it is something that we have many case studies where we have increased the life of these critical parts by as much as 40% or more."

Another solution offered is replacement main frame liners that outperform the originals. "While we offer direct replacement parts for cone crushers, we find joy in developing improved designs over the standard OEM products," Dulmes said. "Aside from those obvious parts are replacement wear parts such as main frame liners and counterweight guards."

Optimum Crush main frame liners are a direct interchangeable upgrade to the standard OEM design. "We have used our understanding of the entire cone crusher to develop a design of these critical parts that extends life as much as four to five times more than the standard OEM product and is faster to install and easier to handle," he said. "Changing main frame liners often takes about 8 to 16 hours, so increasing life by 500% could yield 80 hours of reduced maintenance time in just one standard life cycle," Dulmes said. "An awful lot of preventive maintenance could be done with those 80 hours to keep the mine running as scheduled."

Optimum Crush also offers replacement hydraulic cylinders. The cylinders hold the crusher together and prevent movement within the crusher. Working in series, the cylinders "share a common pressure that can yield more than 4 million lb of force in some of the largest cone crushers in the world," Dulmes said. "That is a hard number to comprehend."

Currently, it is not uncommon for a cone crusher to have cylinder sealing technology from the 1980s. "Optimum Crush cylinders use modern-day sealing technology that minimizes wear, increases lubricity and extends overall life," he said. "This is especially critical in the toughest ore applications where dithering, or rapid piston movement, is present." These solutions mean something to mines that are specifically targeting reduced maintenance and improved crusher performance metrics, Dulmes said. "Unlike our competitors who may only sell individual items, we support the entire machine and use that knowledge to develop efficient designs that lead to a significant reduction of maintenance time and an overall increase in production time."

Those designs and support are "the backbone of our company," he said. "We have been doing this for 10 years but many of the employees in our company have been working in crushing every day for over 40 years." That experience adds up and helps inspire custom solutions that "really reduce the amount of time that a mine would need to troubleshoot issues and prevent them from occurring in the future," Dulmes said. "While historically we have specialized in specific brands of crushers, there is commonality in all crushers in protecting the valuable structural castings, so our offering can expand pretty easily for any crushing customer."

Providing the Right Level of Support
Sandvik Rock Processing announced SAM by Sandvik, a digital offering designed to give operators and service technicians access to critical information. "We are planning to offer more and more ways for our customers both to interact with us but also to get the support and the services that they need," said Steven Hanny, service solutions director, stationary crushing and screening. One of the goals is "to provide quicker responses so the customer has more information in their hand when they need it."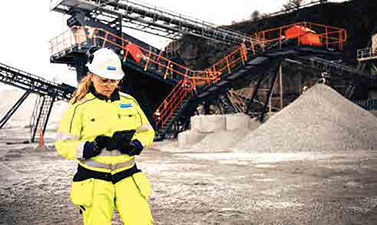 SAM by Sandik, a digital service that offers critical crusher data and insights, supports the
partnerships formed by the supplier and miner. (Photo: Sandvik)

SAM by Sandvik is an ever-evolving digital service designed to support operational excellence in customers' crushing and screening plant, Sandvik reported. It is divided into five functionality areas, fleet overview, inspections, team tools, e-commerce and admin. It is "where we file our machine information for the customer, all the information they need regarding the manuals, part catalogues, and everything else that supports the customer in purchasing parts," Hanny said.

For maintenance managers, the service offers more insights and data from operations to be used when planning maintenance and in avoiding unplanned downtime. Using SAM, plant managers will see the status of the equipment, communication between teams, and projected maintenance. "It gives a holistic overview of the entire site, including what's going according to schedule and what needs to be optimized or improved," Hanny said. SAM by Sandvik can be used to support the partnerships formed by service agreements or to support other Sandvik crushers and screens maintenance and support service offerings. "There are a range of service agreements that cover the entire lifecycle of plant machinery, all certified for the specific task," Hanny said. "In doing so, we precisely provide the right level of support according to customer priorities and goals."

With a service agreement targeting optimized productivity, "we would make sure first of all that we would have a regular site presence," Hanny said. "We would be there helping the customer both when it comes to maintenance planning and parts planning," he said. "We would have optimization services where experts come on site to do an optimization audit." The audit would assess the core processes. "It goes through the crushing and screening stages and finds out where the customer has challenges," Hanny said. "And then we provide the customer with recommendations on how they can optimize either the use of our machines or optimize the process, which can use a combination of many different machines that are not necessarily Sandvik's."

In other service agreements, "the customer is pretty happy with the product coming out of the plant or of the machine they are using," he said. "What they want is to make sure that reliability and the availability of the machine is increased so that it can run as long as possible." The resulting service agreement "would focus more on the maintenance planning and the parts planning to ensure resources and parts availability, and to minimize downtime," Hanny said. "The focus will be on making sure that the availability of the machine is as high as possible."

Sandvik also offers "what we call Reliability and Protection packages," including extended warranty packages, he said. The packages are available in levels to answer the varying needs of differing customers. "What is included is periodic inspections with the customer where we provide the knowledge and recommendations to proactively avoid breakdowns or anything that can negatively affect the performance of the machines for the time period of the warranty," he said. "We spend more of our time advocating and providing the recommendations on what is needed to be done and making sure that they have all the training and the tools needed at that site." If the inspections determine training is needed, then it is offered.

The supplier also offers a "range of repair and rebuild solutions according to the age and condition of your machine," Sandvik said. "That is also one of the things that we do in many areas where we have our service workshops," Hanny said. "We can take machines or parts of machines offsite, rebuild them as needed with new parts or do the necessary repairs with welding," he said. "And then we refurbish them and send them back to the customer, which also helps them with the amount of labor that they need to have onsite."

A rebuild can be part of a broader, long-term agreement, or a "one-off, depending on the need of the customer," Hanny said. "Or there are ad hoc arrangements whenever the customer needs it." These crusher and screen maintenance and support service offerings have developed over time as ways to allow Sandvik to answer the specific challenges faced by customers. "Sandvik has service solutions that can support our customers in all of the different needs that they have," Hanny said. "For our customers that have been with us for a long time, or for our new customers, Sandvik is always there," he said. "We have a global footprint, and we always have the availability to be able to support the customer."

Staying Ahead of the Game
McLanahan Corp. reported expanding its field service audit, digital delivery and tracking capabilities. "The McLanahan field service teams have been extremely busy across a number of regions, continually conducting operational machine audits on primary, secondary, and tertiary crushing and sizing equipment across major mining and minerals producing regions," said Chris Knowles, director of sales and marketing, McLanahan Mineral Systems.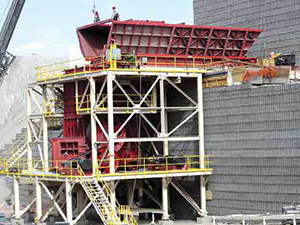 McLanahan offers proactive audits to establish performance baselines,
highlight potential issues, and support maintenance and inventory
planning. Above, a roll crusher. (Photo: McLanahan)

"We push, proactive audits as a critical element in helping to establish reliable performance baselines, highlighting potential issues prior to becoming serious, and also helping our customers' maintenance planners set up spares, inventories and shutdown activities based in the audit outcomes," he said. "We've digitized the process to help our customers get regular reporting and status updates on equipment audits." As a service offering, the audits combine "long-held experience and knowledge with the newest technologies and visualization tools," Knowles said. "A corporation of 187 years continual service brings with it an enormous volume of knowledge and experience, and not just about crushing equipment."

That deep knowledge and experience is supported by "voice-activated multimedia auditing systems that assist in developing longer range understanding of a machine's performance," he said. "Being able to inspect equipment and capture data that can correlate the current inspection with past inspection data in the field is very enabling for our customers." It helps customers "assign actions, order parts, check inventory, and make informed decisions," Knowles said. "When this capability is then combined with the condition monitoring data using remote sensing, data capture and visualization, efficiency in production and machine lifecycle value is realized."

The audits are part of a portfolio of service and support offerings that also includes "regular planned services and major shutdown supervision," he said. "We also offer OEM refurbishments, strip and assess services, and service exchange for major assemblies and components." The offerings deliver the most benefits when they are adopted in long-term contracts. "McLanahan Corp is a full-service OEM and we believe in building long-term partnerships with our customers through collaboration and trusted OEM service," Knowles said. "When both members of the team have the same philosophy on long term operational value and the same goals, great things can be achieved."

The offerings can help miners field challenges arising from continuing labor and parts constraints. To help a miner facing labor challenges, McLanahan offers tools to assist with maintenance tech training. "Customers have access to training manuals, how-to videos, classroom training, onsite training and access to resources such as the customer portal, McLanahan academy events and the McLanahan app," he said. "We offer this wide variety of training resources to ensure that regardless of a customer's location or of their in-house maintenance capabilities, our trainings can fit their needs."

McLanahan's service offerings also give an inside track to getting needed parts timely. "McLanahan makes and supplies all major wear items, such as crushing teeth and picks, sizing combs, wear liners, hammers, and more," Knowles said. "We also provide bearing housings, bearings, sealing arrangements, shafting and drive components."

The supplier can "manufacture parts internationally, as well as locally, closer to key mining regions," he said. "This provides flexibility in our supply chain and more confidence for our customers." That capability has positioned the supplier to better help customers facing supply chain constraints. The ongoing supply chain issues are, in part, why "McLanahan focuses on preventative auditing and inspections combined with automated remote condition monitoring, bringing the latest technology to crusher lifecycle management," he said. "Our customers need to be ahead of the game when it comes to crusher performance and maintenance planning."

New Acland coal mine, in Australia, is one example of a customer that was able to upgrade its processes and performance with customized McLanahan equipment and service agreements. The resource there is riddled with clay and difficult to process, leadership at the mine said. Water is added at the crushing stage, "which leads to a lot of damage to the seals, early failure of bearings, and high maintenance costs, low reliability, and trouble with availabilities in the plant," said Rob Rashleigh, plant manager at the mine.

During an expansion to the wash plant, the miner sought alternatives to their existing sizers, which were causing a bottleneck. McLanahan "combined elements from several designs to provide a Tertiary DDC-Sizer," which had outboard bearings, stud-welded segments, and faster rotational gearboxes, the supplier said. The sizer beat expectations. Previously the miner had been "continually replacing bearing seals." The new sizer ended that trend. The mine then "switched out their existing sizers for McLanahan ones, including two Secondary DDC-Sizers and two Tertiary DDC-Sizers," McLanahan said. The secondary sizers featured "specifically designed carbide impregnated teeth" that "drastically increased the wear life."

But it wasn't just the customized, optimized machines alone that delivered the results. A McLanahan team provided continual support and services. Ultimately, New Acland achieved 8,000 hours uptime, "which won them an industry award," Knowles said. "One of the key contributors to this achievement was McLanahan's continual onsite support and willingness to research and develop new wear materials and new sealing design features that extended the life of crushing segments from an average 3 million mt to 6 million mt."

Leadership at the mine said the value added by the equipment and the smooth experience managed by the support team elevated McLanahan to the level of business partner. "They're not just a supplier to us, they're working with us to solve these problems. The equipment's been really good," Rashleigh said. "Into the future, I don't see mining getting back to where it used to be, so it's really important to have a partner like McLanahan."

Amid market uncertainty, a successful partnership is driven by "a strong focus on service that ensures our customers get the best out of their equipment for the life of their equipment," Knowles said. "That commitment extends to longtime McLanahan customers, as well as to new customers looking for better solutions to existing equipment." McLanahan can "retrofit a variety of machines with our segment rolls and parts to improve wear life and overall machine performance," he said. "Regardless of your crusher's origin, we are committed to helping you achieve the best possible outcome and are willing to offer service and support to a variety of models and machines."

Ensuring Optimal Performance
Weir Minerals said the company's crusher maintenance service offerings, parts, and manufacturing and distributing capabilities position it to best support customers during ongoing supply chain constraints. Customers that take advantage of those parts and services and that plan ahead will reap the most benefits, said Eric Jones, director of service and aftermarket.

"Operators need to think very carefully about planning and budgeting and, when ordering parts, keeping lead times front of mind," Jones said. "We're experiencing these same pressures, so we've re-examined our forecasts, looked at our inventory and set our minimums and maximums appropriately for the lead times." Regular maintenance is the first step to avoiding possible challenges posed by parts constraints. "Prevention is better than cure," Jones said. "Carrying out regular crusher inspections ensures that it will run for a longer period of time with minimal unscheduled downtime."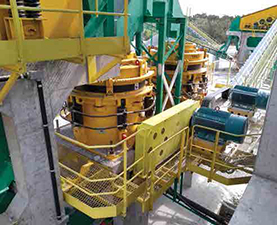 Trio solutions are designed to work optimally together, and to answer
challenges posed by the most rugged and demanding applications,
Weir Minerals said. Above, a Trio crushing plant in South America.
(Photo: Weir Minerals)

Having and executing a strategic maintenance plan is the next step. "Doing this, along with carrying out daily inspections, gives operators the best chance of increasing the crusher's service life," he said. "The maintenance plan should adhere to the recommendations of the manufacturer and take into account the site's conditions." Each machine requires a specific maintenance plan, "but most follow an initial 40-hour schedule post-commissioning, followed by ongoing routine daily inspections and regular 250-hour inspection and maintenance intervals throughout the annual cycle," Jones said. "Within these intervals, there are prescribed tasks that need to be carried out."

Prescribed tasks include checking the air filter, assessing the strainer basket on a cone crusher, and greasing bearings. Checking the air filter helps "ensure the crusher is vented properly and that unwanted contaminates are not entering the breather," he said. "Checking the strainer basket on a cone crusher identifes signs of excessive wear or damage to internal components," Jones said. "Greasing bearings ensures proper lubrication and cooling of those bearings."

Proper maintenance can help extend the life of wear parts, extending the interval between purchases. "For instance, operators should always ensure the wear parts are fastened into the machine properly," Jones said. "With jaw crushers, if you allow the jaw dies to move during operation they can cause damage to the frame of the jaw crusher," he said. "Similarly, loose liners in cone crushers may damage the head or bowl." Maintenance techs and operators "should also look for holes, cracks, or flat spots regularly because these can potentially damage the machine long term, or they may be an indication of another issue," Jones said. "Further to that, it's important that operators track tonnages."

Some cone crusher liner wear is acceptable until it hits a point of diminishing returns and then must be replaced. "As cone crusher liners wear, the operator threads the bowl inwards, bringing the bowl liner closer to the head, which reduces the feed opening," he said. "The reduced feed opening may decrease crusher throughput at a cost, and once that cost is greater than the price of the liner change it's time to consider changing the liners," Jones said. "Looking at the liner, it might seem like it has usable wear left, but, with lost tonnage, that doesn't benefit the plant."

Weir offers maintenance services on its crushers to help with planning and executing, said Dr. Fred Bradner, vice president, comminution. "As the OEM, we know our equipment better than anyone and we work with our customers to develop maintenance schedules to ensure optimal performance is maintained."

Those schedules are customized to the site geology and the customer's expectations. "We look at the customer's application, the rock they're crushing, the size they need it, how all their plant works together, and our goal is to provide them a superior product that meets their maintenance and wear requirements," said Meredith Scollon, Weir ESCO product manager, crushing. "Understanding all these things allows us to deliver the parts and alloys they need to achieve their targets," she said. "And these are different from mine to mine, which is why it's important to take a tailored approach."

The first step in that approach is a detailed assessment. "Customers usually come to us for a reason. They have a problem that they want us to help them solve," Scollon said. "So, firstly, we want to understand the plant schematic, product flow and any issues or bottlenecks they might have because one crusher could impact downstream crushers," she said. "This approach is why the Trio and ESCO products work so well together."

Trio equipment, which includes crushers, screens, and feeders, work optimally together. Further, "we have developed Weir ESCO heavy-duty wear parts for all major makes and models of cone, gyratory and jaw crushers, and our customers know that they're backed by stringent quality control measures and over 100 years of cast wear parts expertise," Scollon said. "We have in-house metallurgy and engineering that allows us to produce ESCO wear parts in a range of proprietary, field-proven alloys."

ESCO wear parts were recently adopted by a basalt quarry in Poland that was looking to improve reliability and availability. "The ESCO crushing wear parts used an equivalent crushing chamber design to maintain the desired performance, and, to improve wear life, we selected ESCO alloy 14R because of its optimized levels of carbon, manganese and chrome," Scollon said. "In consecutive trials, the quarry used ESCO parts in head-to-head comparison with the competitor parts," she said. "The ESCO crushing wear parts lasted 115 days and produced 297,000 mt, while the competitor product lasted 100 days and produced 230,000 mt." The wear life improvement "reduced the customer's changeouts maintenance costs," she said.

The increases in both wear life and productivity shows Weir can "provide solutions based on our customer-specific requirements," Bradner said. "Weir ESCO is a tried and tested brand with a reputation of producing high-quality ready-toorder alloy products, while also having the capability to develop and manufacture ultra- performance custom solutions." And Weir's global network allows it to deliver those solutions timely almost anywhere. "At Weir, we have an extensive service and support network, spread over more than 60 countries and strategically located in all the major mining regions," Bradner said.

"This allows us to be close to our customers, not just geographically but also in terms of the relationships we have with them," he said. "We work with them to understand their challenges and develop and implement solutions to optimize their equipment and processes." Being on hand to provide crusher maintenance support services, "whether it's to provide parts or maintenance requirements, when they need us most, is integral to Weir Minerals' customer-centric approach."
---
As featured in Womp 2022 Vol 11 - www.womp-int.com