Planning Software for Big-picture Analyses
The newest systems offer more integration, automation and ease of adoption

By Jesse Morton, Technical Writer
---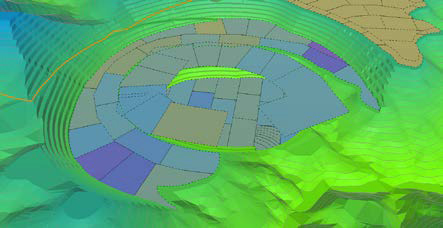 Applied tactically, Hexagon's short-term planning software can reap rich operational rewards.
(Image: Hexagon)

The most advanced mine management software solutions on the market increasingly integrate with other solutions and feature automation for faster, accurate results. The top benefit offered is a reliable and comprehensive big-picture overview of an operation. And whether that operation is a small mine or a multisite enterprise, the solutions can be relatively easily adopted, deployed and implemented with minimal disruption and maximum value added, top suppliers told E&MJ.

MinePlan Automates Analysis, Scheduling
Hexagon launched HxGN MinePlan Geo- Slate, a mobile geological drillhole logging application that simplifies the field data collection process. "Field drillhole data can be collected on a field-ready mobile tablet using the app, designed to emulate the geologist's workflow and ultimately save time," said Susan Brandt, vice president, MinePlan, mining division, Hexagon. "Data can be instantly published from the field over Wi-Fi using Hexagon's microservice technology, syncing directly to connected MinePlan drillhole databases for subsequent geologic analysis and workflow execution at the click of a button," she said. "The addition of GeoSlate to the Geosciences Suite fills an important step in the exploration and resource geo workflows in MinePlan."

Separately, Hexagon also released several enhancements to its Sigma geostatistics and GeoLogic implicit geological modeling solutions, improving the power of resource and geological modeling in MinePlan.

The Geosciences Suite "comprises tools that enable complete exploration, resource modeling, geomodeling and grade-control workflows, integrated within the MinePlan 3D visualization and CAD platform," Brandt said. "The solution includes a centralized database for managing drilling and sampling data, a mobile geological logging app for collecting field data, a QAQC module for validating laboratory samples, 3D implicit geological modeling, advanced geostatistical functions, block modeling interpolation and simulation, reserves estimation, and operational tools for sequencing and executing these capabilities as reproducible, auditable workflows, continuously built out to meet the needs of the dynamically changing industry."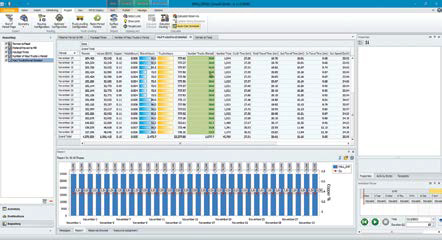 The Truck Leveling tool is used to optimize material movement based on a schedule objective and then limit
the over-utilization of trucks by automatically derating the shovels. (Image: Hexagon)

The suite is one of four within Mine- Plan, which "is the most comprehensive and best supported life-of-mine solution on the market, covering all aspects of the mining process for open-pit and underground operations," Brandt said. "MinePlan 3D supports workflows for mine planning, operations, geology and mine management, answering the needs of anyone who must visualize, analyze, monitor or evaluate mine information." MinePlan was incubated in the early days of the company, which started as a consultancy offering computer-based analysis in Tucson, Arizona, U.S., in 1970.

"The software was built on methods used to develop models and mine plans for hundreds of mining projects worldwide," Brandt said. "It grew into a complete general mine planning software package for use from feasibility through production, enshrining key capabilities, such as geologic modelling, geostatistics, optimization methods, short and longterm planning and operational planning." Hexagon also grew and branched into other sectors. It eventually promoted HxGN MinePlan as the flagship offering for its Mining division, which launched in 2015.

The software package continued to evolve, growing faster and more powerful with each update. In the latest rounds of updates, "the MinePlan Schedule Optimizer's (MPSO's) default haulage has been reworked to be magnitudes faster with a cleaner user experience," Brandt said. "The latest Shovel Control feature in MPSO assists engineers in creating mine plans that are operationally achievable from both a shovel and truck perspective," she said. "Shovel Control allows users to limit optimizations by operational constraints, providing users with more insight into where their equipment is located at a given period of time in the schedule." Also among the latest updates is the addition of the Truck Leveling tool to the short-term planning solution MinePlan Activity Scheduler (MPAS).

"MPAS schedules are generally driven by shovel assignment, associated rate of advance and the size of material targeted for movement," she said. Historically, only after material has been routed is a required truck estimate available for review. "Traditionally, if the required fleet size is greater than the actual fleet size, engineers would have to identify areas of long haul and de-rate shovels accordingly," Brandt said. "This is often a time-consuming, tedious and iterative process," she said. "Any small changes to the schedule will directly affect the routing results, destination targets and fleet demand."

The Truck Leveling tool "uses a leveling algorithm that automatically completes this de-rating process for the user based on shovel priority and defined truck limitation," she said. "Truck Leveling coupled with MPAS-optimized blending will not only achieve set destination requirements but will also ensure equipment is not over-utilized." The tool has been and is being used at a large copper mine, with the results to be revealed at the next annual Society of Mining, Metallurgy and Exploration conference. "The site went from shovel-limited to haul-truck-limited as drivers became ill from COVID," Brandt said. "The customer needed a way to streamline its current planning process. The new MinePlan feature was timely, being implemented successfully on-site as absences began to surge."

MinePlan will continue to evolve along a course set by the company's Power of One strategy. "Hexagon has launched The Power of One, a holistic, life-of-mine smart solution, connecting sensors and software, infield apps, and cloudware to empower digital transformation," Brandt said. "For mine planning, that means connecting scheduling, operations and geomodeling to build an integrated and data-driven feedback loop, ultimately allowing users to make more informed, data-driven decisions."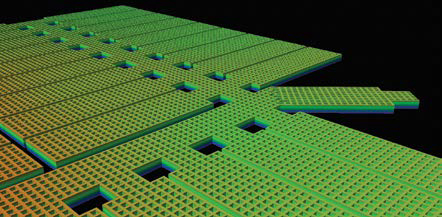 A 3D mine model created within Carlson Mining 2022. The software can be trialed for free with no obligations.
(Image: Carlson Software)

The next release of the MPSO will feature the "highly anticipated" Block Schedule Coding, which will "allow users to code back the schedule directly to the block model," she said. "This will be invaluable for pre-targeting material for both short-term planning and grade control." It will also "help with the reconciliation of planned verses operational models," Brandt said. "Both these capabilities are intended to improve hybrid, meaning optimal and manual, scheduling and help bridge the gap between planning horizons."

Also calendared for release "are additional enhancements to the GeoLogic implicit modeling solution, which will ultimately improve the ability of geologists to rapidly and accurately model complex geologic deposits and update their models to reflect new field data at the click of a button," she said. Customers that adopt MinePlan receive continuous support from Hexagon to integrate the new capabilities offered by updates and new releases into existing processes. "Hexagon's Mine Planning Customer Success team comprises dedicated subject-matter experts who work with clients throughout the customer journey," Brandt said. "Team members help identify needs and implement the right solutions within existing workflows," she said. "They work with new and existing users to help them utilize products and solutions successfully and extract the most value from mining operations."

Field results and advice from customers helps steer the development of MinePlan. "By helping customers gain maximum value in their operations, we in return receive their invaluable insight, which not only keeps Hexagon solutions relevant but allows us to remain a leader in the industry," Brandt said. "In addition, Hexagon's Mining Customer Community is an online resource where professionals can share new ideas about Hexagon products and influence product development, vote and collaborate on other customer ideas."

That community provides "constant feedback from operation processes" that helps the company help its customers "extract the most value from their workflows," she said. "Automation and integration of MinePlan with Hexagon's other operational solutions unlocks more value for clients and ultimately enables the rapidly evolving smart mine."

Carlson Mining 2022 Trials Available
Carlson Software offers a free evaluation of the complete Carlson Mining 2022 suite, with no strings attached, the company said. "Included in this product is our award-winning, free technical support," said Grant Wenker, vice president, mining Carlson Software. "Sites are welcome to try it out for free, for 30 days, and get the free support to help you do the pit planning in an easy, CAD-based platform."

The supplier announced Carlson Mining 2022 in January. The suite includes three high-powered modules, Carlson Geology, Carlson Surface Mining and Carlson Underground Mining. Each "enables modeling, analyzing and planning capability," the company said. The suite is reputed to be "very user friendly, yet powerful for the mine planners' daily needs," Wenker said. "There are hundreds of tools that are not found in other software," Wenker said. "These tools range from drafting items for polyline editing, to point databases, to final deliverables." Each module is application specific.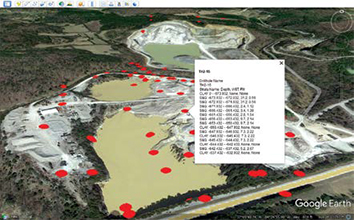 Drillholes on Google Earth using Carlson Geology. The newest version of the software
module also offers the module offers more control of formatting and drillhole labelling.
(Image: Carlson Software)

"Carlson Geology is used for both stratified and block modeling," Wenker said. Compared to previous versions, the module offers more control of formatting, drillhole labelling, and improved Google Earth exporting. "These additions are a direct reflection of features developed based on userled feedback," Wenker said. It has a faster loading speed for the block model viewer, an added inspector option, the ability to increase grade opacity, and more descriptive reports based on grade parameter. "Anytime the planner can visualize the geology in their engineering work, it assists with the pit planning to ensure proper designs," Wenker said. "Carlson Mining suite modules work seamlessly together so the user can switch between the various applications."

The Surface Mining module "is used for pit and property layouts, 3D Designs, mine pit and dump scheduling and timing as well as haul truck cycle analysis," he said. The module has new Optimized Pit Design commands that "greatly supports the design process," Wenker said. "The new feature, Prepare Value Block Model, is used in preparation to define the value of block models and is an example of a newly added user-requested feature." Carlson Suface Mining offers "the ability to evaluate mine timing without the inclusion of non-key/waste material," Carlson Software said. "This user-requested feature allows for accurate mine scheduling when spoil removal is subcontracted. Non-key tonnage is now trackable through the entire scheduling workflow."

The underground module can be used to "create mine plans ranging from room and pillar, to longwall to stopes and block caving, attach the geologic model to them, and sequence them out," Wenker said. The module supports "new routines for underground mine solid creation, viewing and editing," Carlson Software said. "These routines integrate well with Carlson Laser Measurement Devices systems for precision mapping and measurement." The Carlson Suite has been adopted by more than 1,000 mining locations largely because of its low cost and exceptional versatility, Wenker said. "Carlson is great by itself, but also works nicely as a supplemental package to fill in the gaps that other mining software has. "For example, Peabody uses the suite and said it 'provides one seamless platform for multiple critical mining processes,'" he said.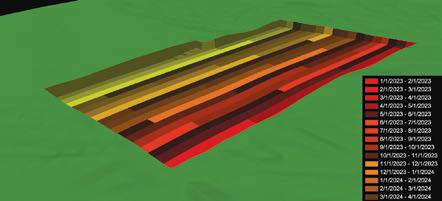 Surface history colored by timing in Carlson Surface Mining. The solution empowers the user to
evaluate mine timing without the inclusion of non-key/waste material. (Image: Carlson Software)

The full office CAD suite spans 14 modules, including Survey, Civil, Hydrology, GIS, CADnet, Construction and Point Cloud. It "runs on top of the customer's existing full version of AutoCAD, or the included, free, Intellicad 10.1," Wenker said. First released in 1988, it is now updated annually. "Most of the updates and changes are from customer-driven requests," Wenker said. "The software improves and evolves to meet the needs of our customer base."

To adopt, "you'll just need to have geologic exploration in boreholes and coreholes to make a geologic block model as well as any type of surface topography captured by a drone or as a .dxf file," Wenker said. "A basic knowledge of AutoCAD or a similar drafting software helps in the start," he said. "Initial training to get users proficient is usually just a few days, as opposed to weeks in other software."

The suite is purpose-designed to address the real "problems that people face in the industries we work in," Wenker said. "Carlson Mining 2022 provides not only the latest requested features and commands by mining operations worldwide but is also backed by a nearly 40- year history of software development in the industry."

Optimizer Analyzes Big Picture Issues
Released in February, Enterprise Optimizer (EO) helps mining companies streamline operations at multiple sites and weather the daunting challenges now facing the industry, RPMGlobal said. The multisite, multi-period strategic scheduling optimizer software solution "provides a rapid and reliable way to analyze a constantly changing enterprise so organizations can understand how to maximize the value of their operations while mitigating risk and maximizing opportunities," said Alun Phillips, product manager, RPMGlobal.

"EO addresses multiple issues, including supply chain, logistics, capital, planning, mine planning and much more," he said. The solution "focuses on the key objectives of the organization, which are then optimized across all mine sites." It understands "not only how the individual mine plans are related, but also where the organization gets the greatest return for shareholders from their invested capital," Phillips said. "It takes a holistic view of the operation, ensuring it considers all impacts on the mine's profitability. This includes mining of all materials, stockpiling and processing, generation and blending of final products, and logistical constraints associated with the delivery of products to customers."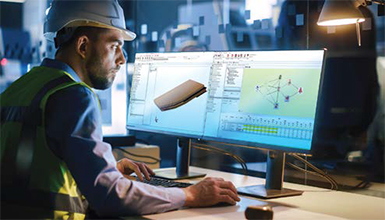 Multisite, multi-period strategic scheduling optimizer software solution Enterprise Optimizer
can be used for big-picture analysis of various challenges, including supply chain, logistics,
capital, planning and mine planning issues. (Photo: RPMGlobal)

It can also be applied to individual mines "to identify when each pit and pushback should be mined to ensure a continuous ore supply that satisfies blending and other product specifications," he said. EO uses a "Mixed Integer Linear programming engine to find the best solution for a given problem, but users don't need a degree in Operations Research to use it," Phillips said. "It leverages the latest developments in discrete mathematics and capitalizes on the strengths of the world's leading mathematical solvers to generate practical results in a fraction of the time typically required."

Users benefit from "a process-driven interface that is both intuitive and transparent," he said. "Each step of the process has been developed with engineers in mind, allowing practical rules to be defined in engineering terms." These rules are then applied "automatically, behind the scenes," Phillips said. "EO has taken a very complex problem the industry has wrestled with for decades and simplified it for the end user, meaning they can focus on the process rather than the complex math," he said. "Users just focus on the outcomes they require and not how these are translated into mathematical expressions."

For example, EO uses "the most intuitive way" to "define how material flows from the mine, through the processing facilities to final products," Phillips said. It uses a flow chart. "Users start drawing the material flow by defining each production area, each waste dump, each item of processing equipment, each stockpile and each product," he said. "Arrows are then drawn between the different objects that describe how different material is allowed to flow between them."

After that, "rules are created that define constraints, benefits and penalties associated with different material movements," Phillips said. "Despite the complexity of the problems being modelled, this approach to problem definition means that users are never forced to work with or need to understand the underlying math." EO does not "require users to predefine the processing costs, products and revenues associated with each scheduling block," he said. "By considering the alternative processing options available, the products that must be produced over time and price projections for those products, it will automatically find the best way to mine, process and stockpile material so that total value is maximized."

With EO, users "don't have to run different scenarios to evaluate alternative product strategies because EO will consider all the alternatives and automatically find the most attractive," Phillips said. "Because it considers all the assets in the organization's portfolio, it doesn't focus on maximizing results from individual assets to the detriment of the organization's overall performance." Instead, to boost overall performance, it considers "logistical constraints and bottlenecks," he said. "If a group of mines share a common rail network, it's pointless maximizing the production for each of the mines if the rail capacity is inadequate."

By modeling these limits on production, it will identify the best way to distribute capacity between assets, Phillips said. EO is versatile and is designed for use "across any commodity, mining method and any number of sites," Phillips said. "This makes it relevant for any organization with multiple operations, particularly organizations with operations across multiple jurisdictions," he said.
---
As featured in Womp 2022 Vol 06 - www.womp-int.com