BHP Inaugurates New Copper Concentrator at Spence in Chile
---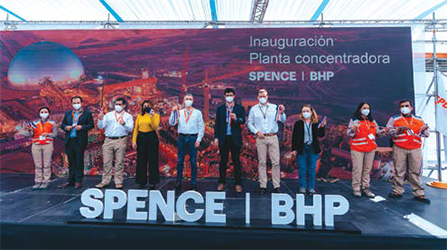 The new concentrator will process 95,000 mt/d.

BHP CEO Mike Henry led the opening of Spence's new copper concentrator in Chile. The $2.46 billion project will process 95,000 metric tons per day (mt/d) to produce copper concentrate and molybdenum concentrate. It will extend the life of the Spence operation in Chile for another 50 years. The company said the inauguration of the concentrator is part of BHP's plan to reinforce its copper portfolio, strengthening the company's operations to respond to a global demand for the metal that will double in the coming decades.

Mike Henry was accompanied by President of BHP Minerals Americas Rag Udd, President of BHP Pampa Norte Cristián Sandoval, Undersecretary of Mining Willy Kracht, as well as local authorities and residents of Sierra Gorda and Baquedano. "This is a significant moment for BHP in Chile, where we have been for more than 30 years and we want to continue on this path of joint development and collaboration," Henry said. "Chile has great opportunities to provide the commodities that the world needs to de-carbonize and improve living standards. But we cannot do it on our own. We need to continue working with industry, government, and communities to continue development in a safe, sustainable manner, and to create value for everyone along this way."

The government is committed to creating conditions that allow for a harmonious development of mining activity, Kracht said. "From this perspective, we value the industry's efforts to responsibly increase Chilean copper production and I would like to recognize BHP for the great achievement of having completed the construction and commissioning of the Spence concentrator in such a complex context, as the one created by the pandemic," he added. Sandoval said the project represented "a meeting point for emerging talent, for the incorporation of women into mining and new opportunities for all workers and communities in the region."

The new concentrator was built with an inclusive and diverse workforce. Today, 32.7% of Spence workers are women, and BHP said it will continue to move in this direction. During the construction process, which lasted 1,180 days, more than 12,000 workers were employed and it was the only mining project in Chile that did not stop construction during the pandemic.

On a technical level, water for the new concentrator is supplied by a desalination plant located in Mejillones, which allows Spence to operate exclusively with desalinated seawater today, and power for the concentrator is supplied exclusively from renewable sources. Added to this is the implementation of new flotation technology, which uses 60% less energy and occupies 50% less space than conventional plants. This will generate lower energy consumption and reduced emission of greenhouse gases, the company said. In addition, innovations at Spence include the implementation of a fleet of five drills and 33 autonomous trucks, which will allow progressing in the electrification of material handling processes.
---
As featured in Womp 2022 Vol 06 - www.womp-int.com