BHP Discuss Future Plans for Chile
---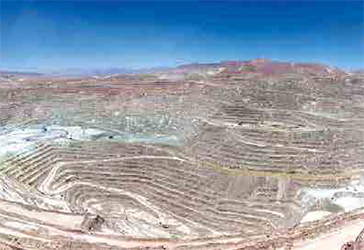 Speaking at World Copper conference in Santiago, Chile, a BHP executive discusses
future plans. BHP operates the Escondida mine (above) in Chile's Atacama Region.

Australian mining company BHP Group Ltd. plans to invest more than $10 billion in Chile to fuel growth in the world's largest copper-producing nation over the next 50 years, but made the investment conditional on the existence of certain conditions, which included regulatory and tax situations.

Chile, which supplies nearly a quarter of the world's copper, recently elected a new leftist government and is rewriting its constitution and considering raising its mining royalty to fund expanded social programs. Several copper miners have paused investment decisions in the country while political negotiations take place.

"We love Chile," said BHP, Minerals, Americas, President Ragnar Udd at the CRU-CESCO World Copper Conference recently in Santiago. "We would like to stay here. We would like to grow in this country. But to do so, it will require fiscal stability, legal certainty and a clear pathway to permitting."

BHP operates Escondida in Chile, the world's largest copper mine. Udd said the investments from BHP would fund a new concentrator and leach processing facilities, new mining areas and projects to help reduce the company's carbon emissions.
---
As featured in Womp 2022 Vol 04 - www.womp-int.com