Taking a Systems Approach to Pit Dewatering
How to optimize the design and performance of mine pit dewatering systems

By Carly Leonida, European Editor
---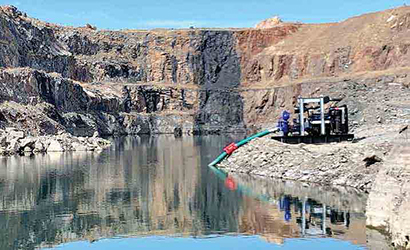 A high-performance Sykes diesel-driven pump set removes 103 million liters of water in just 30 days
from an open-pit copper mine in northern Botswana. (Photo: Integrated Pump Rental)

Dewatering is critical to open-pit mining operations and more resources are now being allocated to its optimization. Traditionally, there's been a tendency among mine and quarry operators to treat dewatering as a low priority; just another cost that can be overlooked… until it can't.

Cost minimization has therefore been the primary focus in implementing a dewatering or fluid management solution. However, as operations dig deeper and precipitation and groundwater flow become more complex to predict, dewatering is becoming increasingly necessary. "Because most dewatering programs have been designed with the singular focus of lowering groundwater levels as quickly as possible, they often have excess pumping capacity and oversized pipes and pumps operating at only a fraction of their capacity, which is inherently inefficient," said Ian Ross, global product manager for dewatering at Weir Minerals. "This needs to change to accommodate the increased focus on efficient use of energy and water, which is critical to maintaining a social license to operate."

According to Ross and his team, the trends in forming dewatering practices mirror many of those that are observable across all mining processes: a focus on sustainability; customized, holistic solutions based on each site's unique geological and climatic conditions; and the emergence of new technologies, with a particular focus on real-time monitoring.

"Dewatering systems that are carefully designed and implemented have the potential to reduce mine energy usage, CO2 emissions and significantly lower OPEX over the life of the mine," he said. "The overall efficiency is affected by individual elements, but also by how these elements interact and operate with one another.

"This renewed focus on pumping efficiency requires a significant shift in how many operators have previously approached dewatering and fluid management on site and, accordingly, many are beginning to approach the challenge in more sophisticated and methodical ways."

System Design and Troubleshooting
Weir Minerals has a global team of dewatering experts who partner with mine operators to assess their specific requirements and provide integrated solutions.

"This is critical, because there is no 'one-size-fits-all' approach for pit dewatering," Ross explained. "It's important to understand the water in-flow requirements, how that impacts the mine plan, the range of operating depths, and working with existing piping systems to ensure that dewatering equipment meets specific site needs." Water conditions can be unpredictable, and requirements vary by site. Key considerations for system design include: • Water quality, where pH can range from very low through to high; • Water content, such as high percentages of abrasive suspended solids and floating debris; • Equipment loading and other forms of loading such as weather; • Pump priming requirements; and • Site access, which can be challenging.

As alluded to earlier, oversizing of pumps is a common mistake that many operators make when designing a dewatering system. "A range of submersible, centrifugal and vertical turbine pumps are used in mining and aggregates applications but are often poorly matched with the duty. This can be due to sites repurposing existing pumping equipment from other applications, and it can result in pumping systems that are either extremely oversized or undersized to match what the customer is trying to achieve," Ross said. "Running an optimized pumping system for your application results in improved wear life and less power consumption."

Solutions to resolve over-capacity include adjusting the performance of an installed pump to match the process conditions by either changing the operating speed or trimming the pump impeller. An alternative solution is to replace the installed pump with a higher efficiency pump to reduce power demands. "Weir Minerals is committed to providing its customers with sustainable solutions — this makes environmental, social and economic sense," Ross said. "Take, for example, the Multiflo LF range, which features a selection of dewatering pump packages that, compared to similar pumps on the market, reduce total cost of ownership through lower energy requirements.

"The pump features a hydraulically superior enclosed impeller design and larger diameter pump-shafts that allows the Multiflo LF to efficiently handle large solids while reducing operational and maintenance costs. This is achieved through the advanced, high-efficiency pump-end that requires less energy to process fluids, operating under reduced power requirements, and in turn consuming less fuel (LPH) or electricity (kW/h)." Pump operating pressure is directly proportional to pump impeller speed so, for example, a 20% reduction in speed could lead to a 50% reduction in energy consumption and a 50% reduction in speed could result in an 80% reduction. Therefore, evaluating and identifying dewatering systems that are operating at higher pressure will reduce the associated energy (diesel or electric) costs.

"Dirty water" is another common issue. This is the name given to water with a percentage of abrasive suspended solids that are too high to be considered "clean," but too low of a percentage to be classed as slurry. Ross explained: "The introduction of, and subsequent wear from, abrasive suspended solids is one of the most common causes of premature failure in a dewatering pump and this is especially common in high-head pumping applications. One of the most challenging things to plan for is an "upset" water quality condition that can be caused by seasonal weather events, an unexpected landslide or subsidence into a pond, or the introduction of a foreign waste stream, like tailings."

Solutions to resolve accelerated pump wear issues include improving the process water quality to reduce the abrasive solids content in feed water. In the event this is not possible, the best option is to replace the installed pump with one that is better able to process increased solids concentrations, Ross suggests the Warman DWU pump as a suitable option. This is designed and constructed to handle percentages of abrasive suspended solids percentage in water while operating at high discharge head pressures to transport surface water from dams and ponds on site back to the washing circuit for recycling.

In the case of submersible pumps, problems often arise when there's moisture intrusion into critical internal electrical or lubricated components, abrasive wear of wetted components, impellers clogging due to particle size or slurry fluid composition, and insufficient slurry feed flows that cause overheating and cavitation. If the pump fails, replacement is often the only option. "Not to sound trite, but the best way to resolve these issues is to avoid them in the first place," Ross said. "And that's what we've tried to achieve with the Warman SHW submersible slurry pump. It has been specifically built for the most demanding submersible pumping applications, with a heavy-duty, all high-chrome (A05) wet end. "It also has a double mechanical seal arrangement, which not only prevents slurry leakage into the motor, but only exposes a minimal wear area to the slurry. The Warman SHW's balanced double-seal arrangement encloses both sets of seal springs in an oil reservoir, which means the silicon carbide seal faces are only subjected to the submergence pressure, greatly increasing the wear life of the pump."

Ross added: "The more visibility a mine has over its fluid management on site — flow rates, operating pressures, groundwater level, water quality, system relocations, alternate drive solutions, equipment selections to reduce maintenance and repair cycles, etc. — the better placed it will be to install the most appropriate equipment. "The industry is moving toward customized solutions and there's a growing awareness that no two sites are the same, which means a one-size-fits-all approach to dewatering is neither cost effective nor sustainable."

Digital Monitoring
Improving pump efficiency begins with effective monitoring. There have been enormous improvements in electronic control and communication systems over the past few decades, and real-time reporting and control of pumping systems can now be an economic reality for almost any mine site.

Monitoring of pump performance can be especially important in situations where the in-situ groundwater levels are high and need to be drawn down to optimum levels; if left unchecked, they could interfere with the mining operations' productivity. Reclaim water systems are also frequently relied upon for process plant water and, if pumps aren't monitored and maintained at optimum flow rates, this can interfere with the process plant productivity.

Ross explained that advances in digital technologies and mine networks have significantly improved mine's ability to monitor pump performance in recent years. "This is especially true when it comes to monitoring the operational status of multiple pieces of equipment from a single location and/or mobile devices," he added. "This type of digital technology can also reduce the number of personnel dedicated to pump monitoring."

In one example, the team at Weir Minerals designed a fully automated mine dewatering system in the Czech Republic. Ross said: "The site had been experiencing poor performance and using a non-automated dewatering pump network where the incumbent pump average wear life was just 700 hours. The Weir Minerals solution provided a high degree of reliability as well as low maintenance and spares consumption. "The concept included Warman and Multiflo pumps integrated with Multiflo ME, Warman DWU, Warman AH, Warman SVSP and Warman SP pumps, as well as multiple Multiflo pontoon barge solutions."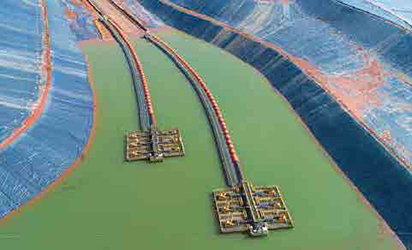 Multiflo mega barges on site at a mine in Brazil. (Photo: Weir Minerals)

While all of these Warman pumps are suitable for both water and abrasive slurry pumping applications, Ross explained that by closely monitoring each individual pump's performance Weir Minerals was able to provide the mine with a customized solution based on their specific requirements. "This included Warman 150 SVSP pumps installed on a Multiflo pontoon, which were used for mine water transfer between lagoons, or to feed stationary and mobile pump units," said Ross. "Meanwhile, we addressed other reliability concerns with the Warman SP, a heavy-duty cantilever sump pump, which significantly improved reliability because it removed the need for lower submerged bearings, which are often the source of premature bearing failure."

Ask the Experts
If a mine owns and operates its own dewatering system and has the appropriate expertise in house, data obtained from pump monitoring and system inspections can be used to inform regular adjustments and performance improvements. However, the complexity and rapidly changing nature of dewatering projects are often underestimated; installing a pump in a pond and leaving it to run unsupervised will never deliver optimum results.

This is where it pays to engage with a solutions provider like Weir Minerals (and there are many more) that can offer regular maintenance and audits as well as expert advice.

"The partnerships we form with our customers often extend long after the pumps have been installed," Ross said. "We have a global network with the ability to service on-site or at one of our 130 dedicated service centers, so we're always there when customers need us — no matter how remote the operation. "We're also investing in pump research and development through our central R&D, as well as through a network of academic research partners in some of the world's leading universities. This enables us to develop and exploit emerging technologies to create new dewatering products and provide competitive advantages to our customers."

Another option, which is particularly popular with small- midsized operators who might not have dewatering capabilities within their own teams, is to rent their equipment, or to outsource part or all of their dewatering project to a contractor.

South Africa-based Integrated Pump Rental specializes in providing solutions for challenging dewatering applications. The company is often called upon to resolve water issues at mines across Africa. Managing Director Lee Vine spoke about the assessment process for new and existing applications. "First, our location engineers would visit the site to assess the application," he explained. "They will calculate the static head, which is the depth of water the pump has to overcome to get to its discharge point, which pipes would be the best fit and whether the mine has got existing pipes on site or if we would need to provide new ones to transport the water out of the pit.

"The pipe size is important as, if the pipe is too small, there will be a huge amount of friction loss. Friction loss is basically generated from water rubbing on the pipe walls, so the pumping distance is also very important. "The friction loss is added on to the static head, which then gives the total dynamic head. Whatever pump you choose needs to be able to overcome the total dynamic head." It's also important to calculate the amount of water that needs to be moved, as well as the inflow of water into the pit and how quickly the mine needs to move that volume; it could be one week or it could be three months, the timeframe is a crucial consideration. "We also need to know whether it's water, slurry or a combination of the two that needs to be pumped," said Vine. "Most of the time in pit dewatering it's water, but sometimes when you get through the water to the bottom of the pit, there can be dirty water and a few meters of slurry. If the mine wants to remove that they would need a different pump."

Dewatering pumps designed for mining applications can generally handle some sand or grit, but slurry pumps are designed specifically to handle material that contains a high percentage of solids and this can be extremely abrasive. "Slurry pumps are typically built with dense, high-chrome parts and impellers which are very resistant to abrasion and corrosion," Vine explained. "Another factor that needs to be considered is that, as you're pumping the water away, the static head changes. Some diesel units have allowances for that, whereby you can speed them up to overcome the high head. But, if there are major changes in the head, then you might need to change pumps as the project progresses. We have a huge range of pumps and can switch them out as needs evolve."

All pumps have best efficiency points, where they operate at optimal capacity, using the minimum amount of fuel, with least possible wear and tear on the pump. It all comes down to selecting the right pump for the right job and operating it in the most efficient manner. "We do have software packages that can do these calculations, model the system and suggest the best pump for the application," Vine explained. "But we do still do a lot of it manually."

Renting vs. Buying
Vine touched on some of the key advantages of renting versus buying. However, every application is different, and the choice might not always be clear cut. "With renting, the beauty is there's no capital outlay, so any costs could be added on to a maintenance budget," explained Vine. "When renting a pump, all the wear and tear is covered by the rental company. Also, in a mining environment, the application or dewatering needs can change. As mining progresses and the pit grows, the pump requirements can change daily. If a mine purchases a pump, then in six months their application might have changed so much that it's no longer suitable for the job.

"If you're renting, then the pump can go back to the rental company and be switched for something more suitable. There are no waiting times for delivery, and you have immediate access to a team of dewatering experts." Mines that purchase their dewatering equipment would need to conduct regular inspections and audits, as well as handle maintenance duties and costs. They must hold spare parts for repairs and, if the application is expected to change significantly, a selection of different sized or powered pumps.

Vine actually runs two companies — one rents pumps, one sells them — so he is well positioned to offer an unbiased opinion. "Purchases will always overtake the rental side in terms of turnover," he said. "A lot of mining companies nowadays, especially in South Africa, contract out their operations. Contractors are very keen on the rental option. If the mine says to these contractors tomorrow, 'sorry, you're out of here,' then they haven't spent a huge amount of capital on dewatering equipment. "It's very much an individual preference, some companies like renting, some like to purchase their pumping equipment."

Integrated Pump Rental also offers full dewatering projects; essentially contract dewatering services. Vine explained: "In this case, our team would visit the site, conduct a full survey, and assist the mine in getting their pumping system working to the best of its abilities. If the mine wants, we can also install our own pumps and operate and maintain them. It's hassle-free dewatering."

Audits and Optimization
Weir Minerals' Ross explained that the decision to review or audit the effectiveness (and efficiency) of the dewatering system at a mining operation is driven by several factors versus time frequency. These factors include: • The age of the mining operation (it may be using outdated technology); • Energy consumption; • A new mining plan (expansion); • Mining operation change (open pit vs. underground); • The current OPEX costs of incumbent system; and • Pressure to improve sustainability of the operations (switching from diesel to electric).

In an open-pit environment, Integrated Pump Rental's Vine recommends that operators who own and operate their own dewatering systems conduct an internal audit every three to six months. "Things change all the time," he said. "Pipes can get clogged; valves can be damaged and that can affect the performance of the pump."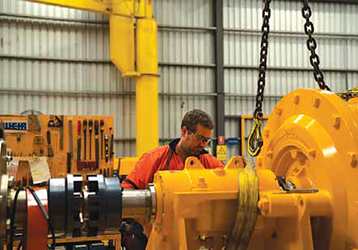 A Weir Minerals specialist builds a new pump unit in Australia. (Photo: Weir Minerals)

Today, most pumps are digitally enabled with telemetry built into their operating systems. This allows the operator or service provider to remotely monitor parameters including the battery condition and voltage, oil pressures, temperature of diesel engines, discharge pressure and suction pressure, to name a few. This is useful in tweaking system performance and informing maintenance activities (both scheduled and unscheduled).

"As the pit gets deeper, if the mine is running left or right on its pump performance curve, we can get in touch and let them know if they need to upsize or downsize the pump," Vine said. "Maintenance is obviously a high priority as well. The servicing of our units, because they're diesel driven, needs to be done every 250 hours. "Most pit dewatering pumps are run 24 hours a day, so servicing, checking all the clearances, checking the oils, etc. needs to be done roughly every 10 days. At that point, with a rental contract, the engineer can also check that the application hasn't changed and the pump is running on its own."

On the telemetry side, technology does move quickly so, for mines that own and operate their own equipment, it's worth engaging with your pump supplier to ensure you have the latest software version. The other benefit of engaging a rental company for dewatering equipment is that they can provide all the accompanying equipment — floats, walkways, etc. — that would otherwise need to be sourced separately. "We can pretty much rent a full-scale dewatering project, with no capital outlay and take care of all the repairs. I think that's a big advantage," Vine added.

Dewatering in Botswana
Integrated Pump Rental recently supplied a Sykes diesel-driven pump set to rapidly dewater an open pit at an existing copper mine in northern Botswana. Due to unseasonably high rainfall in the local area, the mine was struggling to reach the benches and face where exploratory core drilling needed to be undertaken. Using the high-performance, high-head pump set, 103 million liters of water were removed in just 30 days.

Vine's colleague, Steve du Toit, rental development manager at Integrated Pump Rental, explained: "The mine reached out to us requesting rapid assistance to avoid any further delays. After assessing the application requirement and operating conditions, we selected and dispatched one of our Sykes XH 150 rental pump sets." The Sykes XH 150 Rental pump sets are available either as trailer mounted units or on skids, allowing for easy installation on site, also facilitating movement of the unit from section to section as required. In this instance, a skid mounted unit was used. The pump set offers automatic priming which meant that on arrival at the mine the unit could quickly be put to work. The XH 150 has a flow rate of 120 liters per second which meant that it could move 3,456 m3 of water in just eight hours.
---
As featured in Womp 2021 Vol 08 - www.womp-int.com