New Solutions Improve Processing, Step by Step
Top tier innovative solutions are available for each step of the flow sheet, and field results show they help improve the profitability of an operation

By Jesse Morton, Technical Writer
---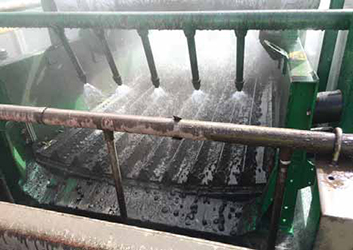 New solutions provide ways to recover gold that previously would have been lost to waste.
Above, a Derrick fines screen captures pregnant carbon fines that were headed to
tailings. (Photo: Derrick)

Of the listed benefits offered by some of the latest innovative solutions for the gold processing plant, improved overall profitability of an operation is foremost. Each differs in how to get there. A couple can help produce more gold and less waste. A couple can help an operation significantly reduce the scale of tailings-related challenges. They all help a miner meet sustainability goals.

The listed benefits hint how the industry could evolve in the near future. The possibility of major change for the better, in many ways and at each step of the flow sheet, is very real, the suppliers told E&MJ. And they are starting to accumulate field results that prove it.

Concentrator Reduces Capex, Opex
FLSmidth reported the continuous Knelson concentrator is swiftly becoming the gravity- separation solution of choice for a toptier gold miner with complex ore bodies. "We've had multiple units in operation for years and they are really starting to set standards," said Ben Murphy, director, gold industry, FLSmidth. "We think we are in a really good place with this now."

For example, multiple units have been deployed to Canadian mines of a top-tier producer. "They are running on cyclone overflows and recovering gold from high-density sulphide minerals," Murphy said. The concentrate produced provides "a much smaller, higher-grade gold content stream for further liberation and recovery of the gold particles," Murphy said. The additional gold it helps recover "can add a significant amount of revenue to an existing or a new plant."

Feedback from the miner shows the solution "reduces the energy requirements per ounce of gold produced," he said. Other benefits include "a reduction in chemical usage, water usage, grinding energy, equipment residence time, and an overall reduction in capex and opex." The Knelson is proven hard rock mining technology that uses a centrifuge and gravity, with a fluidized bed process, to recover precious metals. It uses "a rotating assembly featuring advanced concentrate cone technology," FLSmidth reported. The "unit includes a one-piece upper frame and tailings launder assembly along with a robust lower frame designed to improve access and simplify maintenance," it said. "A free-standing, remote- mounted piping is also provided for installation flexibility."

It is "configurable and available in a range of model sizes," FLSmidth reported. The range goes from laboratory scale up to 1,000 metric tons per hour (mt/h) of solids. The advent of the continuous units follows years of the batch units "setting the standard in gravity concentration, mainly focused on the gravity recoverable gold concentration within grinding circuits," Murphy said. "Although a batch unit, the Knelson concentrator operates continuously within the grinding circuit with only a brief pause, typically less than one minute every hour, to flush out the concentrated material of interest."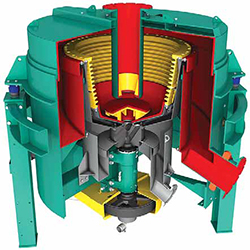 FLSmidth's continuous Knelson concentrator was proven at the
Canadian mines of a top-tier gold miner. A few of them could
replace a traditional separation circuit at a smaller operation,
FLSmidth reports. (Image: FLSmidth)

Using the Knelson to recover gold earlier in the process also greatly reduces the strain on the downstream equipment and frees up capacity, in turn allowing plants to push the envelope on tons processed, he said. "And once you've got your gravity concentrate, you can either mix it with the fi- nal concentrate, upgrade with a table, or, to maximize your recovery, put it through an intensive cyanidation reactor."

Batch separation is very successful for many operations, but offers limited mass yield. "So when you have to recover a larger quantity of material from streams where gold is locked up in sulphides or other heavy minerals of interest, a higher mass-yield device, such as the continuous Knelson, is required," Murphy said.

Continuous Knelsons "allow the operator to vary and control the mass pull and ultimately achieve the desired grade and recovery for the given project," he said. "The mass pull can be up to 50% of the feed tonnage." Ideally, a few continuous Knelsons could outright replace a traditional separation circuit at a smaller operation. "Suddenly you can deal with a bit of a coarser feed," Murphy said. "And the material, after you liberate it, you don't need to treat it any other way."

It would cut out the need for a reagent, and for an on-site reagent plant. And that would substantially reduce the scale of both tailings issues and the related permitting requirements. "Currently, there are numerous possible applications of the continuous Knelson within mining," Murphy said. "But, the capability to combine high mass pull with a fluidized centrifugal concentrator will likely allow this technology to be applied across a broad range of industries."

Furnace Gets Gold From Carbon Fines
Kappes, Cassiday & Associates reported feedback from customers shows the KCA Carbon Converter helps CIL operations produce more gold with less waste by recovering that last bit of gold locked up in carbon fines. "I am pretty excited about it," CEO Daniel Kappes said. "I think this could maybe increase world gold production by close to 1%." Carbon fines that typically are designated waste and that end up in tailings can contain between 100 and 150 grams of gold per ton. The fines are usually contaminated with mercury and historically are very difficult to burn. Until now.

"What we have developed is a special kind of furnace that will burn it, and covert it to ash so they can either smelt it or recycle to the leach," Kappes said. "We've developed a furnace for essentially recycling that fine carbon." The KCA Carbon Converter is a downdraft hearth furnace. Carbon fines, wet or dry, are loaded into the feed hopper. An automated conveyor transfers them to the top of the furnace. The fines are continuously and evenly distributed over a thin bed of silica sand.

"We pull air down through a 4-ft. diameter sand bed, and we spread carbon out on the sand bed in a very controlled rate," he said. "As the carbon spreads out it burns." The solution basically works like a blast furnace, Kappes said. "We've developed a very controlled system in which we have a continuous air flow and we put the carbon into it at a controlled rate that controls the temperature at about 1,500° F, which keeps everything working smoothly."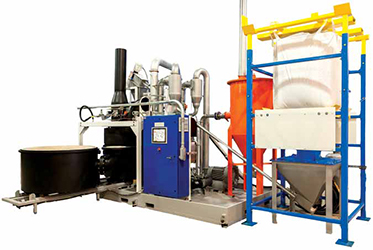 The KCA Carbon Converter burns pregnant carbon fines to ash to recover the 1% of gold
that otherwise would have been lost. (Image: KCA)

As the carbon burns to ash, water evaporates. Meanwhile, "a three-stage system captures mercury and other volatiles, and final mercury emissions meet emission standards of every U.S. state and foreign country," KCA reported. "Once the ashing cycle is complete, the ash, which has been roasted at a high temperature, has no mercury remaining." The process continues until the sand bed fills up, at which point the ash can be removed without stoppage. Sometimes it takes more than an hour for the carbon particles to completely burn. "But since you are on a sand bed, they can do that," Kappes said.

The ash can be processed one of two ways. "The easiest way is, if it is fairly high-grade ash, to just smelt it in normal smelting furnaces and turn it into dore bar," he said. "Chemically, it melts pretty easily," he said. "The only problem is it can be quite dirty if they don't clean it very well and so it is a bit bulky to smelt." In which case, it goes into comminution and then back into the cyanide system. "Up to 99% gold and silver recovery has been demonstrated," KCA reported. Ideally, the Carbon Converter is paired with a very fine screening solution.

Currently, very fine screens are not commonly used at most CIL operations today. Most "have a tailings screen in which they will catch carbon down to about 30 mesh, but there is a lot of fine powdery carbon that they don't catch," Kappes said. "That contains this 1% missing gold, and it just goes to tailings." That fine powdery carbon might contain gold that amounts to 0.01 grams per ton of ore. "It is not even measurable," he said, "but it adds up." The powder usually contains some ore fines "and they can't do anything with it."

The Carbon Converter changes that, and makes it advantageous for the miner to try to capture as much of those fines as possible. "Derrick offers a solution that can effectively screen to down below 100 mesh and pick up that fine carbon between 30 mesh and 100 mesh," Kappes said. "It is not going to be 100% clean because there will be some sand particles and stuff in that size range," he said. "But the combination of a finer screening technology and the Carbon Converter can make a really powerful difference."

The Carbon Converter "can handle pretty dirty material," he said. At one mine, the "stuff we are feeding it is running about 40% sand and about 20% water," Kappes said. "So it is only about 40% carbon by weight, but the system handles it quite happily." The screen and furnace combo is "how you can get most of the missing 1% of gold before it goes to tailings." The Carbon Converter spent more than a decade in development. "It pretty much just came to us in 2003," Kappes said. "We like to develop innovative solutions and we saw a need for this," he said. "Mines have tried to treat carbon in conventional furnaces ever since carbon has been around, but they always give up on it. So, the need was pretty obvious."

In 2007, KCA "started developing it seriously," he said. "It took longer than we thought, but everything does." The furnace was released in 2020. "We've sold five of them so far. We have them in Argentina, Armenia, Mexico, Nevada and Brazil," Kappes said. "So far they are happy with them." The feedback received so far shows the solution addresses two of the bigger challenges facing miners today. First, it can help mines with lower grades become more economically viable by improving the overall recovery rate. "The Carbon Converter adds to the positive aspects of the economic picture of the mine," Kappes said.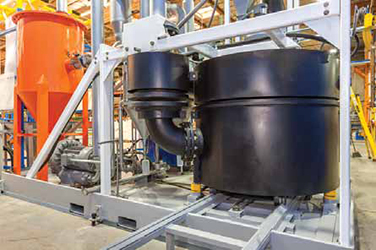 The downdraft hearth furnace of the KCA Carbon Converter works like a blast furnace.
Pregnant carbon fines are distributed and incinerated over a thin bed of silica sand.
(Photo: KCA)

Second, it helps mines generate less waste that would otherwise go to tailings. It does both without adding to staffing requirements. "If the operators are running the plant and they have any extra time at all they can run this," he said. "It doesn't really take a separate crew." The space requirement is an area of 30 by 50 ft. "That gives you room to do everything," Kappes said. "Most of these guys we sold it to have built separate buildings for it," he said. "But it can fit into an existing building," Kappes said. "The one in eastern Nevada went into a building that was already there as part of a carbon plant." The machine can pay for itself in less than a year. "We've seen it pay for itself at six months," Kappes said.

"It depends on the grade of carbon," he said. "Some mines do a very good job of stripping the gold off the carbon and, for them, it might be a two-year payback, but generally a year until payback is what we end up calculating for most clients." The solution does not add much to the energy footprint of a plant "because, after initiation, the carbon burning provides the heat energy," Kappes said.

"We have burners that are about 500,000 BTUs that come on and heat it up to operating temperature at the beginning," he said. "They only operate about a half hour out of a 10-hour cycle." The Carbon Converter can process up to 500 kg per day. "Maybe someday we will develop different sizes, but right now we've got the one size, so a big mine can put in several of them." KCA will exhibit at MINExpo. The booth will have a video and possibly a model of the Carbon Converter.

Big Fines Screen Has Small Footprint
Derrick Corp. announced a new nonblinding screen panel with substantially more surface area, and a linear motion machine that uses less energy and has a smaller footprint than does predecessor and competitor solutions. The Trilogy line of urethane screen panels and the Dual Pool 800 Series Linear Motion Machine combined will enable customers to improve throughput and to catch carbon fines that otherwise would end up as waste, said David Perkins, commercial director, Derrick Corp.

Triology screens are corrugated, and have more than twice the surface area of comparable flat screens. The ridges run the length of the panel and are pyramid shaped. "What we've done is taken a really wide panel and scrunched it up into a narrow panel," Perkins said. "We have also fit it into a machine that operates at much higher g-forces," he said. "When you couple those forces at a very fast vibration, with a lot of surface area, you get a very high capacity and a very high flux rate for the machine."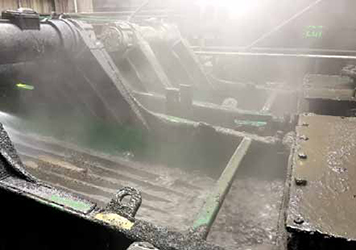 At MINExpo Derrick Corp. will showcase a new corrugated screen panel, and a linear
motion machine that cuts energy and operating costs. (Photo: Derrick)

That flow capacity and flux rate can be up to four times that of predecessor and competitor solutions, he said. "This is where we continue to push the limits of screening," Perkins said. Trilogy technology was developed for use at the end of the flow sheet. "Where typically these screens are operating at about 600 to 700 microns, the Derrick screen is able to, in that exact same footprint, get down to 100 mesh," Perkins said. "A plant operator today can take the same footprint they have their current machine in and replace it with a Derrick machine, go much finer than they have in the past, capture those carbon fines that they weren't able to capture before, and send those to the KCA Carbon Converter and recover that gold."

The machine and screens require no more energy than do predecessor or competitor solutions, Perkins said. "The power consumption of one of these machines is right at about 5 hp." The screens are loosely based on wire mesh panels made by Derrick for the oil and gas industry. "The challenge was in how we can take our non-blinding urethane technology and make it 3D and still have enough rigidity and structure so that it doesn't deform," Perkins said.

"We are taking a mass and vibrating it at 1,500 times a minute, back and forth, and that mass weighs somewhere around two tons, and there are g-forces that are approaching 8 to 9 gravities in either direction each time the thing oscillates," he said. "How do we have a 3D surface that can withstand these forces? That has been a lot of work." And it has spanned roughly 20 years. "It took a long time to come up with a panel that was both rigid yet flexible enough to allow the non-blinding characteristics to show through," Perkins said. Prototypes were deployed to gold mines in 2015. "It has taken us about five or so years to perfect that technology."

The screens are now at several mines around the world and have proven capable of helping those mines produce more gold because of basic physics. "The smaller the particle becomes, the greater the surface area-to-volume ratio," Perkins said. "For its volume, a small particle has a much higher surface area than a larger particle," he said. "The gold adheres to the surface of the carbon. That is why going after that fine carbon is important." Other benefits include improved capability to meet sustainability goals. "When it comes to ESG, we think we have a strong play there," Perkins said. "Doing more with less, recovering more gold with less power," he said. "Our machine is probably replacing one that is running on 20 to 25 hp."

Because it can fit into the space of an existing machine, it requires no new construction. "There is also a human element," Perkins said. "There is less maintenance required in a Derrick screen than in those of a lot of our competitors."

Panel changes require only the turn of a lever. "You take the old panel out, put the new one in, and then turn the lever back again and that secures the panel in its space," Perkins said. "For many of our competitors, it requires a lot of tensioning bolts and maintenance personnel, maybe two or three people," he said. "With our screen, one person can do this job and change out an entire machine in maybe four or five minutes."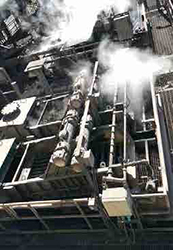 This year, Derrick celebrates its 70th
anniversary and a rich history of developing
innovative fines screening solutions, such as
those pictured above. The supplier will
exhibit several solutions at MINExpo.
(Photo: Derrick)

Lower personnel requirements and general ease of maintenance reduces the chances of injury, he said. "And the panels themselves are fairly light weight, four or five pounds per panel." The announcement caps a storied history of fines screening solutions innovation and development that goes back 70 years. The company will be celebrating the milestone at MINExpo, where it will exhibit technology and information that speak to both heritage and mission. "When we look at Derrick and what we've built the company on over the years, it is not just fine-screening technology, but having fine-screening technology that is non-blinding," Perkins said. Derrick screens, panels and machines are known for never blinding, he said. "That is one of the big things that Derrick does. It is what we continue to innovate on," he said. "We've been doing this for 70 years. We think we are pretty good at it." Derrick will be in North Hall in booth No. 1937. Beyond Trilogy and the new linear motion machine, it will launch the PRISM 3D Urethane Interstage Screen and the G-Vault Urethane Interstage Screen. "People can test their hand at changing a panel," Perkins said, "and see how easy it is."

Recyclable High-adsorption Carbon
Carbon Activated Corp. (CAC) reported it holds one of the biggest contracts in the gold space to supply specially designed high-quality activated carbons. "CAC has been providing carbon to mines in Nevada for over a decade, helping gold mines economically recover gold in ore," said Prasad Galhena, manager, lab and technical support, CAC.

With offices and test labs in Los Angeles and satellite locations around the world, CAC produces and stores roughly 1 million lbs of activated carbon monthly for the gold mining industry. The supplier sells to customers in North and South America, Europe, Russia, China and Australia. "Furthermore, CAC's R&D and technical team in the U.S. can help customers select the best activated-carbon product and provide free onsite technical support to optimize gold recovery yields," Galhena said. CAC primarily sells two coconut shellbased activated carbon products used in gold recovery. The G28 6-by-12-mesh has a surface area of up to 1,100 m2/g and a density of up to 0.52 g/cc. It offers a carbon activity of up to 94%. The G30 6-by-12-mesh has a surface area of 1,300 m2/g and a density of up to 0.5 g/cc. It offers a carbon activity of more than 94%.

Activated carbon is made from wood, coal or coconut, and is used in a wide array of applications to adsorb elements from water, air or soil. It has micro-, meso-, and macro-pores that, in gold mining, attract and bind with gold. "For the gold recovery process, the ideal activated carbon type is made of coconut shell," Galhena said. "Because of the high hardness, abrasion resistance, and large pore structure, coconut shell-based activated carbon is widely used in the gold mining industry."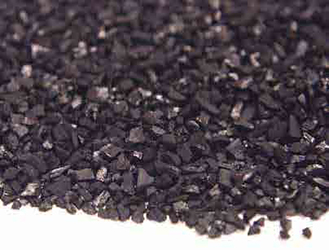 High hardness, abrasion resistance, and large pore structure make coconut
shell-based activated carbon popular in gold mining. Above, COC-G60, 6-by-12
mesh, coconut shell-based activated carbon. (Image: Carbon Activated Corp.)

Coconut shell-based activated carbon offers several benefits. It can be reused after high-steam or thermal heating. "The regenerative properties of activated carbon lets customers use the same material several times to reduce the cost of purchasing new material," he said. "The unused virgin carbon can be used in the gold extraction process and regenerate the spent carbon indefinitely until the material gets exhausted completely." The adsorption capacity of gold and silver by coconut shell-based activated carbon is not significantly affected by the presence of other metals, such as heavy metals, like nickel and copper, he said. It therefore offers a high gold recovery rate compared to other solutions and processes.

It produces minimal hazardous waste and is easily disposed. "Activated carbon is an environmentally friendly natural product," Galhena said. "Therefore, handling and disposal of spent activated carbon material is relatively simple compared to other chemicals and reagents." These benefits combine to provide "unique advantages over other gold recovery processes," he said. It is more cost-effective than ion-exchange resins and chemical reagents, Galhena said. "Activated carbon can be directly added to the cyanide pulp, thus cutting out the clarification and filtration process, making it more economical than technologies such as gold recovery with zinc."

Activated carbon has been used in gold mining since 1880. Initially, woodbased activated carbon was used to pull gold from a chlorination solution. Eventually it was added directly to cyanide pulp. "With the new development of the high-surface-area and porous-activated carbon types, the first CIP technology- based commercial-scale plant was built in the U.S. by the Homestake Mining Co.," Galhena said. "With the Homestake plant's success, activated carbon-based gold recovery intrigued the South African mining industry, and, subsequently, the CIP-with-activated-carbon process started in several mining operations."

CAC launched in 1993 and has become one of the largest privately owned activated carbon companies in North America. "Carbon Activated Corp. is one of the leading coconut shell-based activated carbon manufacturers for the gold mining industry," Galhena said. "As a global company, we are committed to supplying economical, and high-quality gold-grade activated carbon to our customers worldwide."

Non-toxic Reagent Replaces Cyanide
Clean Mining, of the Clean Earth Technologies Group, signed a memorandum of understanding (MOU) with SGS Australia on testing of its award-winning non-toxic reagent that basically replaces cyanide in the flow sheet. "Our collaboration with SGS opens up our ability globally to test in a far more efficient and quicker manner and deliver excellent customer service," said Kevin Fell, CEO, Clean Earth Technologies. "This will enable our R&D partners, and others who currently do our testing, to concentrate on refining our solutions and creating further novel, non-toxic ways and greater optimization in extracting gold."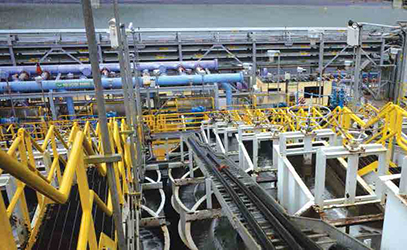 Activated carbon can be directly added to cyanide pulp, nixing the clarification and filtration process
and making it more economical than some competing solutions. Above, a carbon-in-column system
using activated carbon for gold recovery. (Photo: Carbon Activated Corp.)

The MOU comes as Clean Mining signs its first two contracts and develops roughly 500 leads. Previously, the supplier has conducted 150 tests on samples from around the world with results showing that in 95% of the cases the reagent performed as well as cyanide. It outperformed it in oxide and carbonaceous ore, Fell said. "A high proportion of our clients have assets that are stranded, can't use or have an aversion to cyanide, but also have extreme community and environmental concerns that are restricting them in extending life of mine and so forth," he said. "There is no need for tailings dams with our solution and in most cases the tailing is benign and can be spread."

The reagent is applied to dry feed coming from comminution and dewatering. It forms a slurry with the feed, and then goes into leach tanks. After dewatering the feed moves through resin ion exchange, stripping, filtering and then to smelting. The dry tailings are described as environmentally friendly enough to simply be spread. The reagent is the "only genuine non-toxic solution out there," Fell said. "It negates the costs of dangerous goods cartage, storage, maintenance and OHS," he said. "It negates a cyanide destruction process, tailings dams, maintenance thereof, and remediation."

The dry tailings are "environmentally friendly" and "allay community and regulatory concerns, and allows companies to open up stranded assets and extend life of mine," he said. "Our costs are similar to traditional methods that use cyanide, but the savings are achieved over the cycle of a plant." Clean Mining co-developed the solution with Barrick Gold for double refractory ore in 2015. "The success of this, which still runs today at some 13,000 mt/day led us to look outside that ore type and expand the solution," Fell said. In 2018 and 2019, "Clean Mining undertook trials on a pilot plant in Menzies, Western Australia."

The proof-of-concept exercise tested several ore types, "and the results were extremely pleasing," Fell said. "This led to Clean Mining taking the steps to acquire fully the solution, IP and any future enhancements, and to actively take it to market just prior to COVID in February 2020." SGS Australia is one of the biggest third-party inspection, testing, verification and certification contractors in mining. The partnership will prompt the breakout the reagent merits and the industry needs, Fell said. "It is time to stop toxic mining, and now there is a genuine solution."
---
As featured in Womp 2021 Vol 08 - www.womp-int.com