Russia's Rosatom Plans to Launch Lithium Mines in Siberia, Arctic
---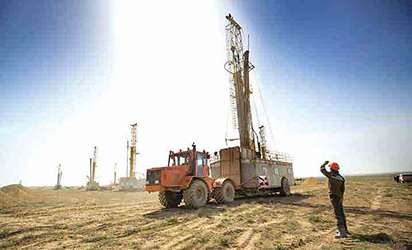 Russian uranium company ARMZ plans to begin lithium production. (Photo: ARMZ)

By Vladislav Vorotnikov
Russia's nuclear corporation Rosatom plans to invest 50 billion rubles ($800 million) into starting several lithium mines in Siberia's Irkutsk Oblast, as well as in Murmansk Oblast, above the Arctic Circle. A number of mines may also be launched outside of Russia.

Russia's mines are expected to produce 50,000 metric tons of lithium per year and reach the designed production performance in 2030. At that time, Rosatom targets delivering 10% of lithium on the global market per year.

Ruslan Dimukhamedov, development director of the Rosatom's mining division ARMZ, told the Russian newspaper Kommersant that the company hopes to be subjected to state aid, including in the form of tax benefits, removal of administrative restrictions, and assistance in attracting long-term funding under its lithium mining projects.

Rosatom has not provided any information on the deposits planned to be developed. In total, there are 12 lithium deposits registered in the country. Murmansk Oblast accounts for 55% of Russian's proven lithium reserves, estimated Sergey Zhabin, chairman of the natural resource department of the Murmansk government. The country's biggest deposit with huge amounts of rich spodumene pegmatites of lithium on the state balance sheet is Kolmozerskoye, located at the Kola Peninsula — a poorly developed part of Murmansk Oblast with a lack of automotive roads and electricity supply.

In Russia, most lithium is concentrated in spodumene pegmatites. Extracting lithium from them is more expensive than from brines, said Sergey Grishunin, a spokesperson for Russia's National Rating Agency. In Irkutsk Oblast, vast lithium reserves are concentrated in brines in what is known as the Siberian Platform — a geological formation providing brines for several deposits in this part of the country. "The lithium concentration in brines of the Irkutsk Oblast on average stands at 566 mg per liter," said Sergey Alekseev, head of the hydrogeology department of Russia's Institute of the Earth's crust. "Outside Russia, 10 mg of lithium per liter is already considered to be large enough to begin commercial production."

Alekseev went on to say that when negotiating on new projects in the field of lithium production in the Irkutsk Oblast, Rosatom claimed it would be only interested in deposits with resource base enough to maintain production for 25 years or longer. Several other Russia's companies mull plans to launch lithium production from the brines in the Irkutsk Oblast, including oil giant Gazprom, which declared plans to produce the first lithium in the region in 2022.

Rosatom is also eyeing foreign deposits in South America and other territories for lithium mining, Dimukhamedov said. In this case, the production will be controlled by Rosatom's foreign mining division Uranium One, which is currently primarily focused on uranium mining outside Russia. Rosatom is reportedly considering plans to buy a stake in companies owning subsoil use rights in Argentina and Chile to launch lithium production in 2027 and 2029, respectively.

Specifically, Rosatom intends to acquire 51% in the lithium project of the Canadian Wealth Minerals Ltd in Chile. Bolivia is also being considered, as Rosatom is participating in an international tender for the development of lithium projects in that country, Kirill Komarov, first deputy general director of Rosatom, disclosed during a press conference on July 27. Rosatom is also considering buying some assets in Africa, Rosatom said in a statement posted in its in-house publication Strana Rosatom.

Rosatom may require lithium for its own needs. In March, Rosatom acquired a 49% share of Enertech International Inc., a South Korean manufacturer of electrodes, lithium-ion storage cells and energy storage systems. Under the agreement, Rosatom disclosed plans to build a facility for manufacturing of lithium-ion cells and energy storage systems in Russia, with at least 2 GWh production capacity by 2030.
---
As featured in Womp 2021 Vol 08 - www.womp-int.com