Change Your Mind, Change Your Mine
Advanced networks and communications solutions are gaining acceptance incrementally as knowledge of the numerous options and benets available grows

By Jesse Morton, Technical Writer
---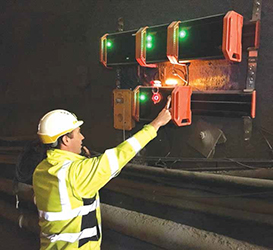 NLT N-Connex allows users to customize their network. The modular
network supports a range of solutions that use Wior Ethernet
connectivity. (Photo: Matrix Team)

As in the civilian world, advances in communications technologies underground have vastly outpaced the advances in pretty much all other areas. Meanwhile, many mines that were prefeasibility- studied 30 years ago, that reached rst production 20 years ago, and that are now in the prime of their life have developed according to long-term plans crafted back when the archetypal mine phone was the gold standard.

When those mines have pushed their leaky feeder system as far as it will go, when their nearest mine phone is an uphill mile from the face, change is at hand. And change for the better. However, the rst change required is one of mindset.

Ask Questions, Build a Vision
The biggest challenge most underground mines face when assessing their network and communication systems needs is a lack of vision, Matrix Team reported. "They generally have an idea of what they want to see," Brian Jones, vice president, business development, Matrix Team, said. "But they may not fully understand the capabilities of what is out there or know exactly what the right questions are to ask when looking into communications systems."

Most have a very specic problem they want solved and begin their research as a quest for an exact solution. "Normally when you get to the minelevel guys, they'll tell you they want radios that work," Brad Coats, technical sales representative, Matrix Team, said. "That sometimes is their answer, communications, so they can speed up repair times." They typically see adopting a network as an expense. "They ask, 'How do you justify the cost?'" Coats said. Also common is the mine with multiple separate networks. "They'll have cameras on one, and radios on a second," Coats said. "They are running a little bit of data and a little bit of control, and they won't integrate it into one network. So they are maintaining just a ridiculous amount of hardware and gear."

In both cases, the miner should be asking how going to a single high-speed network can up efciency, Coats said. The answer plugs to solutions for communications, tracking, ventilation on demand, teleoperation, Wiblasting, incab computers and analytics, and more. "It is only limited by your checkbook and your imagination," he said. For some, the rst step in expanding their imagination requires considering communications outside of just voice, Jones said. "Realistically, right now the trend is moving toward data," he said. "The challenge is shifting thinking away from simply wanting to be able to talk on radios to putting in cameras and watching everything, and on to blasting from the surface over WiFi."

For those with multiple networks in place, it usually requires breaking from ingrained thought patterns. "You have to get people to get over the old adage of we've always done it this way," Coats said. "They could rip all that stuff out and put in one network capable of doing everything they are doing right now." An underground limestone mine in Appalachia with an aging leaky feeder system and a failing radio system shows the thought process the typical customer tracks when shopping for communications and network solutions. "They were unhappy with the performance of what they had," Coats said. "This mine was ready to move forward and try something."

What started as a limited inquiry into strictly radios soon blossomed into an interest in tracking. From there the vision grew. "The third piece that we added was the camera network," Coats said. "We plugged all the cameras in so now we can have six or eight cameras at any one time monitoring different parts of the mine." The miner then adopted Wiblasting. "They've enjoyed that because of a safety initiative they are working on," he said. "They set the system up. It hooks into the network. The blasters come outside and shoot. There is no one underground when a shot goes off."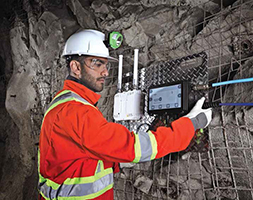 The Maestro Plexus PowerNet delivers high-speed, digital
communications and atmospheric monitoring via coaxial cable
that provides power to wireless access points, cameras and any
other IP-based device. (Photo: Matrix Team)

Lastly, the mine added an air quality station. "They can keep track of all their gasses throughout the day," Coats said. "The software also does the trending." Up next is individual vehicle diesel monitoring. "We monitor the airflow going into a piece of equipment, how much diesel it uses, how it is using the diesel, and what is coming out of the tailpipe," he said. "That can be used for preventative maintenance, but it also shows you how efcient your equipment is throughout the day." The nal piece is a new analytics offering by Matrix that synthesizes all the data generated by the network and distills it into useful information. "That is the next stage," Coats said. "It is getting to that point of being able to take complete control of your mine, knowing how efcient you are."

The many solutions adopted or under consideration were developed by Matrix or are the fruits of strategic partnerships. For example, the backbone of the network adopted is Matrix's NLT N-Connex, a high-speed modular ber-and-Ethernet network that is fully compatible with 802.3 and 802.11 devices. The analytics offering under consideration, Matrix Analytics, arose from the acquisition of a company from South Africa. "It does a really good job of honing in and showing what is really important," Coats said.

A small or midsized mine can easily fall into the trap of underutilizing data, he said. "With all of those devices and machine monitoring, how is a small mine with 30 to 45 workers going to keep up with all the data created?" Coats said. "We use analytics and we crunch it down into a usable format." A partnership with Maestro Digital Mine positioned Matrix to offer the MaestroLink Server, Plexus PowerNet and two air quality station solutions.

Maestro's rst air quality station, the Vigilante AQS, was developed to capture an array of conditions in deeper mines, Maestro said. "Its objective is to monitor environmental conditions in real time for worker safety and health," said Shannon Katary, director of marketing and communications, Maestro. "It had been so successful at being embedded in mines on many levels across the world that we realized we had to create a lower-cost version, the Zephyr AQS," she said. "It is just a slightly lower-cost version, which has about 75% of what the gold standards are for measuring, and it has led to uniting the industry on what it takes to monitor and control ventilation."

Plexus PowerNet extends an existing network to the furthest working area, and is capable of supporting the air quality stations there. "Plexus is usually an added-on solution and integrates into mine-wide networks," said Cindy Chesney, director, global partnerships, Maestro. "Plexus is agnostic, so it can attach and be afliated with any underground networks," she said. "The one extreme benet is power and data over a single coax cable." MaestroLink Server is a software platform that allows the assimilation of the data coming in from the working areas.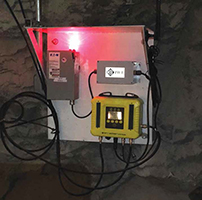 IWT's Uniti Node connects to the far end of the
SENTINEL system for last mile WiFi,
communications and tracking. It generates a signal
out to 2,000 ft. (Photo: IWT)

Coats said the new network and communications solutions at the limestone mine quickly yielded dividends. "They started saving about an hour and a half per vehicle breakdown," he said. "That was one of the rst things that they noticed." With computers and tablets underground, reporting processes could be digitized and accelerated. Mine safety and rescue processes were also streamlined. "With the tracking you can actually zero in on where a person is at, rather than having to investigate a whole mine trying to nd a person," Coats said.

The cameras helped reduce theft, and goosed production. The environmental monitoring also nixed tasks that were time consuming. "They can check the mine air any time they want, rather than having to drive over to this location and check the air," Coats said. Combined, the solutions result in increased production and safety. It is a future available to many mines, so long as they have the vision and can handle the changes, he said. "They have to start asking the questions, and start picturing a future with a network," Coats said.

Get Assessed, Hire the Best
Many miners will argue they are paid to mine, not soothsay. They will farm that task out to third parties to come in, get a feel for the operation, develop a vision, and make recommendations. A major underground salt mine in the U.S. did exactly that when it determined it wanted a site-wide communication and tracking system. The mine operates six yards, each worked by a crew under a foremen or group leader. Each yard has an average of 25 rooms. The mine blasts at the beginning of third shift. First and second shift muck and haul.

"This customer did not have a site-wide communication and tracking system," said Jeremiah Colling, program manager, Innovative Wireless Technologies (IWT). "Miners are working all throughout the different yards, maintaining and coordinating efforts without a comprehensive communications and tracking system," he said. "It was a challenge and an opportunity for improvement."

Daily production reports are submitted at the end of each day and are used to form the plan for the teams for the next day. "Like other mining operations, there is emerging change that requires changing plans on the fly, something they were not always able to do ef- ciently," Colling said. As a result, there was often a considerable lag between identifying a challenge and allocating resources to meet a new need. The miner believed that a high-speed network could downsize the lag considerably. "Real-time situational awareness was one of the big problems they were trying to solve," Colling said.

To help solve this problem, they hired a consultant to do an in-depth analysis to identify where process improvements could be made, and what types of equipment and networking capabilities would be needed. The report led to the selection of three suppliers for consideration, one being the rm hired to do the analysis, Colling said. "They ended up selecting IWT based on our strong background and a long history of successfully deployed communications and tracking systems in mines throughout the U.S."

The SENTINEL Communication and Tracking System was adopted for wireless voice, text, tracking and analytics services. The core infrastructure is lineor battery-powered mesh nodes that are installed above and below ground. The different types of nodes are used strategically, depending on the circumstances and areas. The system continuously tracks both personnel and vehicles throughout the entirety of the mine using handsets and tracking tags.

For last-mile communications, the mine adopted the Uniti Node, a small device that connects to the far end of the SENTINEL system and goes into the corners of a working area. This provides communication and tracking, Wiaccess, and creates a high-speed wireless digital network to backhaul important data. Each Uniti Node runs on DC power and generates a signal out to 2,000 ft. "Since these are used throughout their working areas, mobile devices like smart phones, computers and tablets can be used to access their corporate network," Colling said. "If somebody is doing maintenance on a piece of equipment, they now have the capability to pull up a drawing or schematic and troubleshoot from underground," he said. "Or they can use the wireless network to do a FaceTime call with someone above ground." IWT's analytics services were also adopted. The rst phase of this included digitizing many of the mine's reporting forms.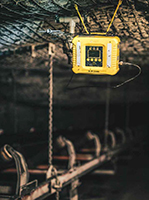 IWT's SENTINEL network supports
wireless voice, text, tracking and
analytics services. It is comprised of
line- or battery-powered mesh nodes.
(Photo: IWT)

Historically, paper copy forms are lled out at the end of each shift and hand-delivered to an ofce above ground. The information is re-entered into a spreadsheet, and then made available to mine management. "This process results in a 24- to 36-hour delay after that rst shift started the previous day," he said. "So the mine management isn't getting information until over a day later." Digitizing the forms will eliminate this lag. "While they are underground, since they have Wiat the yards, they will be able to ll out these forms so they are instantly available to mine management," Colling said. "This will decrease that delay from 36 hours to instantaneous."

The data generated is stored in a secure database and visually represented through a web interface. "With that, you can start picking out trends because all that data is available to you in real- time," Colling said. The miner "really likes" the analytics because it helps them in identifying production inefciencies, Colling said. "There are all these things that you can start to look at to identify workflow tempo, target inefciencies and increase productivity."

The solution brings order to the "digital exhaust" created by the numerous devices, sensors and equipment, he said. "It could be location-based data," Colling said. "It could be communication data. You can correlate all that information to draw out patterns." One such pattern is travel time. "Managing vehicle travel in real-time allows for route optimization and increased efciency, or simply nding under- utilized equipment," Colling said. "It is all about identifying and improving constraints." On the day of nal acceptance testing, the system started paying for itself. "They saw one of their belts was coming loose and starting to sag," Colling said. Previously, the x would entail driving to nd somebody, who could be above ground. "Now they just grab their handset and phone in the potential problem, and someone can get on it right away," Colling said. "Even before we left they were already seeing the value of the system and how it may have prevented future damage."

Using a third party to assess network and communications needs prior to contracting a supplier may be the best route to a coherent vision and solution adoption plan, Colling said. "Nowadays, a lot of mines are looking at ways they can be more efcient and do more with what they already have," Colling said. "At the end of the day, getting an independent evaluation is helpful when trying to make sense and synthesize all the different potential solutions that are out there." There is a galaxy of solutions out there. The latest to hit the market features capabilities beyond the imagination of the more pragmatic mine planners of yore.

Envision Automated Ventilation
For example, Strata Worldwide recently announced the Ventilation Automation and Control System for StrataConnect. The system automates a mine's ventilation circuit based on gas levels, the number of personnel in a working area, and the number of vehicles in a working area. The conguration of the ventilation is fully automated, and is automatically adjusted as factors change, Strata said. "Strata's gas detectors and environmental systems continually monitor air quality, and as harmful gas levels fluctuate, the system automatically adjusts the speeds of the primary fans up and down, and turns secondary fans on and off as needed," said Rob Albinger, general manager, electronic safety, Strata Worldwide.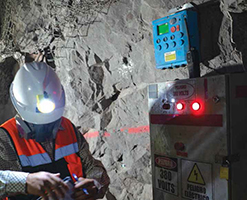 The Ventilation Automation and Control System for
StrataConnect automates ventilation controls. Based on data
from gas detectors and environmental systems, it adjusts
primary fan speeds and activates secondary fans as needed.
(Photo: Strata Worldwide)

Automated management of ventilation should reduce energy consumption, which translates to cost savings. "Strata proves that automating the activity of the ventilation fan systems results in signicant energy savings," Albinger said. "This in turn decreases mine energy costs." The system represents the next step in the evolution of the StrataConnect wireless network and other related offerings. Released in 2010, StrataConnect is comprised of strategically placed wireless nodes, called CommNodes. Each is powered by four D-cell batteries. The shoebox-size nodes are suspended inches from the mine roof. The signal strength between the nodes determines the placement of each.

The wireless network provides coverage that can be used to support a growing number of applications. Historically, it has supported wireless communication and tracking, remote control, remote monitoring and emergency alert broadcasts. Simple and easy to install, Strata- Connect requires no cabling, no external antennas, and no battery back-ups. "It was originally released as a cost-effective option for coal mines to meet the US Mine Safety and Health Administration's requirement of post-accident two-way communication and location tracking," Albinger said. "The flexibility and versatility of this technology has innately expanded its functionality, and its ability to be incorporated into third-party devices further expands its capabilities," he said. "Leveraging these qualities, Strata has been able to develop and enhance new solutions for underground automation, such as Ventilation Automation and Control."

Strata's networks can be installed point-to-point, and carry the data to and from the surface. Conversely, they can be set up locally underground and interfaced with the mine's existing infrastructure. Strata also offers wired networks such as DigitalBRIDGE and DigitalBRIDGE Plus+. The former connects with ber to transport data. DigitalBRIDGE Plus+ connects to existing VHF leaky feeder networks. It delivers high-speed data over leaky feeder without affecting established radio communications. DC power can be added to run end-point devices.

Optional solutions that support Ventilation Automation and Control include the Trolex Sentro 8 SensorStation. The station monitors up to eight gasses and other variables, such as airflow, temperature and pressure. The advent of Ventilation Automation and Control demonstrates the supplier's heightened focus on innovation and system development, Albinger said.

"The company's mission is to provide technologically advanced solutions to enhance and sustain underground connectivity, promote worker safety, and drive daily productivity," he said. "Developing a system to automate a mine's ventilation system to ensure working conditions remain safe and productive, as well as assist mines in operating more efciently, demonstrates our commitment to the overall mission."

Envision Computers in the Cabin
JLT Mobile Computers reported the new VERSO 10 vehicle-mounted computer is the industry's smallest, most-powerful rugged computer for mining applications with restricted space but high performance requirements. The VERSO 10, introduced in 2020, "ts even into the tightest vehicle cabins, while giving customers the same high level of performance as larger VERSO computers," said Christian Funk, product manager, JLT.

"With all connectors integrated into its casing, it is not only smaller, but also signicantly lighter and comes at a lower cost," he said. "Secure xed-mount installation addresses safety concerns inherent in certain vehicle types and mining deployments." The computer is the latest addition to the VERSO Series, which are eld proven to handle operations in "extremely demanding working conditions" and provide "the human-machine interface for operator interaction," Funk said. VERSO Series computers come with 15-, 12-, or 10-in. displays. Customers choose between the Intel Core i3- 7100U or the more advanced Intel Core i7-7600U processor with Turbo Boost. The latter offers 50% higher CPU and 30% to 70% higher graphical performance. The standard 8-gigabyte (GB) DDR4 memory can be bumped up to 16 or 32 GB.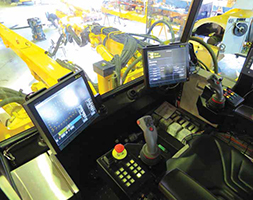 The new VERSO 10 vehicle-mounted computer ts into the
tightest vehicle cabins and can support real-time video analysis
and high-resolution graphical animations.
(Photo: JLT Mobile Computers)

"With this boost, customers can run real-time video analysis or high-resolution graphical animations, as well as create highly intuitive new user interfaces," Funk said. The computers feature integrated dual-diversity PIFA WLAN antennas, Bluetooth, and optional GPS/GLONASS/ BeiDou and mobile broadband for reliable connectivity in areas with poor coverage. The features combine to make the series "the most powerful and fastest mining computers in the industry," said Anette Malmstrom, business manager, mining segment, JLT. "The series delivers up to 70% higher performance compared to predecessor computers and any known direct competitor," she said. "The computers enable mining customers to stay connected and run the most demanding data applications with ease."

The original VERSO Series launched in 2013. "The rst computers in this series were the VERSO 15 and the VERSO 12 with an Intel Atom D2550 processor, a wide operating temperature range, and fanless operation," Funk said. "Immediately popular, they are in mines all over the world today, from Boliden gold mines in Sweden to Australian coal mines." For example, Bever Control, a supplier of advanced solutions for underground drill rig control, has used the computers for more than a decade. "A pioneer and world leader in its eld, the company is an excellent example of the long-term and trusted relationships JLT builds with its customers," Malmstrom said.

The cab-mounted computer screens are subjected to frequent vibrations and shocks, unstable power and network connectivity, and heavy usage. Through it all, the computers make it easy for the operator to understand sensor data as it relates to drill plans, make critical data-driven decisions, and control the rigs. "This is where the scratch-resistant touchscreens on the 15-in. JLT devices used by Bever come into their own," Funk said. "They combine excellent durability with great user experience," he said. "In underground mining, the ability to adjust the screen brightness for low light levels is another key requirement." Bever Control conrmed those capabilities. "The robustness of the JLT computers, both mechanically and electronically, fully satises our and our customers' needs," Thorvald Wetlesen, managing director, Bever Control, said. The computers are in "several hundred drilling rigs in North and South America, Africa, Europe and Asia," Malmstrom said.

JLT offers the series on a trial basis. "We are proud to say that our devices often excel when testing different units in the work environment," she said. "The feedback we receive from testing is really important to help us make sure our customers get the best solution for their operation and a smooth deployment without any unwanted surprises."

The computers come with a comprehensive, no-questions-asked service agreement. It offers different levels of coverage, specic turnaround times, and zero exclusions, the company reported. "JLT:Care takes out the guesswork of calculating the hidden costs of downtime," Malmstrom said. Adopting the computers usually means entering a symbiotic relationship. "We take great pains to understand customers' operations and setup, and we go further than anyone to secure the performance that is required," Malmstrom said.

"Not just what they do, but how they work, where their pain points are, what applications they use, which other devices they have on site, so we can nd the right solution to t their exact needs," she said. "It is this high-touch sales and support model that truly denes JLT's customer value and distinguishes us from the competition."
---
As featured in Womp 2021 Vol 03 - www.womp-int.com