Driving Mines Forward
The impact of digitalization on motors and drives for mining applications.

By Carly Leonida, European Editor
---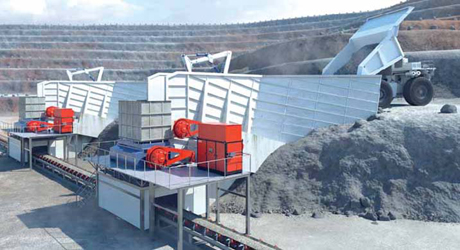 Hägglunds drives for in-pit primary crushers. (Photo: Bosch Rexroth)

Motors and drives for stationary mining and minerals applications are some of the hardest working pieces of equipment on site. Whether powering conveyors or mills, hoists or crushers, smooth, effi- cient and reliable operation is critical in keeping mines up and running.

There are many applications in these sectors that are unique and therefore require specially adapted or designed drive solutions. For product combinations, the alignment and optimized design of the individual components is essential. As is the ability to operate in a fail-safe manner under harsh conditions and temperatures ranging from freezing to +40°C, while withstanding snow, rain, dust and more.

"Motors and drives have been partners in mining applications for many years," said Chris Diak, senior product sales manager for Electrical/Automation/ Linear Products at Motion Industries. "As technology has improved, processors have increased in ability, allowing for more features to be added to variable frequency drives (VFDs). One example is the addition of condition-based monitoring. The drive controls the motor and uses many of the same measurements for control that are needed to provide the health of a motor.

"When designated firmware is combined with a vibration sensor, the predictive aspect begins to materialize," Diak said. "The drive not only controls the motor but can also monitor the motor's health as well. As the industrial Internet of Things (IIoT) continues to evolve and develop, more and more will be asked of the processors in drives. These asks will calculate motor analytics and provide information in order to maintain a solid uptime percentage in the field."

Andreas Evertz, CEO at mechanical drive specialist Flender, spoke about the biggest advances he has seen in motor/ drive technologies over the past 10 years. "Certainly, we've seen increased efficiency in drive solutions," he said. "This is still a key focus area. It is most important to develop high-efficiency products specifically adapted to customers' requirements. The product quality must allow for the highest availability. "In addition, digitalization has been a game-changer in the mining industry," Evertz said. "At Flender, all our product information is now available through our online product configuration tools with just one click. We use state-of-the-art condition monitoring systems to oversee our drive components and use cloud services for data analysis."

Wolfram Ulrich, vice president for sales and service of the Hägglunds products and solutions at Bosch Rexroth, also reported a growing focus on reliability throughout product life with the use of digitization. "We have seen an increased interest for highly reliable solutions — something that has always been a focus for us and, not least, the need for digitalization and connectivity," he said. "We have developed our Hägglunds Inside Intelligence Suite to meet these needs.

"We've also seen a trend toward bigger machines/applications, and this is of course also reflected in our development of bigger motor and systems, for example, our Hägglunds CBm motor and the recent delivery of the Hägglunds CBm 8000 for the South Flank iron-ore project."

The Digital Revolution
As in many areas of mining, digitalization has transformed the ability of both miners and OEMs to control and optimize the performance of motors and drives. And the need for these solutions became ever more apparent during 2020, as travel restrictions saw many mines turn to remote operations. "In product specification, the use of digital technologies means it is now possible to better determine system requirements and utilization of machines within a specific application at certain material flows much more precisely," Evertz pointed out.

"With this knowledge, the optimal product design keeps the right balance between reliability, material usage and efficiency," he said. "Together with an efficiently working modern monitoring system, highest availability and almost 100% reliability can be achieved. With the correct design and specific monitoring, unplanned shutdowns belong to the past." Diak added: "For years, drives have provided energy savings when used in the right application. Add newer motor efficiency designs with faster processor chips and you continue down this path of improvements in energy efficiency, better motor response and better application control.

"The IIoT is growing at an exponential rate to provide the predictive analytics necessary to monitor equipment individually or as a whole. Combine these sensors and systems with VFDs and you have the next evolution in drive benefits. Smart packages will not only control the motor more precisely but also know when it is not running at an optimum level and potentially notify the appropriate department. This all leads to better operations and, ultimately, more uptime."

Ulrich cautioned though that digital solutions are not the be-all and end-all of reliable operations — it's important for mines to choose a service provider that can also provide boots-on-the-ground support when needed. "With the need for reliability and availability also comes the need for service and this is twofold," Ulrich said. "One is the possibility that connectivity solutions have for preventative maintenance, planned service and increased uptime and, two, there is a bigger focus with actual physical service also being available if needed, and here we see our global team of Hägglunds experts that operates locally as a big advantage."

Flender Looks to the Future
Flender provides mechanical drive solutions for almost every application in the minerals and mining sectors. The company's portfolio covers products for inplant and overland conveyor belts, offhighway trucks, slurry and process water pumps, flotation cells, leach pads, agitators, horizontal ball and vertical fine mills and high-pressure grinding mills. In December 2020, Flender opened a new state-of-the-art testing and workshop facility at the Tonkin Highway Industrial Estate in the Perth suburb of Bayswater. The 3,500-m2 facility enables the company to combine sales, project delivery, engineering and training in one location. It will also enable Flender to expand its operations in Western Australia.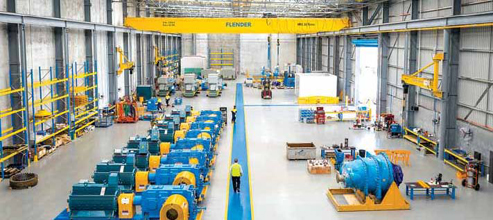 Inside Flender's new Bayswater facility in Western Australia. (Photo: Flender)

Flender said the facility is one of only a few in the world capable of servicing all makes and types of gearboxes and drive train components, and is the only OEM facility on the West Coast with a 1.5-MW load test bench capable of testing complete drive systems up to a voltage of 6.6 KV. The move follows Flender's $5 million investment into its Rockhampton service center in 2017.

Evertz spoke a little more to the company's R&D focus in 2020 and beyond…" 2020 was a tough year for the whole mining industry," he said. "We used our resources to scrutinize our products for any improvements in basic material costs, manufacturing and both engineering and order processing time in order to meet ever-stronger market demands. "Our focus is on fine tuning many of our products for specific mining applications with the help of smart and reliable monitoring solutions," Evertz said. "We will introduce new products and solutions in 2021, but are unable to unveil them just yet."

Another 2020 highlight for Flender was an installation at a large iron-ore mining project in Australia. "We supplied large Planurex 3 planetary gearboxes for HPGRs, large FZG helical gearboxes on material process pumps as well as large FZG bevel helical gearboxes. These were assembled as a drive system for conveyors locally in our workshop in Australia," Evertz added proudly. "Most of the gearboxes were equipped with a Flender gearlog monitoring system to both monitor the condition of the gearbox and collect real-time application load data."

Bosch Rexroth Delivers Mammoth Bucketwheel Drives
Australia is also a key market for Bosch Rexroth and, in 2019, the company was selected by thyssenkrupp Industrial Solutions Australia as the supplier of the bucketwheel drive system for the largest-ever rail-mounted bucketwheel reclaimer. Featuring an ore-moving capacity of 20,000 metric tons per hour (mt/h), the bucketwheel reclaimer is being installed at BHP's South Flank iron-ore mine in the Pilbara. The wheel drive system is based on Hägglunds hydraulic direct drive technology which offers high power density and a flexible drive layout that is well suited to bucketwheel reclaimers. The system will utilize the largest hydraulic motor ever built, the Hägglunds CBm 8000.

Bosch Rexroth said the hydraulic direct drive system provides the high level of torque needed for bucket wheel reclaimers, but with low weight and a high degree of flexibility; only the lightweight hydraulic motor is mounted on the boom to drive the wheel shaft, while the drive unit with electric motors and pumps can be situated in a more central position on the machine. In many cases, this lets equipment manufacturers eliminate steel bulk and counterweight, which results in a leaner, more agile and more fuel-efficient bucketwheel reclaimer.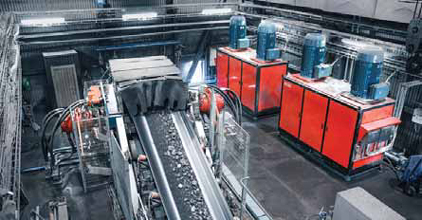 Conveyor drives at an LKAB mine in Sweden. (Photo: Bosch Rexroth)

Bosch Rexroth is also supplying Hägglunds drive systems for the slew function on both the bucketwheel reclaimer and two stacker machines at the same mine site. Each slew drive will comprise four Hägglunds CB motors with torque arms and brakes. Ulrich spoke more about the company's offering for mining applications. "We provide customized Hägglunds drive solutions meeting needs ranging from the really small applications to the biggest, like with the Hägglunds CBm 8000 mentioned above," he said. "The modularity of the Hägglunds system design also enables us to go from smaller to larger systems in the several MW range.

"We also have a suite of connectivity solutions for optimizing processes and enabling predictive maintenance, and a global, but local, service organization that provides fast service and support all over the world." The Hägglunds connectivity suite can be used for predictive and planned maintenance, as well as providing feedback on the status of the drive system remotely or locally.

"Using the detailed information from Hägglunds CMp, we can also help customers understand and optimize the use of their drive systems," Ulrich said. "If a drive is being utilized to the limit of its capability, then we can make adjustments to enable increased production. If a drive is underutilized, we can adjust its configuration for greater efficiency."
---
As featured in Womp 2021 Vol 01 - www.womp-int.com