Management Systems for Future Fleets
Autonomy is a powerful tool for driving productivity and efficiency in mine fleets and, if done right, can offer substantial cost reductions. E&MJ explores the path from FMS to AHS.

By Carly Leonida, European Editor
---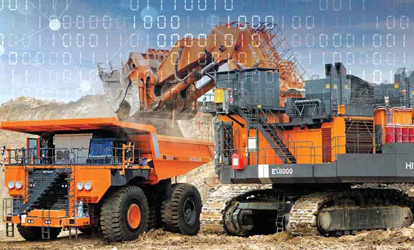 Wenco is working with Hitachi Construction Machinery to design solutions that comply with
ANSI/ISA-95 and ISO standards for autonomous interoperability. (Photo: Wenco)

Advances in GPS, wireless communications and cloud computing have greatly contributed to the evolution of fleet management system (FMS) capabilities in recent years. Through these and other correlative technologies, today's FMSs can deliver greater accuracy, speed and data security, which translate into increased productivity, higher profits and fewer infrastructure-related overheads for mine operators.

Greg Lanz, vice president for business development at Modular Mining, explained to E&MJ: "Another significant factor in FMS improvements is the proliferation of automation. Mines leveraging this technology are better able to reduce or eliminate human error, increase predictability within workflows, and decrease the frequency of personnel working in extreme conditions or hazardous environments.

"At present, utilization of automated technologies varies across the industry. At opposite ends of the spectrum are mines with little to no automation, and mines operating fully autonomous truck fleets. Situated between the two extremes are those using semiautomated and operator-assist technologies." The majority of open-pit mines globally use an FMS — DISPATCH, Wencomine and MineStar are just a few examples (there are many more available on the market). These are geared primarily towards the optimization of manned vehicle fleets, and many offer remote operation or semi-autonomous functions for equipment like dozers, drills and excavators.

Haulage is currently the only part of the load and haul process that can be fully automated and to run a truck fleet, or part of one, autonomously requires an autonomous haulage system (AHS). Currently, there are three commercially available, with more in the pipeline. Caterpillar (Command for Hauling) and Komatsu (FrontRunner) are the leaders with solutions primarily targeted at their own fleets, the Cat AHS has been deployed on to Komatsu 930E trucks, too. Combined, these OEMs have deployed more than 400 autonomous trucks.

Hot on their heels is ASI Mining with its Mobius third-party OEM agnostic solution. Hitachi Construction Machinery (HCM) and Wenco Mining Systems are currently installing their first commercial scale AHS at Whitehaven's Maules Creek mine in Australia following a proof-of-concept trial at Meandu in Queensland, and BELAZ also has AHS trials ongoing.

It's hard to beat the cost and effi- ciency improvements that AHSs can offer but, despite nearly 35 years of research and testing into their operation (the precursor to AHS was a multi-truck deployment in the USA in the 1970s prior to GPS being widely available), commercial-scale deployments are still relatively thin on the ground. Fewer still are mines that are getting the full benefit from their investment in these technologies. Success with an autonomous fleet requires far more than just new software and hardware; a full transformation is required from mine planning to company culture with commitment at every level of the business, and change on this scale can be off putting, daunting even, for some companies.

But, until we get to grips with AHS usage and learn to optimize their performance, it will be difficult to expand full autonomy to other parts of the mine, particularly equipment with more complex roles, and incorporate them into otherwise autonomous operations.

Interest is Growing
As markets become tougher and mines more expensive to build and run, it's likely that mining companies will look increasingly to autonomy as a way of driving efficiency and productivity in their operations. It has been nearly 15 years since the first commercial deployment of an AHS — Komatsu's FrontRunner at Codelco's Gabriela Mistrel operation in Chile — and, since then, our experience and understanding of the technology, as well as its capabilities and limitations, have advanced significantly; to the point where some mining companies are now leveraging it to achieve nearly a 30% reduction in hourly operating costs.

The success of companies such as Fortescue Metals Group, Rio Tinto and BHP with AHSs is spurring others on to evaluate autonomous haulage for their own operations. While the largest and most successful AHS implementations are currently at iron ore operations in Australia's Pilbara, many oil sands operations are now looking into converting their manned fleets to autonomous operation too. Suncor Energy (Calgary, Alberta) spearheaded the use of autonomous haulage in the oil sands in 2018 with its phased implementation of the FrontRunner AHS, set to roll out over six years across multiple sites. Ukrainian iron-ore producer, Ferrexpo, announced an installation in late 2019. Teck's Highland Valley Copper operation in Canada is trialing autonomous haulage, and so is Barrick at its Arturo JV in Nevada. Whitehaven's Maules Creek mine in New South Wales will be the first coal operation to run an AHS once its new HCM-Wenco system is fully operational, and Newmont recently approved an investment for Boddington in Western Australia.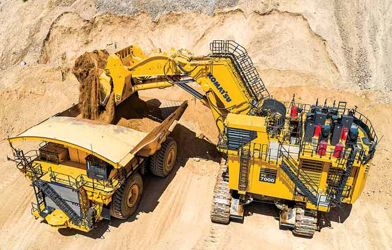 An AHS in action. This one was delivered by Modular Mining and Komatsu. (Photo: Komatsu)

And there are other indicators that more mines are readying themselves for autonomous haulage too. In March, Boliden announced the installation of Modular Mining's DISPATCH FMS at its Kevitsa mine in Finland, citing future integration with Komatsu's FrontRunner AHS as a key influencer in the buying decision. William Nassauer, manager for AHS Product Strategy at Komatsu, explains: "Komatsu has seen a 50% year-on-year increase in tons moved by our autonomous fleets over the last six years. The quantity and seriousness of inquiries that we are fielding have escalated as well and, early indications are that the upward trend will continue in the shortterm despite current economic hardships. There are many who believe that demand for autonomous technologies will strengthen as mining corporations look to manage the risks of deploying a large workforce in the aftermath of a global pandemic."

Many mining companies are now planning new mines in a way that will allow autonomous haulage to be used from day one too. "This is a much easier path than the conversion of an existing mine with manned trucks," said Andrew Pyne, CEO at Wenco. "Making the transition from operators in trucks to an autonomous fleet is very challenging. Many mining companies have completed economic and engineering evaluations required to potentially migrate their operations toward autonomous haulage. There are, however, significant barriers to adoption and, in some cases, it's unachievable due to technological barriers, barriers in terms of the social impact of job losses, supplier and engineering challenges, and of course the CAPEX requirements to make the transition. This is why the adoption rate has been quite slow."

The Interoperability Challenge
One of those barriers is the prevalence of mixed OEM fleets on many mine sites and the use of different operational technologies including FMSs. Many of these OT systems must be replaced as they aren't interoperable with current AHSs and, likewise, the trucks. According to the 2019 report "Accessing the Fast and Furious Pace of Autonomy to Transform Mining" by Clareo and TWIN, interoperability and open architecture will be key in allowing more widespread adoption of autonomy in mining and, ultimately, to the creation of the fully autonomous mine site. "An open and interoperable technology system is one whose interfaces are completely understood to work with other products or systems, at present or in the future, in either implementation or access, without restrictions. They enable a plug-and-play approach with different systems and are often based upon a standard," the companies explain in the report.

While groups like GMG and AMIRA are working toward developing universal standards for autonomous mining technologies, they have yet to emerge, and so some technology providers are engaged in tackling some of the barriers toward the adoption of AHS systems. Wenco, together with its parent company HCM is working to design solutions that comply with ANSI/ISA-95 and ISO standards for autonomous interoperability. "Wenco embarked on its 'open system' initiative many years ago and, in that time, we have continued to build upon our system integration capabilities," Pyne said. "We share actionable information with numerous systems both horizontally across the mining value chain and vertically into ERP systems and other IT platforms."

Wenco started with an open database and published APIs and has expanded to features such as a unified alarm system that allows third-party systems to show data on Wenco onboard displays. Wencomine can also share the GNSS data that it collects with other systems onboard, and there are other functions that help to reduce the total cost of ownership and increase the value of the data by increasing its accessibility. Beyond particular functional sets though, the company has embarked on a much grander interoperability vision. "To execute on IIoT and the vision of Mining 4.0, vendors need to have interoperability and data intelligence solutions that can operate across the customer's end-to-end mining process," Pyne said. "In support of that, a Wenco executive is currently convening a new ISO standards subcommittee group that allows the command and control orchestration of autonomous fleets while sharing that information back into customers' existing infrastructure. In other words, enabling autonomous fleet solutions to be able to work with any FMS."

Both companies are strongly committed to this approach. In fact, during the 2019 CIM conference, Hideshi Fukumoto, chief technology officer for HCM and chairman of Wenco, said publicly: "We will champion the enabling of new entrants to autonomy. Customers should have the choice to use whomever they desire. These may be vendors with autonomous technology but who may not have experience in mining, or their own fleet management systems like Wenco. These new vendors should be able to participate without being locked out of a closed silo approach that is more designed for the benefit of the OEM vendor than the customer."

Pyne added: "We are already working with numerous mining companies and a few non-traditional autonomous vehicle mining systems, leveraging our open platform approach. We firmly believe this will enable next generation technology to emerge and facilitate autonomy to become more accessible to an increased number of mining companies."

Managing Change
At present, if a mine wishes to convert its manned truck fleet to autonomous operation, and, if the FMS it uses across the mine site isn't compatible with an AHS (i.e., the Cat MineStar FMS is compatible with Cat Command for Hauling AHS, Modular Mining's DISPATCH system is compatible with Komatsu's FrontRunner AHS etc.), then it has to switch FMS as well. This makes the implementation process far more costly and time consuming, and change management tricky for staff.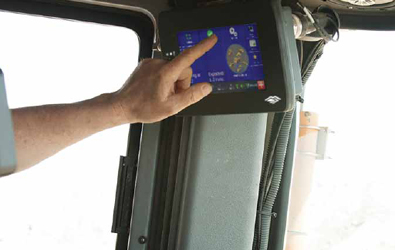 An in-cab display for Modular Mining's DISPATCH FMS. Today's systems must be capable of
not only collecting the vast amounts of data generated by equipment on-board sensors, but
also making the data relevant and actionable. (Photo: Modular Mining)

For example, Newmont's Boddington mine currently uses Hexagon's Jigsaw system but, as Jigsaw doesn't support Command for Hauling, it will be replaced by Cat's MineStar system as part of the ongoing project to convert the mine's 39-unit Cat 793 fleet to autonomous operation. Boddington's drills will remain on Jigsaw though as this system provides very accurate drilling in combination with the Locata groundbased GPS system that Boddington uses around its pits. Locata is necessary given the pits' depth, the steep angle of their walls, pit orientation, and the mine's southerly latitude — all make for poor GPS coverage up against the walls for the drills.

Newmont has said publicly that this was one of the biggest challenges in the mine's decision to switch to an AHS. Changing a FMS is not an easy task, even without autonomy, and running the two in parallel will be a major undertaking. And this is not a one-off situation: FMG also switched out the FMS at its Cloudbreak operation in the Pilbara as part of the move to autonomy, as did Imperial Oil at its operations in Canada.

Speaking of change… an AHS is often thought of as a FMS for autonomous trucks, however, consultant Richard Price gives a more accurate and holistic description in his 2017 article "Autonomous Haulage Systems — the Business Case" for AusIMM Bulletin. "There is no industry standard defi- nition of an AHS; it is referred to as the people, technological devices, infrastructure and software that combine to create a system allowing off-highway haul trucks to operate without truck drivers" he states. People are the key component here. Company culture and willingness to change business processes and systems in order to make the most of the technology underpins every other aspect in the successful planning and execution of an AHS project.

"When transitioning to an AHS environment, mines need to institute a cultural transformation," Nassauer said. "Mines cannot continue to think and act in the same manner as for conventional operation; the autonomous environment requires a more disciplined mindset. Overcoming this barrier requires a great deal of effort, training, and determination by employees at all levels and in all roles across the board. Being ready for change as an organization is the starting point; choosing an experienced technology partner is key to a successful transformation."

Ben Miller, principal consultant at Autonomous Correct, agreed, "There are mines and operations that are ready for autonomy, and there are those that are not," Miller said. "When you go out and assess a site, use of a FMS is a very good indicator of that mine's ability to embrace that transfer of human decision over to an automated system. "Companies that are reliant on a lot of human decision-making in their processes are going to struggle. A mine which is very committed to use of its FMS and doesn't manually assign trucks using it is more likely to successfully deploy an AHS."

Of course, a change as fundamental as autonomy requires a lot of planning and formal design from the mine engineering department too, from material extraction to the haul road network design, without forgetting the coordination of large equipment tramming from one dig location to a new one. "An AHS fleet does not have a human brain on each truck that can compensate for what is requested versus what was intended," Pyne said. "The system will blindly obey requests and does not interpret what people meant. It just executes what it's requested to do. This also means that the system won't always pivot and redeploy the trucks when reality does not go according to plan."

These limitations do not apply to the Komatsu AHS, however. Integration of the DISPATCH FMS' optimization logic in the FrontRunner system makes it possible for autonomous trucks to respond to situational changes in real time, and redeploy in the same manner as trucks in a crewed fleet. Because AHSs can provide so much operational data and the systems involved can't operate without clear directives, all and any planning flaws or propagation of these plans in the operational flow are exposed very rapidly. "If mines can keep their current FMS and use an interoperability layer like ISO-23725, then they can realize the benefit of an AHS much faster with a lower cost of deployment," Pyne added. "That approach allows miners to keep all the integration of material movement, maintenance, financials and reporting intact without redesigning and reintegrating each interface with the new AHS. They also won't have to retrain all their staff on a new FMS."
One of the major benefits of autonomy is removal of variation introduced by people; consistency has a
major positive impact on operating costs and productivity. (Photo: Wenco)

Processes and procedures must also be implemented. Nassauer pointed out that with autonomous operation, it is extremely important that mines manage and control access to the site and implement clear safety policies and precautions. "Processes are also required for responding to occasional upset events, such as an obstacle detected on the road, and ensuring optimal performance of the communications network," he said. "The change management and training programs that we roll out with our customers are sophisticated and comprehensive. They put in place a strong framework of best practices to help ensure long-term success."

Better Communications
Another crucial piece of the puzzle is the communications network that a mine uses and its data transfer capabilities. Nassauer said that LTE has been working its way into mainstream adoption at many of Komatsu's AHS sites. "This has brought about new levels of stability and provided tools that allow us to tightly manage security and assure a degree of service previously unobtainable with Wi-fi," he said. "We are keeping a close watch on the emerging 5G technology. It has the potential to enable massive instrumentation and analytics and open up as-yet undiscovered avenues for product improvement and downstream innovation."

Pyne stated otherwise though: "I don't believe [5G] will affect the performance of FMSs or the next generation of AHSs much," he said. "Better communication technology will provide lower cost of ownership, which may yield more deployments if the ROI is more positive. It will also allow the use of more devices that produce data. This can further be analyzed to build better models and help optimize the mine's operations "We predict that AHS technology will become more sophisticated and rely less on real-time, mine-wide communications as the technology matures, and enable new innovative entrants to provide next-generation AHS solutions. So, AHS performance will grow less dependent on 5G or low latency communication as time goes by."

From Ultra Class to Swarms
Nuances aside, the benefits that AHSs can deliver when done right are undoubtable. The technology also plays into some of the wider environmental goals many mining companies have. "Autonomous haulage balances the needs of societal growth with the natural resources required to achieve it," Nassauer said. "On a per-ton basis, AHS operations have a reduced carbon footprint through increased fuel efficiency and lowered CO2 emissions, produce less waste, and consume resources in a more responsible manner."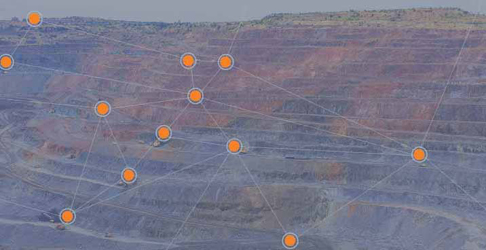 The fully autonomous mine will require vehicles to network with each other in order to intelligently respond to
changing conditions and business drivers. (Photo: Wenco)

On an operational level, an AHS delivers consistent, reliable and repeatable performance day after day, year after year. Variability is eliminated, making it possible for mines to routinely execute to plan and hit production targets. The economics of extraction are also improved, and profits can be increased so lower quality ore bodies can be mined profitably; something that will be vital going forward. It's likely that we also will see an increase in the networking capability of autonomous vehicles in the coming years and the integration of artificial intelligence, as mines look to improve the effi- ciency and independence of their AHSs. HCM recently announced it has selected Rajant's Kinetic Mesh network to support the AHS at Maules Creek. The industrial wireless network enables vehicle- to-vehicle (V2V) communication, which allows autonomous vehicles to talk directly to each other, providing enhanced coverage and reliability.

Caterpillar has also gone down this route. The company announced in April it has validated Fluidmesh Network's wireless technology to improve networking capabilities for users of its MineStar Command solutions for hauling and dozing. The Fluidmesh solution, transmitting at 5 GHz end-to-end, uses artificial intelligence algorithms and dual-polarity antennas to improve data transmission in challenging environments. Fluidmesh is currently being acquired by Cisco, which provides Wi-finetworks for many of Caterpillar's AHS deployments.

Better V2V communication will eventually allow the use of large fleets of smaller, fully autonomous trucks like Volvo's HX2, Scania's AXL or Komatsu's Innovative Autonomous Haulage Vehicle — cabless trucks capable of operating in a swarm-like fashion, redeploying themselves immediately in response to changes in the mine plan or operating conditions.

"The reign of the ultra-class mining equipment will likely become a legacy of the current paradigm," Pyne told E&MJ. "In the autonomy paradigm, the economics that drive fleet decisions are very different. That does not mean current mines will change their profile of haul trucks and loading units, but new sites will not naturally default to the same ultra-class size units. "We also predict that the autonomy trend will diversify and start to include other ancillary vehicles. As we know, drills are also widely automated and we're going to start seeing, very soon, fully autonomous water carts, dozers and eventually even shovels and excavators in time. We see a logical step toward some of this spread of autonomy will be via teleremote control of some machines, particularly loading units."

It's worth remembering that, though impressive and seemingly "high tech," haulage is actually one of the simpler parts of the load and haul process to automate. The tasks trucks perform are repetitive and their range of functions minimal. The more complex the role a piece of equipment is and the more decision- making involved in its tasks, the harder it is to fully relinquish control of it to an autonomous system and achieve optimal performance safely. Though companies like Rio Tinto and BHP are working on developing fully autonomous mine sites in the Pilbara, we are still a way off of the "holy grail," and some question whether it will ever be possible to fully eliminate humans from mines given the necessity of maintenance crews. As such, the shift toward increasing autonomy will likely concentrate mining and operational knowledge in a few individuals working in cooperative teams. New ideas will likely come at a slower pace, but will be much more widely applied as the software is updated throughout AHS deployments.

In essence, the autonomy shift is indisputable. However, the paradigm of closed systems has to change to make the technology more widely accessible, and for the industry, as a whole, to take the next steps toward building "mines of the future."
---
As featured in Womp 2020 Vol 06 - www.womp-int.com