The New Standard of Customizable Rigs
The latest rotary blasthole drill solutions promise optimized production on rigs configured for specific site, fleet and staffing needs

By Jesse Morton, Technical Writer
---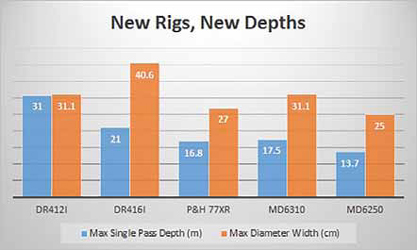 In the 1990s, after the rhythmic miner strike cycles had jibed with the successive waves of mine nationalization in Chile, a new type of miner emerged, one who was a little less specialized and a little more conformist, according to academics. He was, in their terms, polyvalent.

Relegated to history was the technician with a narrow but advanced skillset, who was happily married to his title and backed by a union that promised he would never, ever, have to leave his swim lane.

The new age miner could do a range of tasks, was fluent with multiple pieces of equipment and tools, and could stomach a new assignment, retraining, relocation, and a new workflow. In the decades that followed, the expectation of worker polyvalence grew with advances in automation.

The trend spread globally. And today, it is not uncommon for a sprawling, dusty fly-in, fly-out operations to stay understaffed, further increasing pressure on the miner to be even more malleable. The newest rotary blasthole drill rig solutions on the market reflect this reality. They are pitched as versatile and capable of being configured to conform to almost any mine site, fleet or process cycle. They are reportedly safe, efficient, require less maintenance, and feature automation that truly simplifies operation. In short, they too are polyvalent and thus speak to the head office's primary need of doing more with less and with a minimal amount of retraining. A quick tour of the latest releases illustrates that point.

Better Penetration, Lower Cost
Sandvik is set to release the DR416i in Q4 2018. It will tram on to the market as the company's largest rotary blasthole drill rig offering. And in terms of hole diameter, it is the largest released by a major Western supplier since MINExpo.

First announced in April, the rig is ideal for large-scale coal, copper or iron ore mines "where larger holes lead to higher production to deliver the metric tons required by the market," said Rob Ewanow, product marketing manager, surface pedestal drills, Sandvik Mining and Rock Technology. It features the "longest single-pass mast in its class, 21 meters (m), and a traveling centralizer for straighter holes."

The rig is "capable of drilling up to 406-mm holes while offering improved penetration at the lowest possible operating cost," Sandvik reported. Ewanow attributed those two superlatives to "heavy-duty chain feeds," which "reduce the need for adjustment and provide a consistent bit load, due to the weight of the chains, while the high-power inertia rotary head provides continuous penetration with less vibration and deviation." The chain feed system provides controlled power to the bit, "and with synchronized chains we prevent head misalignment as seen with cables," Ewanow said.

Equally important, the rig provides the customer with an automation-ready offering for big mines seeking to optimize drill results in a tough labor market. "Mine operators and contractors alike want predictable performance and often face driller turnover," Ewanow said. "The automated functions can assist lessexperienced operators in delivering more consistent results."

As does real-time drill result data, he said. "This is used to improve the blasting and fragmentation," Ewanow said. "Blast effectiveness is improved with GPS navigation and drill to elevation; additionally, this improves the next bench's surface."

The automation and remote monitoring functions, described as scalable and nonbundled, are "offered via individual modules providing customers the flexibility to choose what adds value to their operation," Ewanow said. "The automation- ready platform allows for customized modules to be added to properly integrate to existing systems," he said. "Additional modules can be added in the future as the customer advances their automation integration."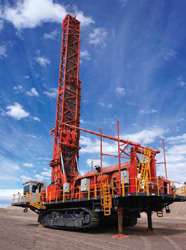 Above, the DR416i will be Sandvik's largest
rotary blasthole drill rig. (Photo: Sandvik)


For example, the advanced "Compressor Management System (CMS) comes standard with this machine and saves thousands of gallons of fuel per year and will ultimately reduce your overall carbon footprint while extending maintenance intervals and prolonging the life of your compressor and engine" to "an estimated 30K hours," Ewanow said. "Advanced troubleshooting via the controls system helps you identify many problems before you pick up a wrench, and the patented deck wrench allows bit change with no bit basket handling."

Ewanow described the modules as "easy to use and understand." Those descriptors are the hard-earned result of dedicated research, he said. "The challenge has been to offer the features that provide customer value and not overcomplicate the control logic," he said. "Understanding the appropriate user interface experience was paramount." Intelligent and powerful, the rig offers "greater flexibility than do tethered electric drills," Ewanow said.

At the same time, Sandvik released new literature on the DR412i, a rotary blasthole rig, which first launched in 2015 and is currently operating in mines in North America, South Africa and Australia. The upgraded rig is ideal for "medium to larger" mines and "progressive contractors who want to provide a different level of service to their customers," Ewanow said. The rig's intelligent control platform features "improved reliability, safety interlocks and data collection," Ewanow said. Other listed upgrades include further automation- readiness, down-the-hole (DTH) capability options, improved serviceability and accessibility via the 360° catwalk system, an ergonomic cab with enhanced arm rest-mounted joy stick controls, superb visibility, and "in-cab control features like auto-pipe handling" to improve efficiency, Ewanow said.

The rig allows the customer to determine the level of automation with the option to eventually upgrade incrementally. "We offer our unbundled automation modules, so customer can pick and choose what features work with their system integration," Ewanow said. "We also offer an open platform, so data can be shared with other systems via our Optimine application." That means Sandvik does not "charge the customer for their data as other companies do," he said.

The rig "is designed for rotary and DTH drilling applications with a hole diameter range of 216 m to 311 mm," Sandvik reported. "High- and low-pressure versions are available with single-pass maximum hole depth of 31 m and multipass maximum hole depth of 75 m." It is built to deliver "reliability while bringing a new level of safety and productivity to any operation," the company reported. The optional CMS can save fuel, reduce carbon footprint, and extend maintenance intervals, Ewanow said.

The company described the rig as capable of delivering "dependable penetration in the world's harshest mining conditions." Ewanow said that, as with the DR416i, this is due to the rig's heavy-duty feed chains and rotary head. "With a higher rotary power and bit loads compared to competitive models, the DR412i delivers greater penetration at lower operating costs," he said.

Field results prove it, Ewanow said. "We outperformed competitive units with improved penetration," he said. "We offered greater bit load and rotary power with proper flushing air to burn less fuel overall."

New Efficiencies, Same Safety
Komatsu's re-release of the 77XD as the P&H 77XR blasthole drill rig furthered one of the company's primary missions, according to company leadership. "Safety is our priority," Matt Collins, product director, drills, Komatsu, said. "The new features found on the 77XR were designed around how to keep people safe while owning, operating and maintaining this machine.

"In addition to our inherent safety culture that drives new product development, we built it with a focus on availability, serviceability and a strong commitment to technology." Originally, the 77XD was demoed at MINExpo 2016. With the re-release, announced in April, the "77XR has an updated control system," components designed to ensure drilling efficiency, and a range of automation options, Collins said. The backstory is succinct. "Our 77XR drill is truly a clean sheet design, where we took the time to explore a variety of concepts," Collins said.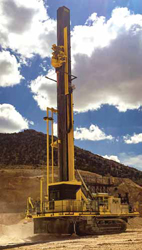 Above, the P&H 77XR was developed
to be more versatile and yet easier
to operate and maintain than the
predecessor 77XD. (Photo: Komatsu)


In mid-2016, Collins called Joy Global's 77XD a "new design" and described it as a "base with buildup options thereafter," allowing the incremental creation of "a customized machine" to "meet certain applications and needs." Since then, Joy was bought by Komatsu, and test trials "sparked" and influenced continuous design development, he said. "Feedback from potential users was used to explore different system options during testing at our Komatsu Proving Grounds in Arizona," where "we pushed the drill harder than ever," he said. "Our goal was to improve drilling versatility, while simplifying the associated maintenance tasks."

Improving drilling versatility meant optimizing cycle time, which became a primary goal in the development of the rig's control system, Collins said. "In particular, non-drilling time: the functions that are necessary to complete a pattern in preparation for blast," he said. "To provide more time for instantaneous production drilling in the hole, we evaluated each portion of the cycle to determine ways to condense those preparatory functions."

That led to the development of a range of drill automation tools, Collins said. The list of tools offered include auto-drilling, auto-leveling, auto-dust suppression, auto-mast positioning, and auto-bit changing. "These areas can positively impact the operators' experience, onboard or as part of a larger autonomous system," he said.

The control system is compatible with the P&H Drill Automation system, which enables teleremote operation leveraging high-precision GPS geo-fencing and obstacle detection and mitigation, Collins said. "Our Drill Automation platform is designed to be either stand-alone turnkey, or implemented as an interoperable system that fits into a customer's larger automation network," he said.

To that end, the rig's "control system is networked into embedded sensors, proximity switches, and encoders," Collins said. The "increased level of sensor integration" complements the "optimized hydraulic and cooling systems to increase efficiency," he said.

Of those "core functions," the optimized hydraulics system, with pointof- use placement, provides "hydraulics to the prime functions," Collins said. That, with closed-loop control, increases responsiveness and reduces vibration, he said. Also contributing to drilling efficiency are a "couple new concepts like the boxer-style mast with the new rack-andpinion design, and the auto-bit changing system," Collins said.

Those component design innovations improve penetration rate, he said. The rig offers almost 68,000 foot-pounds of pulldown force, Komatsu reported. "This system delivers constant load and users will not experience any potential chain slip or require any cable tensioning," he said. The auto-bit changing system, one of the many drill automation upgrades offered, complements others, such as "the quickest leveling system available, with improved accuracy in-hole straightness and maneuverability improvements with 360° counter-rotation," Collins said. "Our adjustable breakout wrench handles hard banding and tricky pipe cross-threading." Automatic modulation of compressor flow "helps with challenging strata variation and improves fuel burn rates while extending the power unit's life," he said.

The cab offers lowered interior noise, "exceptional" ergonomics, and a smooth ride and feel to help ensure operator comfort, Collins said. Optional equipment includes a microwave, USB ports for smart phones, and Satellite radio.

The 77XR is available as multipass or single-pass, rotary tricone or DTH hammer, diesel or electric, which enables it to "accommodate the largest spectrum" of mining applications, from coal to hard rock, the company reported. It offers a bit range of 200 mm to 270 mm, with a maximum single-pass depth of 16.8 m and a maximum multipass depth of 73 m. It can be equipped for an up to 203-mm DTH hammer with a maximum bit diameter of 229 mm.

As was originally intended with the 77XD, the 77XR is "completely modular" and can "be reconfigured to adapt to the mine plan," Collins said. "Making these adjustments can be done during an extended outage."

Currently, the rig "is drilling in a variety of different applications, with varying duty cycles, achieving high-performance results," Collins said. Those results garner feedback that can inspire future innovation, which helps further one of the company's other primary missions, he said. "We are committed to continued growth and developing more models with the new efficiencies and innovation, such as those demonstrated with the 77XR."

Optimizing the Entire Cycle
This summer, Caterpillar ramped up commercial production of the MD6310. The blasthole drill rig, which replaced the MD6420C, was first announced roughly a year prior, following the spring 2017 release of the smaller MD6250. Both are ground-up Caterpillar designs, come technology ready, are "easily field-upgraded with the building blocks of autonomy," and feature standardsetting onboard operator stations, said Greg Scott, application specialist, drills, Caterpillar.

Leveraging a century of drilling experience from the Bucyrus and Reedrill product lines, Cat designed the rigs so each unit can be customized per the specs of both mine site and fleet, Scott said. Previously, "Caterpillar's legacy rotary drill family had several different control systems for seven different models, and each model was offered in multiple configurations," Scott said. Conversely, the new generation of Cat drills feature "a common control system, common components, and standardized layout, yet each model can be configured to best match the customer's application."

The MD6310 drills 203-mm to 311-mmdiameter holes, and offers a maximum single-pass depth of up to 17.5 m, Cat reported. It can deliver a bit load of up to 86,000 lb. The MD6250 drills 150-mm to 250-mmdiameter holes, and offers a maximum single pass depth of up to 13.7 m, Cat reported. And it can deliver a bit load of up to almost 72,000 lb. Adjectives Cat used to describe the rigs include solid, flexible, rugged, reliable, versatile, durable, efficient, ideal, advanced, scalable, accurate, state-ofthe- art and even global, a reference to emissions compliance. Field tests provide hard numbers to prove each, Scott said. "Caterpillar is the only supplier that truly integrates the electronics, the entire power train and undercarriage," he said. "The deep integration of these systems pays off in performance and reliability" beyond that of "any other drills on the market today."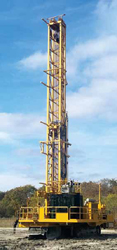 Above, an MD6250
demonstrates its intelligence
and prowess.
(Photo: Caterpillar)


A laundry list of examples in company literature illustrates. Highlights of it, however, speak most to the topmost customer demand: optimized production. "Using state-of-the-art technology and Caterpillar design requirements, we've made the mainframe, A-frame and mast structures stronger and the undercarriage more powerful, and we have streamlined the power train for greater efficiency," Scott said. "Technology provides full interlock and advanced drill health monitoring, performance monitoring, drill function automation, plus single-pass auto drilling to include the entire drilling cycle, from collaring the hole and working through changing ground conditions, to drilling down to exact depth and a retract and swab cycle — all programmable to adapt to the ground conditions and application requirements."

Rugged and flexible, the rigs can climb steep ramps and tram across broken ground, Scott said. "Our machines are configured with optimal undercarriage configuration, combined with mainframe and mast design, to ensure the drill rig can negotiate the toughest ground conditions so it can be moved from bench to bench and hole to hole quickly and effectively," he said. Solid yet versatile, the rigs feature a frame designed for maximum machine longevity, while the box section provides optimum structural rigidity, Cat reported. "The machine's four leveling jacks, mast pivot, and deck are all welded integrally to the main frame for maximum durability and long life." The main frame has had considerable upgrades compared to the legacy products, Scott said. "A floating fixed-axle design better absorbs torsional stress from normal operation," he said. "The A-frame has been upgraded to transmit torsional stress from normal operation to ground." The result is increased reliability and durability, he said.

Fuel efficiency achievements stem from Cat's long history of developing and working on engines and drive trains, Scott said. "We leveraged our in-house power train expertise coupled with active involvement of our drill application experts to finetune machine functions and precision to include proactive management of engine load curves," he said. "We further reduced fuel consumption by lowering compressor standby pressure during idle, allowing the machine to idle at 700 rpm."

The drills are available in configurations to meet most diesel engine emissions standards worldwide, Scott said. "The drills are currently operating successfully in highly regulated countries and in less regulated countries."

Both rigs come equipped with standard automation functions that either assist the operator or conform to a larger autonomous operating system. They can be upgraded with Cat Terrain for drilling, which "provides state-of-the-art guidance technologies to help operators drill holes in the exact location and to the exact depth specified by the plan, resulting in smoother, safer and more efficient blasting," Scott said. "Terrain also provides production monitoring and strata reporting."

Cat Terrain leverages high-precision global navigation satellite systems. It "takes into account the orientation of the machine's drill string in relation to the designed drill-pattern to ensure the rig touches center mass of the hole target with the bit, regardless of mast angle, out to 30° for angle drilling," Jim Peterson, mining technologies, applications specialist, Caterpillar, said. "It also monitors machine pitch and roll while on tracks, and it calculates trajectory of the bit when the machine is leveled to ensure the machine can position over-the-hole perfectly without having to lower back to tracks and make minor adjustments."

Other optional automation functions include Cat Command for drilling, which offers semiautonomous operation capability and line-of-sight remote control of multiple rigs by a single operator, and Operator Mission assist, which "allows the operator to select a row of holes for the drill to navigate from hole to hole and auto-drill all holes in the select row," Scott said.

Cat Command requires the same infrastructure as Terrain. "If a site already has a robust site network built around the Terrain system, there are little to no infrastructure changes that need to take place to incorporate autonomy into their operation," Peterson said.

Both rigs are designed for deployment to sites located in extreme environments. "The power trains are designed to handle high altitudes, and optional hot weather and cold weather or arctic packages are available from the factory," Scott said.

Thus, the rigs are suited for a range of sites and customers, "from large open-pit mining operations in both hard rock and soft rock, to the individual drill contractor for the same or for specialty drilling projects, including, but not limited to, pioneering, mine development and benching," Scott said. The MD6310 can be easily paired with electric rope shovels and applications with taller muck piles "because of the possible hole depth," he said.

Missing from the list of adjectives is a more abstract term. The rigs are of historical significance. They represent a subtle change over time in philosophy at Cat, Scott said. "Instead of focusing on optimizing single machines, Caterpillar considers the entire mining process," he said. "Caterpillar works handin- hand with Cat dealers and customers to ensure we optimize not only the individual drill operation, but rather the entire mining cycle."

That focus on the cycle is not new, but has evolved and intensified incrementally with the changing demands of customers. The rigs can therefore also be described as a response to them, Scott said. Again, the field results prove it, he said, with the typical response being "the new generation of Caterpillar rotary blasthole drills is 'what we've been asking for.'"
---
As featured in Womp 2018 Vol 09 - www.womp-int.com