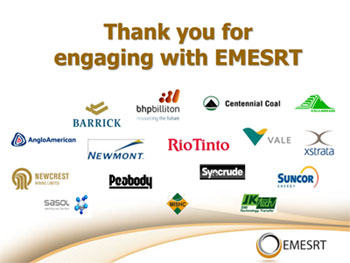 EMESRT- Earth Moving Equipment Safety Round Table
Aims to- 'Accelerate the development and adoption of leading
practice designs for mining and exploration equipment'.
By engaging with Original Equipment Manufacturers (OEM), EMESRT, comprising
some 14 Global Mining Companies, improves the understanding of design issues that
cause harm to operators and maintainers of mining and exploration equipment.
EMESRT is fast gaining global recognition as a significant voice for the mining industry about equipment design issues as it begins to succeed in facilitating changes in design, design processes and marketing by OEMs.
Visit us in the North Hall or come along to our one of our Workshops on Wednesday 26th (N101) Workshop 1 - introduction to EMESRT & Workshop 2 - Final EDEEP process design. www.emesrt.org
Booth - North Hall L10